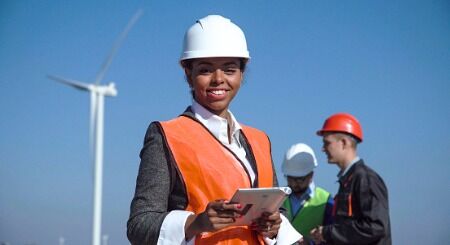 With burgeoning state and federal government support, it's clear New Jersey is poised to become the nation's leader in offshore wind energy, providing a win-win situation for the economy, environment and the highly-skilled union building and construction trades industry.
The state is taking action to meet the threats from climate change head-on. Gov. Phil Murphy's Energy Master Plan calls for renewables like wind and solar to meet 100 percent of the state's energy needs by 2050. Recently, Murphy applauded the Biden administration's Notice of Intent to advance Ocean Wind, leading to the nation's largest offshore wind farm — calling it a monumental step toward the state's clean energy goals. Construction is planned to begin in the early 2020s, with expected commissioning in 2024.
If all offshore wind does is bring cleaner, sustainable energy to New Jersey and offer the state a leg up in the fight against climate change, that would be huge. But offshore wind will also bring family-supporting union jobs. Planned construction of Ocean Wind, a 1,100-megawatt project backed by Danish offshore wind energy developer Ørsted will create a new industry with high-skill careers for thousands of people.
To be constructed 15 miles off the South Jersey shore, the wind farm will create up to 4,000 prevailing-wage jobs over the project's 25-year lifespan and generate nearly $1.2 billion in economic benefits. As offshore wind's potential grows, the industry could create 83,000 jobs in the US and drive $25 billion in annual economic output in the next decade, according to the American Wind Energy Association.
These jobs range from construction to manufacturing to operations. An offshore wind turbine technician can earn a family-supporting salary 20 percent above median per capita income for New Jersey. Besides assembly, wind farms create a competitive domestic supply chain — building blades, towers, cables and other components — bolstering the local economy.
Another economic boost from offshore wind will be the New Jersey Wind Port being developed in Salem County. The nation's first purpose-built offshore wind port should support up to $500 million in economic activity. Described as a "once-in-a-generation economic injection," the Wind Port will be home to factories making components for offshore wind turbines and support up to 1,500 permanent jobs.
Local building and construction union members will build the wind port and offshore wind turbines in New Jersey under Project Labor Agreement. Used for generations, PLAs are collective bargaining agreements between building trade unions and contractors govern terms and conditions of employment for workers — union and nonunion — on a construction project. They protect taxpayers by preventing strikes and eliminate other costly delays due to labor conflicts or shortages of skilled workers.
With such profound economic benefits looming on the horizon, it's no surprise that building trades leaders endorse the move to offshore wind energy in New Jersey. A letter signed by 10 local construction labor unions reminds policymakers that plenty of tradesmen and women in New Jersey already possess the skills needed to construct offshore wind infrastructure.
Members of the New Jersey Building and Construction Trades Council include Electrical Workers, Sheet Metal Workers, Laborers, Plasterers & Cement Masons, Roofers, Operating Engineers, Teamsters, Boilermakers, Elevator Constructors, Painters, Pipe Trades, Ironworkers, Carpenters, Insulators, Bricklayers & Allied Crafts.
Wind energy will usher in a new age in New Jersey ¬– not just a new age in clean energy that will preserve the Jersey Shore for generations to come, but a new age for the economy.
William Mullen is President of the New Jersey State Building and Construction Trades Council, which represents 13 Local Building Trades Councils, more than 100 local unions and over 150,000 rank and file members.