Out of all the days this week, Wednesday will bring the highest coverage of showers and storms. That will help to chip away at a rainfall deficit that has been growing throughout the month.
As of Monday, Atlantic City International Airport was 0.52 inches below average for rainfall in June, Sen. Frank S. Farley Marina in Atlantic City was 1.08 inches below average, while Millville Executive Airport was 1.30 inches below. It's not severe, but it's enough to brown our lawns and require constant watering of our gardens and farms.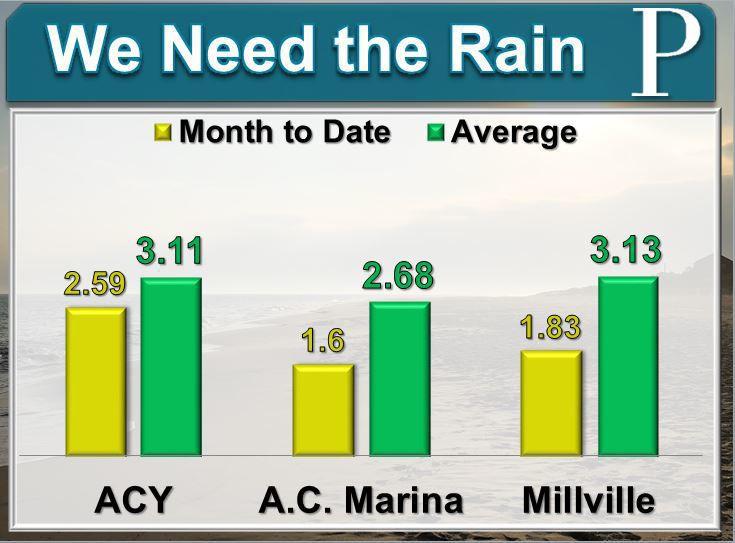 Most of us were left dry Tuesday, as expected. However, Wednesday should bring rain to a good amount of us. The potential for a shower will begin as early as 7 a.m., as a closed low pressure system that's been in New England all week will drift closer to us.
Shower and storm coverage will be few and far between for the morning, with temperatures starting out between 65 and 70 degrees.
Then, from 3 to 9 p.m., expect scattered storms. Outdoor plans could be OK if you need to do something quick. However, an all-day beach plan or work project will likely be out of the question, especially in Ocean County. High temperatures will generally be 80 to 85 degrees.
Often during the spring and summer, you'll hear a Meteorologist say "isolated", "scattered" …
A shower or storm will linger overnight, until around 4 a.m. Then, westerly winds should dry us out and give us clearing for the morning. Low temperatures will be in the upper 60s on the mainland to around 70 along the shore.
The heat will tick up as storm activity ticks down Thursday, as that low pressure system moves out to sea. Expect a dry morning, as we will reach the 80s by about 10 a.m. Isolated thunderstorms will flare up around 2 p.m. Like Tuesday, most will be dry, and I wouldn't change most outdoor dinner plans or work activities.
Then, we enter Fourth of July weekend. I believe many would agree a dry and warm weekend is best, and we'll be mostly there.
Friday will be the driest, and hottest day of the holiday weekend. We'll sizzle, with a mainland high in the low 90s. The shore will get sea-breeze relief, staying in the mid-80s. Expect the strong early July sun to make the sand pretty hot, but the water will be good to hop in to.
A back-door cold front will come in from New England early Saturday. That will bring cooler air and likely a few shower and storm risks. However, this will be highly dependent on its location. For now, expect seasonable 80s for highs and just isolated p.m. thunderstorms. Most of your day will be dry and any fireworks displays should not be delayed. However, it will be possible that Saturday winds up completely dry. I'll be tracking it.
Also, our weekend shore summer report card continues. I'm grading last weekend a B+. It was solid. Though, it was a little cool on the sand Saturday with some dodging a weekend shower.