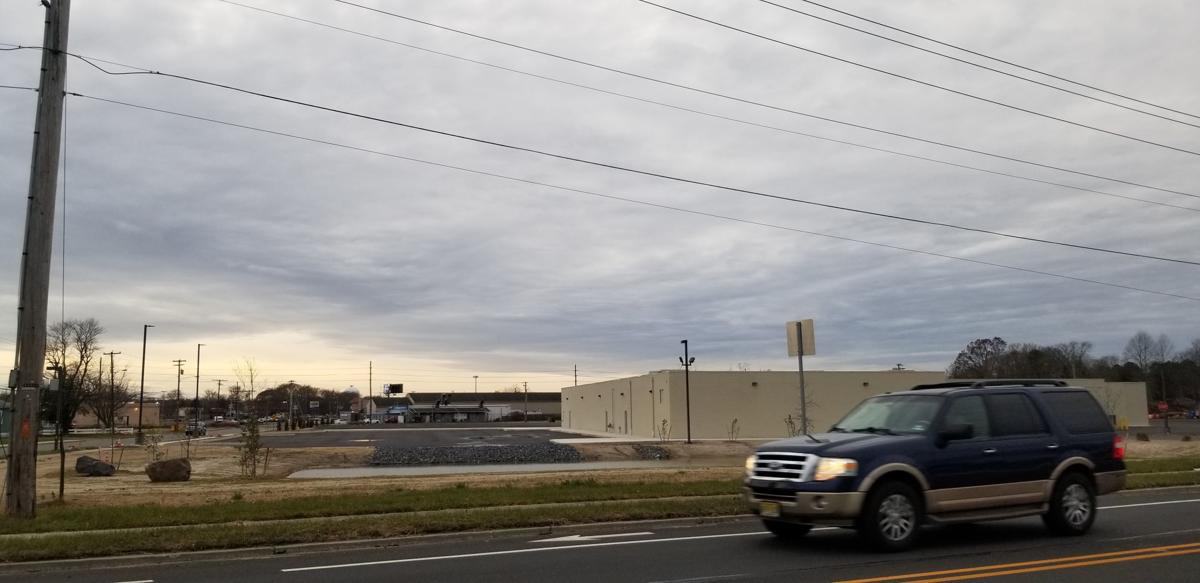 Wednesday won't be the nicest looking day, but if you will be doing last-minute preparations for Thanksgiving, you will at least have a dry and mild stretch to get ready. It will be a wet Thanksgiving morning, but drier in time for turkey dinner beginning in the afternoon.
A blanket of high clouds will be overhead Wednesday morning. Below that will be patchy areas of ground fog, but that will burn off by mid-morning.
Temperatures will be around 32 degrees on the mainland and 40 at the shore, similar to how our Tuesday morning started.
High pressure will exit stage right off the New England coast Wednesday. Eventually, that will turn winds to the southeast and then the south. With warmer air coming in around the clockwise spinning high-pressure system, temperatures will rise well into the low 60s, above average for this time of the year.
Wednesday night will see the clouds thicken. A cold front nears and that will eventually kick off rain. For the evening hours, though, expect temperatures in the 50s.
I am pushing back the start time of the rainfall Thursday to 4 through 7 a.m., starting first along the New Jersey Turnpike corridor and then working toward the coast.
It does look like high pressure, as far away as it will be, will leave enough dry air behind to push up the start of the rain.
Thanksgiving morning will be a wet one. A rumble of thunder can't be ruled out as well. Traveling, though, should still be OK, with no flooding expected. Rain will then end between 11 a.m. to 1 p.m.
The winter of 2020-21 will likely take a page from the warm and nearly snowless playbook of …
Dinner time will be fine. If you were thinking of setting up your feast outside, or dining out, Mother Nature will cooperate. High temperatures will be in the low 60s, likely right as the rain ends. Then, during the afternoon, expect temperatures to slide through the 50s, which is not that uncomfortable. I doubt we see sun to end the day, but you'll notice a little drier air moving in.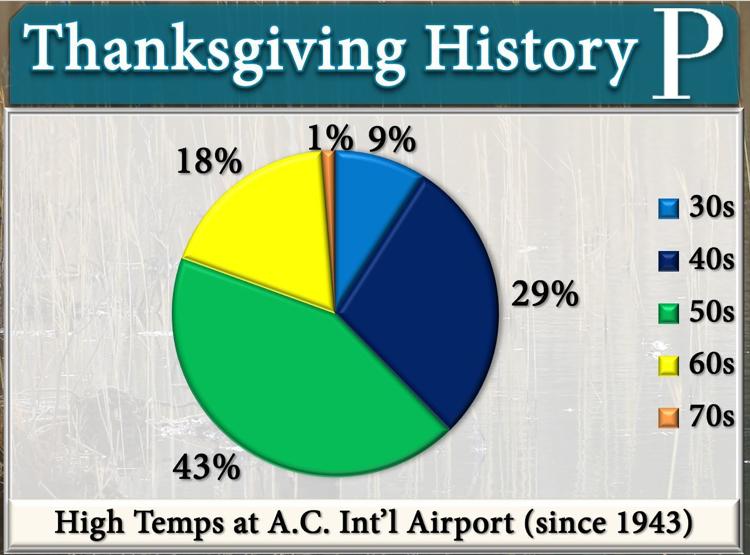 Clouds will clear Thanksgiving night. Overnight lows will be in the 40s inland, with 50-degree readings in Atlantic City and the store.
High pressure will sit nearby for Friday. Whether it's a day in Smithville or a stroll down the shops at Washington Street Mall, it's tough to ask for a more comfortable one. Highs will be around 60 degrees during the afternoon, and we'll have a mostly sunny sky.
That high pressure will quickly break down for Saturday, though. A cold front will run through the area.
Similar to Wednesday, I expect a dry, albeit, cloudy Saturday for us. Highs will peak in the seasonable mid-50s.
Expect more sun, and 50s for Sunday.
Very spotty rain showers, wettest during the morning.
A mix of sun and clouds
Areas of snow and wintry mix threatens early. Then, clearing. Windy from the north.
Sunny and cold.
More sun than clouds
Another storm system may bring rain and snow.
Rain possible with storm system.
Support South Jersey journalism at The Press of Atlantic City