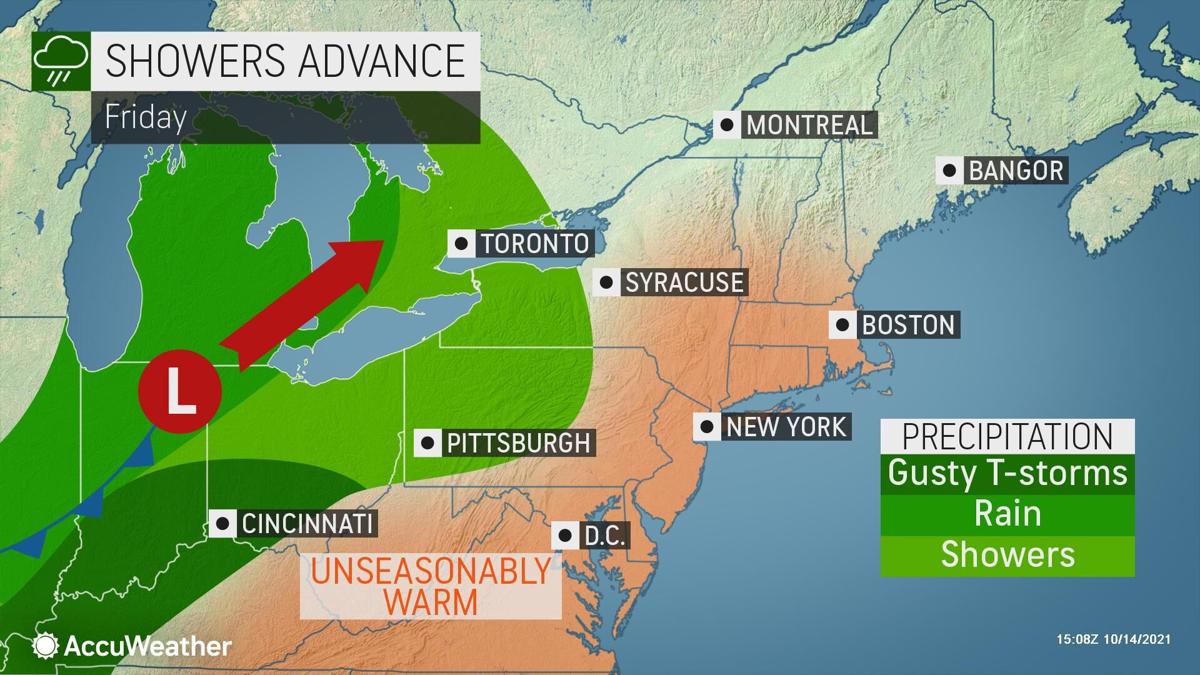 The warmest Friday since Aug. 27 will be likely as the last gasp of summer air until 2022 starts off the weekend. Saturday will be warm, too, but storms, possibly severe ones, will arrive. On the other side will be a blast of autumn air.
Nov. 19 Update: The mostly cool week did provide a spark with vibrant foliage seen in spots.…
Temperatures Friday morning will start off in the 60- to 65-degree range. Shorts and a T-shirt will be comfortable for your morning stroll or workout as a light southerly wind will blow.
Highs Friday, under plenty of sun, will be in the low 80s for those west of the Garden State Parkway, including Mays Landing, Upper Deerfield Township and Ocean Acres. That will be warmer than any Friday this September, believe it or not. However, the record high at Atlantic City International Airport is 86 degrees, which we won't hit.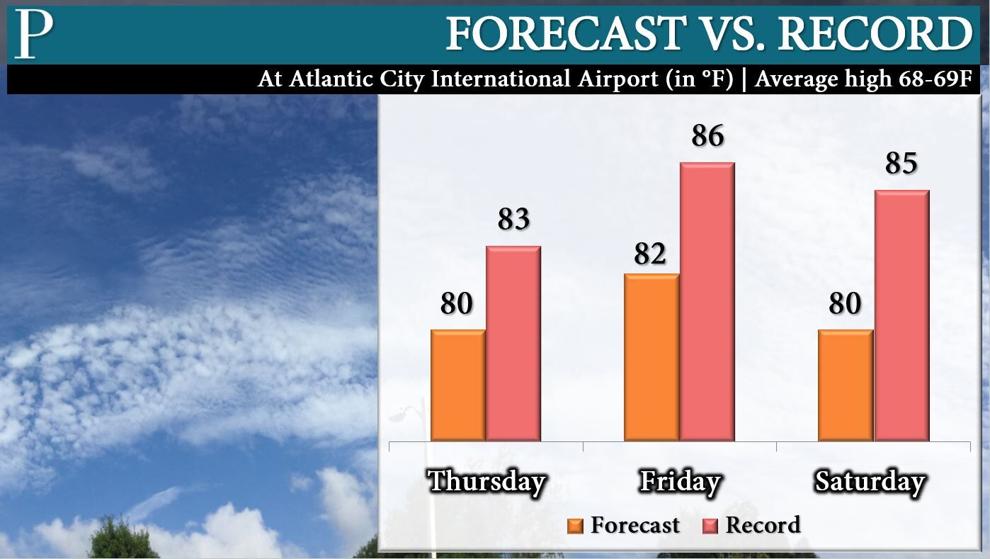 At the shore, expect a midday high in the upper 70s. Then, a sea breeze front will kick in, bringing temperatures down into the 70s for the afternoon. This is all very comfortable, and as I told someone Thursday, if you're not working Friday, the beach or bay will be the place to be.
Friday evening will fall through the 70s, great for high school football. If you're heading to the corn maze, it won't be flannel weather, but hey, it'll be comfortable. Overnight, under a mainly clear sky, we'll bottom out in the mid-60s just about everywhere (Spoiler alert: That'll be our high temperature Sunday).
South Jersey most elite teams will take the field this Friday and Saturday. Meteorologist Jo…
Saturday will be warm, though we'll have to add windy and eventually wet to it as well. Southwest winds will be 15-20 mph sustained, with gusts in the 30s, squeezing out every bit of balmy air available until a pattern-busting cold front moves in. Highs will get to around 80 degrees inland, slightly cooler at the beaches.
A line of showers and storms will pass between 5 and 10 p.m. The rain will be brief, less than two hours. In fact, some places may only see rain for 15 minutes, especially toward the New Jersey Turnpike.
I still believe that damaging winds and, gulp, a tornado are unlikely but in the realm of possibility. Keep checking PressofAC.com for more information.
Flooding rain will not be likely, given that the rain will be brief, and not too heavy.
Once the line of storm crosses, we'll fall into fall. Seventies will turn to 50s in two hours. The muggier air will be replaced by that autumn crisp. The clouds will clear. You'll wake up Sunday morning needing a sweater, maybe the heat, with lows of 50 to 55 degrees.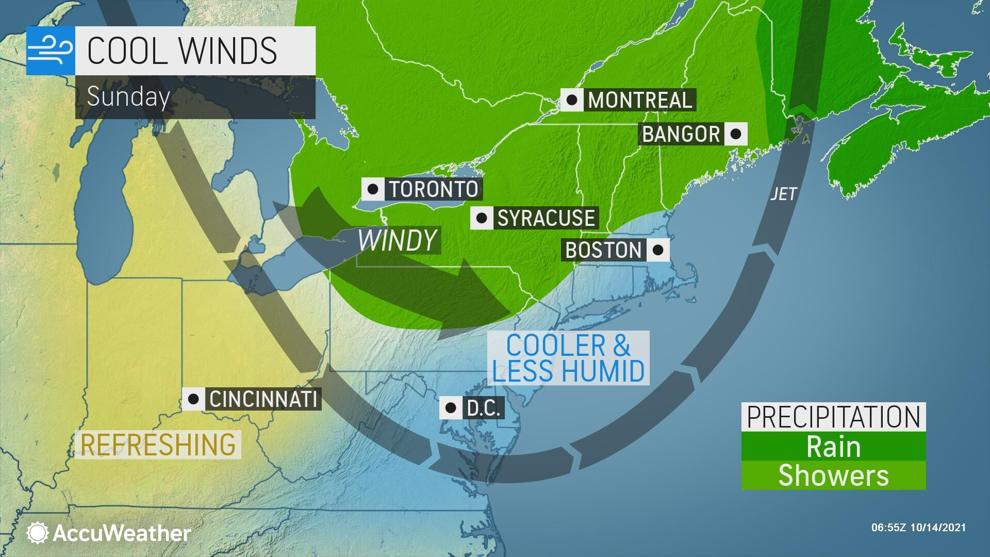 We'll round out the weekend Sunday with a mix of sun and clouds. A strong northwest wind will blow, tapping into Canadian air. Highs will be the mid-60s, which is actually around average for this time of year. Autumnal outdoor events will be OK, minus the wind. We'll do the same Monday, too.
Subtropical Storm Wanda exhausts list of Atlantic storm names, so what's next?
Here's what happens if there's another tropical system after Wanda
In early 2021, the World Meteorological Organization (WMO) decided to end the use of Greek names, after the original Atlantic hurricane list was exhausted. Instead, a supplemental list of tropical cyclone names will be used, going in Latin or Roman alphabetical order (which the English, French and Spanish languages uses).
During the 2020 season, nine tropical systems were named in Greek alphabetical order. They included: Alpha, Beta, Gamma, Delta, Epsilon, Zeta, Eta, Theta and Iota.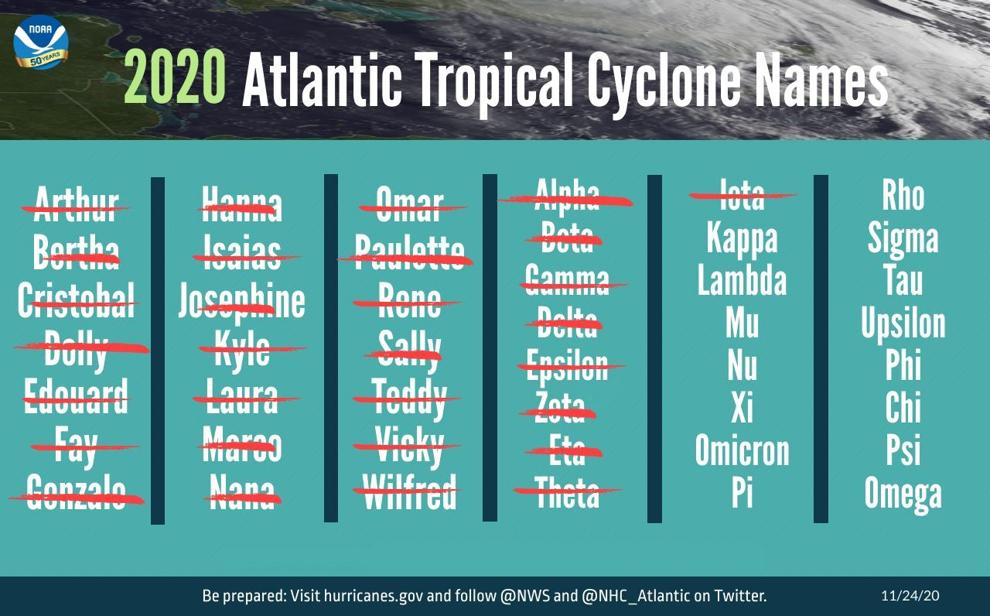 The nine was a part of a record breaking storm system, that saw 30 named storms, besting the previous record of 28 in 2005, the only other time the Greek Alphabet was used. Numerous issues with using the previous format arose. In some countries, the names of the storms sounded too similar to each other, making it easy to misinterpret storm messaging.
Furthermore, the WMO had to grapple with how to retire storm names in the Greek alphabet, which was never done before. The rules stated that a storm using the Greek alphabet could be retired if it was significant enough. However, the storm would be reused if it came up again, adding to the confusion. 
Starting in 2021, if one of the supplement storms names is retired, it will be replaced with a storm name of the same letter. 
Here are storm names for the 2021 Atlantic Hurricane Season
Ana - Used
For the seventh year in a row, a named storm formed in the Atlantic before the official start to the hurricane season June 1.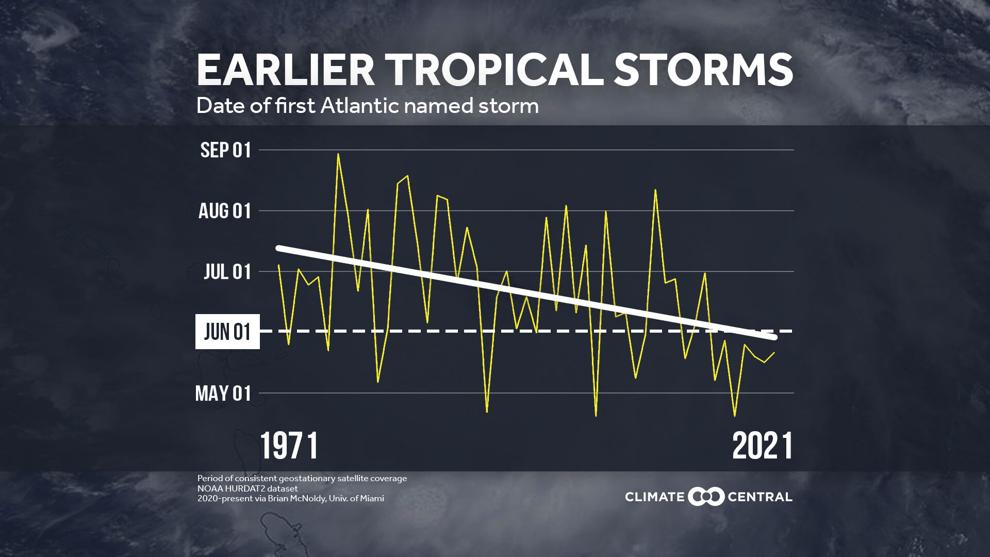 According to Climate Central, a non-profit agency in Princeton, New Jersey, warmer ocean waters driven by climate central may have an influence on the earlier development of tropical cyclones, but there is no direct link. 
Bill - Used
Tropical Depression Two formed on June 14. Later that day it strengthened into Tropical Storm Bill.
Claudette - Used
Claudette became a tropical storm on June 18, after a stretch of day of monitoring by the National Weather Service. It ashore Louisiana the night of June 18-19. 
Danny - Used
Tropical Storm Danny formed the afternoon of June 28, near the South Carolina coast. 
Elsa - Used
For many, Elsa is a name you think of when it's frozen out. However, this time she took a trip to the tropics, where she formed on July 1.
The Press of Atlantic City team and myself will be providing live updates on Elsa. We have f…
Fred - Used
Tropical Storm Fred developing on the evening of Aug. 9 just east of the Lesser Antilles. 
On Aug. 13, Fred turned into just a remnant low pressure system. However, it will strengthened into a tropical storm again on Aug. 15, making landfall in Florida on Aug. 16. 
The remnants of Fred passed just to the northwest of New Jersey on Aug. 18. 
Grace - Used
Tropical Storm Grace developed over the Central Atlantic Ocean on Friday, Aug. 13. 
Henri - Used
Henri formed as a tropical depression on Aug. 15. 
Ida - Used
Julian - Used
Kate - Used
Kate developed in the Central Atlantic Ocean on Aug. 28 
Larry - Used
Larry developed off the West Coast of Africa on Aug. 31. 
Mindy - Used
Nicholas - Done
Nicholas developed in the western Gulf of Mexico on September 12. 
Odette - Used
Tropical Storm Odette formed east of Virginia and south of Rhode Island on Sept. 17. 
Peter - Used
Tropical Storm Peter developed in the Central Atlantic Ocean on Sept. 19. 
Rose - Used
Tropical Storm Rose developed on Sept. 19 in the Eastern Atlantic Ocean. According to Brian McNoldy, Senior Research Associate at the University of Miami, this is the third earliest "R" storm since records started in 1851. Only 2020 and 2005 had an "R" storm earlier. 
#Rose is now the season's 17th named storm. Only 2005 and 2020 reached "R" by this date since 1851. Also, the name Rose has been in circulation since its introduction in 1979 but has never actually been used! 🌹 pic.twitter.com/VgOwL4Gyjw

— Brian McNoldy (@BMcNoldy) September 19, 2021
Sam - Used
Sam developed in the Eastern Atlantic Ocean on Sept. 22 as a tropical depression, turning into a tropical storm on Sept. 23
Teresa - Used
Tropical Storm Teresa formed on Sept. 24. 
Victor - Used
Tropical Storm Victor formed on Sept. 29. 
Wanda - In progress
Something in the Air: The 2021 hurricane forecast, from the woman who helped make it
Contact Joe Martucci:
609-272-7247
Twitter @acpressmartucci