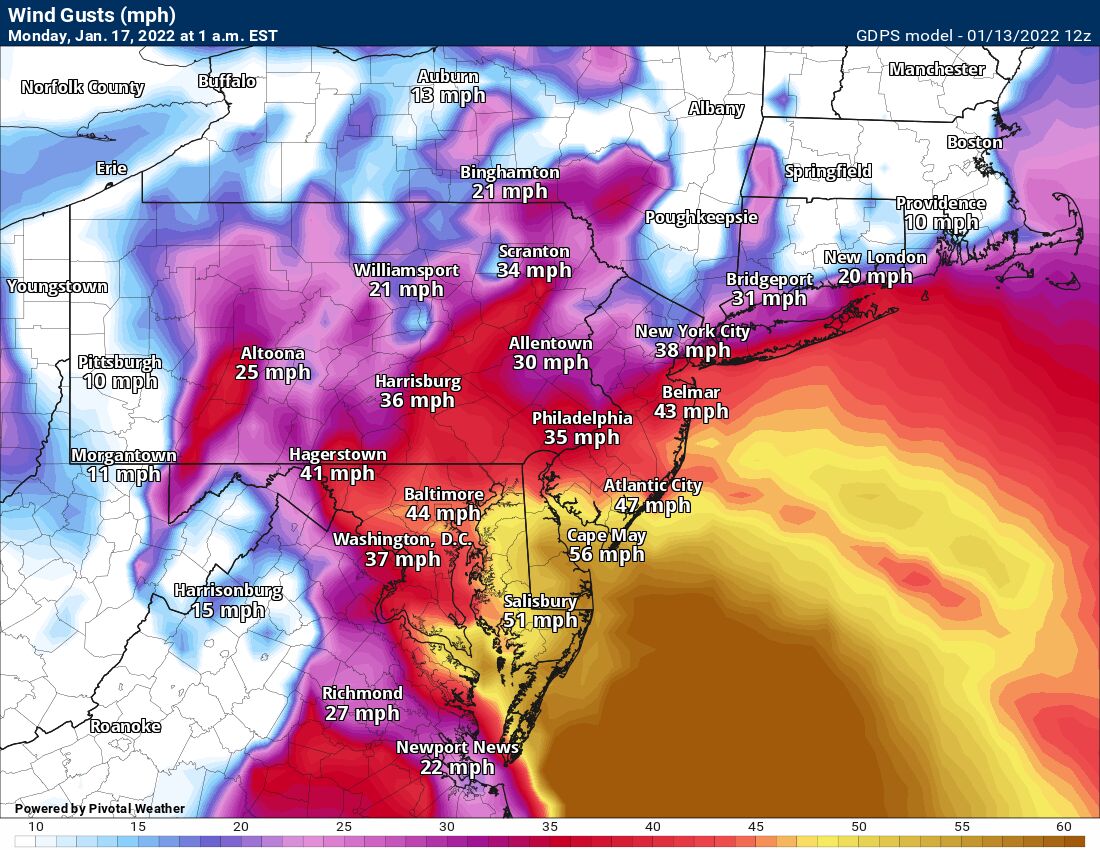 A coastal storm will sit just enough offshore that we'll avoid the snow, rain and coastal flooding. However, strong winds will usher in a frigid airmass that will last until Sunday morning. We are then still on for a powerful but fast-moving storm Sunday night into early Monday.
The center of a counterclockwise-spinning low-pressure system will pass about 500 miles offshore Friday. We'll just get a glancing blow from this in the form of strong northeast winds, turning northerly as the day goes on.
Expect sustained winds of 15 to 25 mph, with gusts in the 30s. The strongest winds, per usual, will be at the shore. It's not enough for damaging winds, so that is good. Cloud cover will be present for most of the day, breaking up late.
The morning will start off just below freezing inland to mid-30s at the coast. From there we'll rise well into the 40s. However, expect this to be midday. As the cold air is unlocked, we'll drop into the 40s and 30s quickly in the afternoon.
You'll want to take your pets inside and really bundle up Friday night. Wind chills should be in the teens for the evening and single digits after midnight as the thermometer continues its decline. Lows will be in the mid- to upper teens, under a mainly clear sky.
Saturday will be just like Tuesday — teeth-chattering cold. With high pressure in New England, highs will only be able to reach the mid-20s as sunshine will fade behind the clouds of another storm system.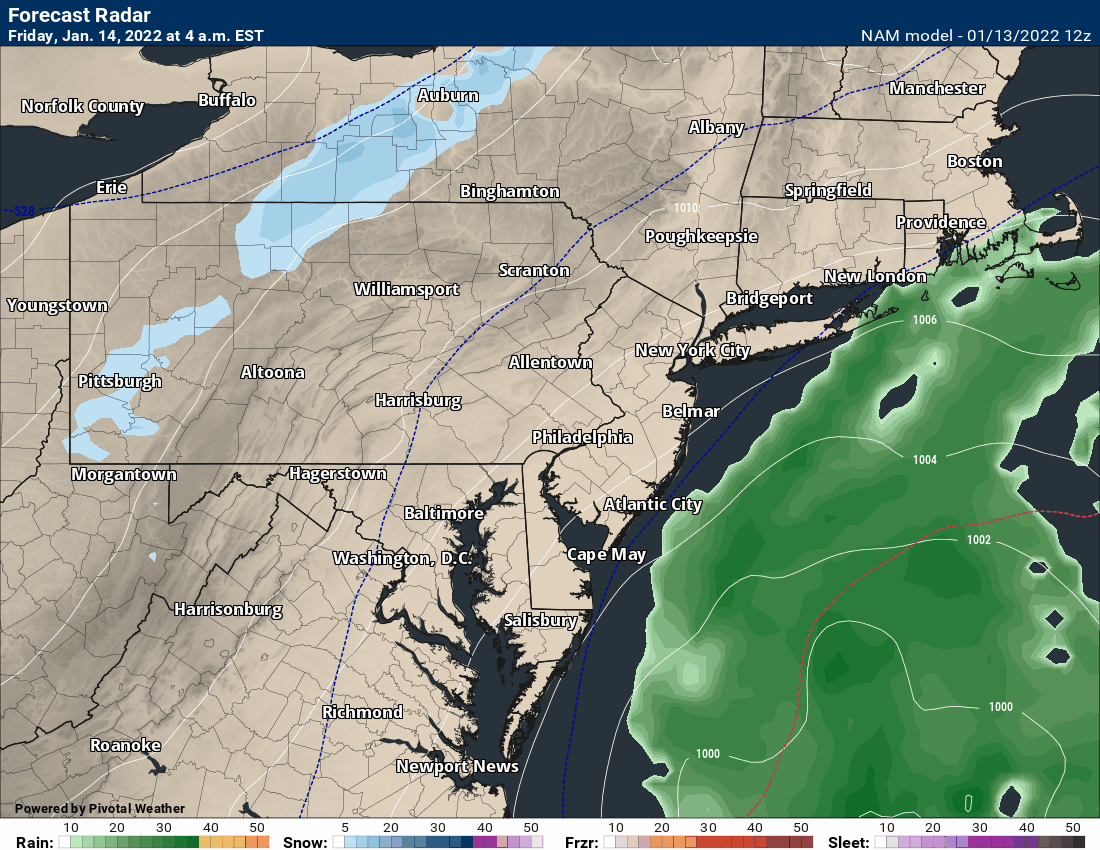 Saturday night will be even colder, at least with the air temperature. Expect readings around 10 degrees in the evening inland and 15 at the shore before rising overnight. The blanket of clouds will recycle back down to the surface what little heat we had from the day.
As far as the Sunday-into-Monday storm, more details are below.
Online readers, visit this link for the latest forecast updates on this storm. What do we know so far?
The storm is on, and direct impacts to our region are expected.
The Saturday morning, Sunday morning, Sunday afternoon and Monday morning high tides will all be in flood stage at least somewhat along the Jersey Shore.
The combination of the full moon Monday, onshore winds and very strong winds Sunday night will pile water onto the shore.
Precipitation will begin between 7 and 10 p.m. Sunday. It will speed through, unleashing furious weather conditions overnight. However, between 8 and 11 a.m. Monday it will pretty much be done. A shower or two may return as moisture wraps around the counterclockwise low-pressure system in the afternoon.
What scenarios are at play?
Mostly rain (40%): The center of the low-pressure system moves anywhere between eastern Pennsylvania or about 100 miles offshore. Strong southeast winds will blow around the counterclockwise spinning storm (The right side of the storm is the warmest side). A brief onset of snow goes to sleet, freezing rain and then rain as we surge well into the 40s. The wintry weather will get washed away quickly.
Moderate stage coastal flooding will be likely at least one of the high tides Sunday into Monday. Minor stage coastal flooding will be around for another one or two cycles. Power outages and wind damage will threaten, with top gusts 50 mph inland and 60 mph at the shore.
Winds will wrap around to the northwest, but by then, the precipitation is out of here.
A wintry mess (50%): This center of the storm is 100 to 300 miles offshore. Initially, we'd be on the warmer side of the storm when it's to our south. So expect accumulating snow to sleet to freezing rain and then rain.
However, winds will wrap back around to the northwest while precipitation is ongoing. A transition back to snow would be seen from northwest to southwest (think Trenton to Hammonton to Cape May). Snow would likely accumulate again before ending. Depending on where you are and the exact track, a plowable (2 inches of more) snow would happen twice.
Moderate stage coastal flooding is likely during one high tide. Minor flood stage would be likely for another one or two cycles. The strongest winds will likely be with the onshore winds while it changes from snow to rain. Power outages and wind damage will be possible, but not as likely as the above scenario.
Mostly snow (10%): The storm tracks well out to sea, sitting 200 or 400 miles offshore. In this scenario, snow would change to sleet and freezing rain. Rain may fall along the coast briefly. Winds would be breezy but not damaging, coming from the east.
However, winds would turn to the northeast and north pretty quickly. That would mean a change back to snow. Plowable snow looks likely. However, this would be more in the range of last Friday's snow (3 to 6 inches) than Jan. 3's snow (8 to 14 inches for most in Ocean, Atlantic, Cumberland and Cape May counties).
One to two rounds of minor stage coastal flooding would be likely here.
How will the winds be in this storm?
The winds will be the most impactful part of the storm for the shore counties.
Damaging winds and power outages are possible Sunday night. The overnight timing brings more impacts to the area, as most people will be asleep and unaware of their surroundings. You'll want to make sure to cut down hanging tree branches and take in loose objects before the storm arrives Sunday evening.
This is a setup that can deliver very high winds but often falls short. A strong river of air a few thousand feet above the surface will move from the Mid-Atlantic into New England. Forecast guidance shows a region of 70 to 80 knot winds, roughly 80 to 90 mph about 5,000 feet high.
The hard part is figuring out whether they come down to the surface. You would need something like a thunderstorm or a very heavy precipitation band to make that happen. Thunderstorms, or thundersnow, are hard to come by in the winter (though it may have happened Jan. 3), and there usually isn't enough moisture in a winter storm to bring excessive rainfall. So it doesn't happen much in the dead of winter.
Still, sustained winds will be in the 30s at the shore, blowing right off the ocean. Gusts should easily top 50 mph at times. That's enough to bring outages and wind damage. Typically, problems start with gusts over 45 mph.
Even inland, sustained winds in the 20s Sunday night into early Monday, with gusts in the 40s, will knock over loose objects.
When will we know more?
By midday Friday, we'll put a first call map of what to expect online. By this point, I'll have a good idea of what will fall in terms of mostly rain, mostly mix, etc. It's likely that those of you in Bridgeton will have a different forecast from Ocean City, which will have a difference forecast from Brick. It's a classic nor'easter setup for us.
Contact Joe Martucci:
609-272-7247
Twitter @acpressmartucci