After a day of rain showers, it should be cold enough for snow Tuesday evening. There's a good possibility it will be our first accumulating snow of the 2022-23 winter.
We'll start with Tuesday, and the rain showers with it. The potential for a shower at any point will exist.
However, most of the day will be rain-free. I'd say 70% of it will be. The wettest time of the day will be from 10 a.m. to 2 p.m. in case you were planning outdoor activities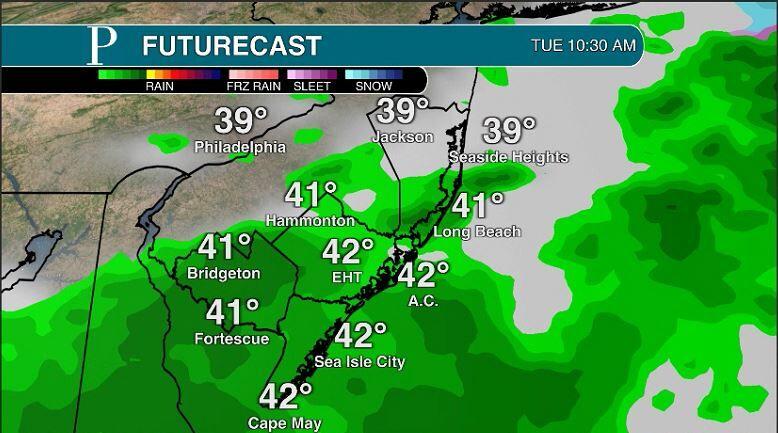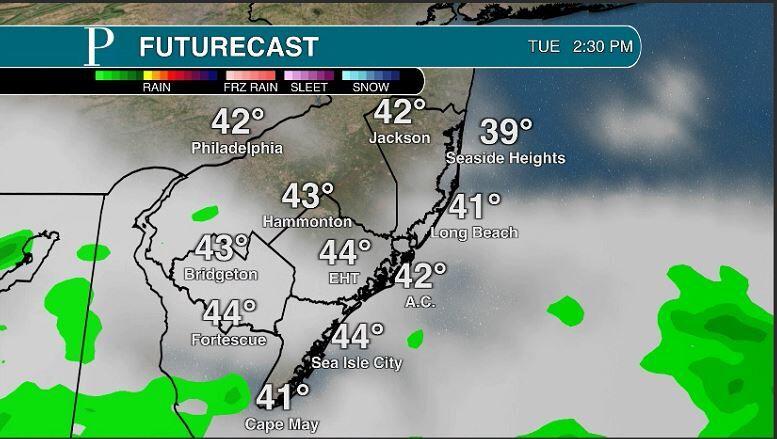 Rainfall totals will be light, between 0.05 to 0.10 inches.
Temperatures will start off around 40 degrees. We'll rise into the low 40s during the middle of the day before slowly falling into the 30s. Cooler, northerly winds will counterbalance the typically warmer daytime to keep the mercury fairly steady.
A wave of low pressure will ride along a cold front Tuesday night. With the front located in North Carolina, moving southwest to Texas, we'll get just the northern edge of this ministorm.
Precipitation will begin between 10 p.m. and midnight. Generally, the shore and lower Cape May County will get rain to start. Places like Mullica Township, Folsom and Stafford Township will see snow. In between, like in Pleasantville, it will be a rain-snow mix.
This rain-snow-mix line will slowly sag south, turning more places into snow as the night moves on. Precipitation will generally be light, and with temperatures of 32 to 37 degrees, any snow would only stick to colder and grassy surfaces.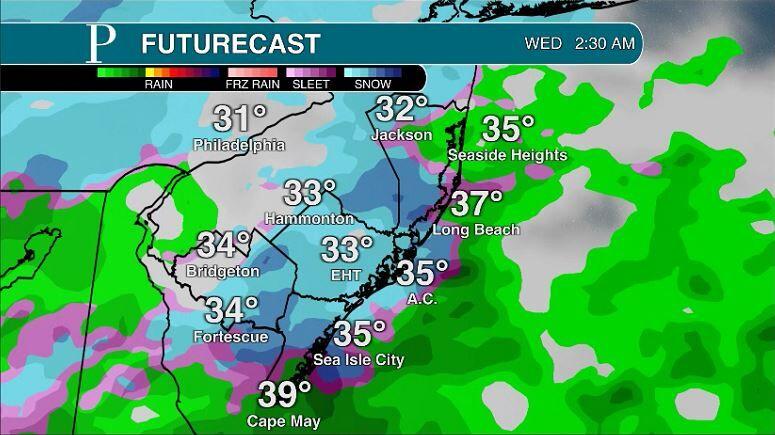 Between 3 and 5 a.m., it'll be over. Icy spots will be around into the morning commute far inland, where temperatures will drop to around 30 degrees.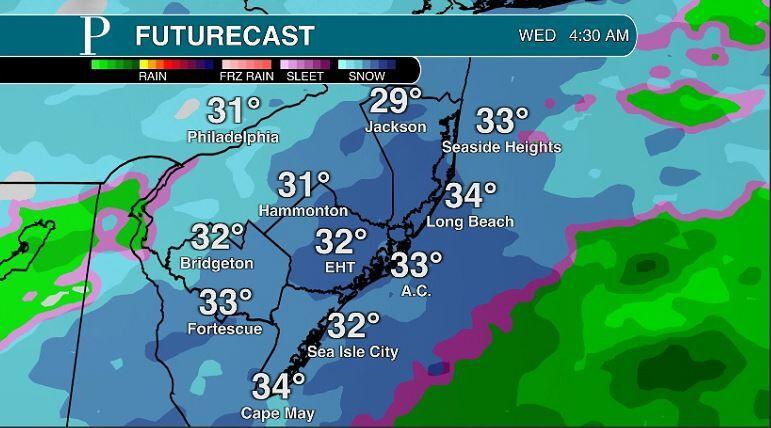 Snowfall totals will range from a slushy coating up to an inch, primarily on colder and grassy surfaces. The lowest totals will be at the shore and near Cape May.
If we accumulate at least 0.1 inches of snow at our major snow reporting locations at Atlantic City International Airport or Lower Township, it'll be the first accumulating snow of the season, ending our nearly record-long stretch.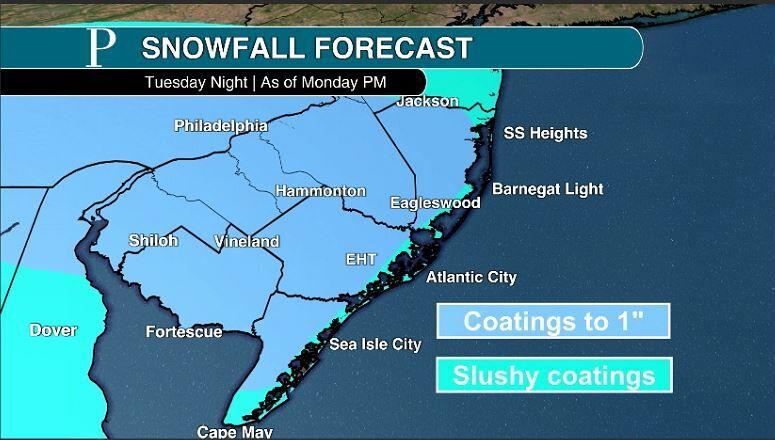 Wednesday will be a seasonable day with a mix of sun and clouds. High temperatures will reach the upper 30s to around 40 degrees.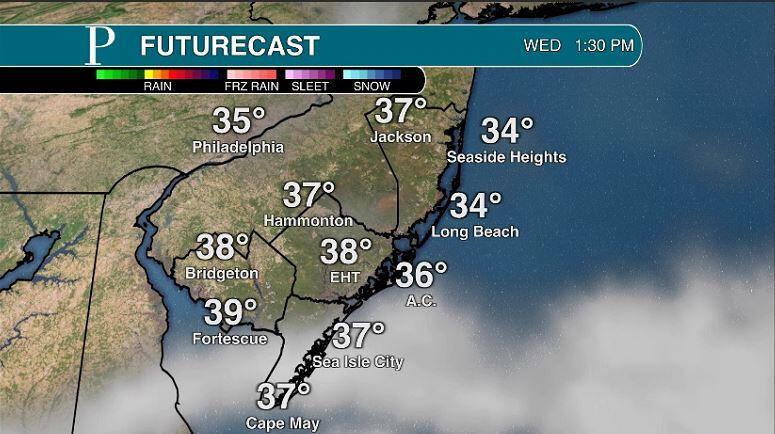 Thursday will be Groundhog Day. Given the forecast in Punxsutawney, Pennsylvania, of a mostly cloudy morning, Phil won't likely see his shadow — meaning an early spring. Can you blame him with this mild January in the Northeast?
For us, it'll be a seasonable day. Highs will be in the low to mid-40s. A low-pressure system will stay far enough south to keep us dry but close enough to give us clouds.
We're in for our second bitter blast of cold air for the season. Friday's highs will be 32 to 35 degrees, with a biting northwest wind that will make it feel like the teens all day long.
Friday night will be bone-chilling, with lows 10 to 15 degrees and a wind chill below 0 for much of the night.
The core of the arctic air will arrive Saturday. Highs will only be 20 to 25 degrees, a rarity this winter, having only happened Christmas Eve. Winds will stay breezy, and the wind chill will stay low. Please bundle up. Given how mild we've been, we're not used to this.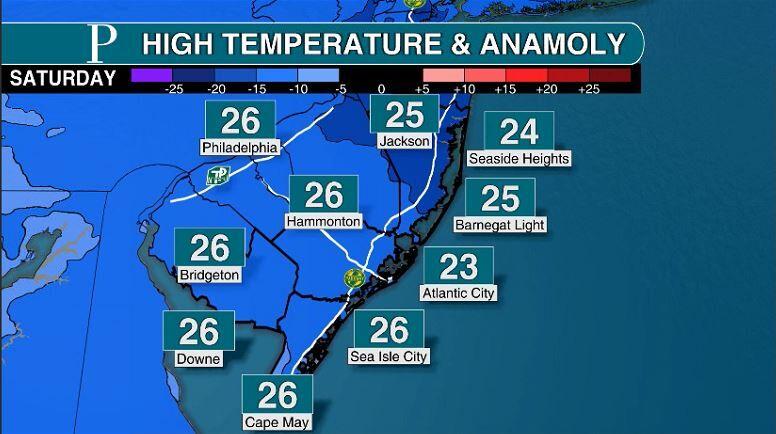 Finally, our "Across the Sky" podcast is live wherever you get your podcast, and it's all about Groundhog Day with WTAJ-TV Meteorologist Joe Murgo. He's been right at the foot of the stage for 20 years as Phil makes his predictions. You'll love the stories he shares.
Press Meteorologist Joe Martucci's 7-Day Forecast
Inland 7-Day Forecast
Shore 7-Day Forecast
Contact Joe Martucci:
609-272-7247
Twitter @acpressmartucci