It'll be a dry weekend in the region, but our roller coaster ride of temperatures will continue. Rain showers and gusty winds will be present Monday and Tuesday. A tranquil holiday will then come Thursday.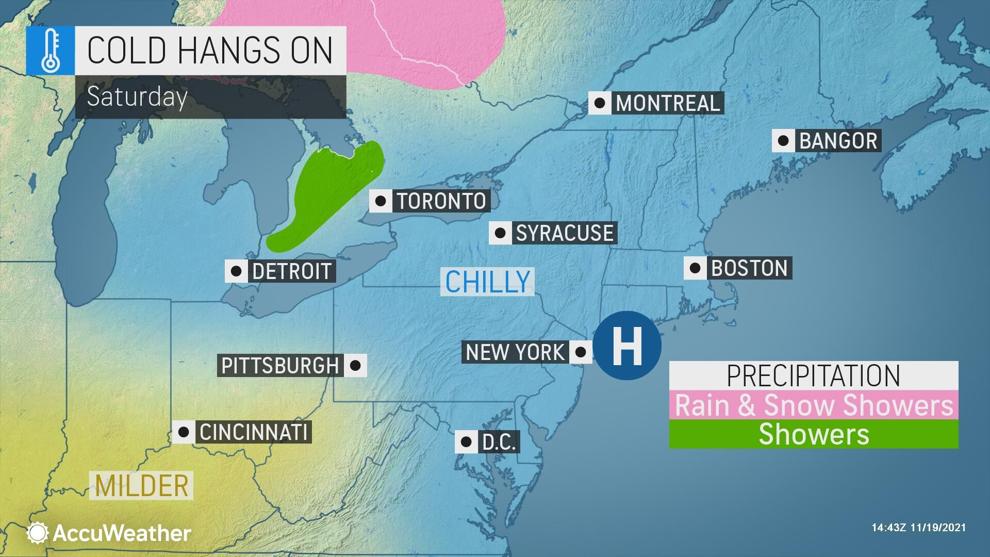 Our coldest morning of the season is here. Temperatures will begin in the 20s inland, even in lower Cape May County. Along the shore, the first freeze of the season is likely. Morning lows will be around 32 degrees.
We'll have plenty of sunshine all day long, courtesy of our big high pressure from Canada now sitting overhead. As we progress through, we'll rise up to a high of 50 degrees, pretty similar to where we were Friday, just without that whipping wind that made it feel like a winter day.
For more than 125 years of human observation of rain, wind, snow and more, Rutgers Universit…
Saturday evening will be in the 40s. We will drop pretty slowly, as warmer air from aloft trickles down to the surface and clouds build in. It'll be good for any fall campfires or seeing friends and family for the holiday Thanksgiving week. Overnight lows will be in the upper 30s to low 40s.
Sunday will be cloudy. First, it will be just thin, high clouds overhead, thickening as the day goes on. Winds will be from the south all day long, which will elevate highs to around 60, despite the lack of sunshine. I have a poll on Twitter asking which is better — 50 and sunny or 60 and cloudy? You'll still have time to vote Saturday.
Our much talked about, much anticipated cold front will arrive Sunday night into Monday. Between Monday and the winds Tuesday, I expect a few airline delays at Atlantic City International Airport and Philadelphia International Airport, but most should be OK.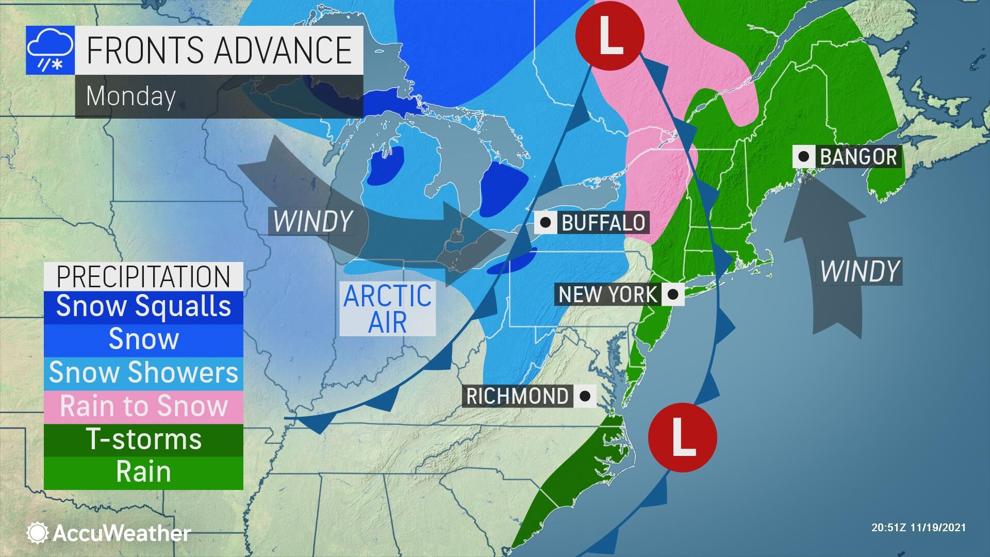 Look for rain to begin between 11 p.m. and 2 a.m. Sunday night and end between 8 and 11 a.m. Monday. Rain will be steady for a few of these hours. However, no rainfall flooding issues will be expected. A quarter- to a half-inch of rain is likely.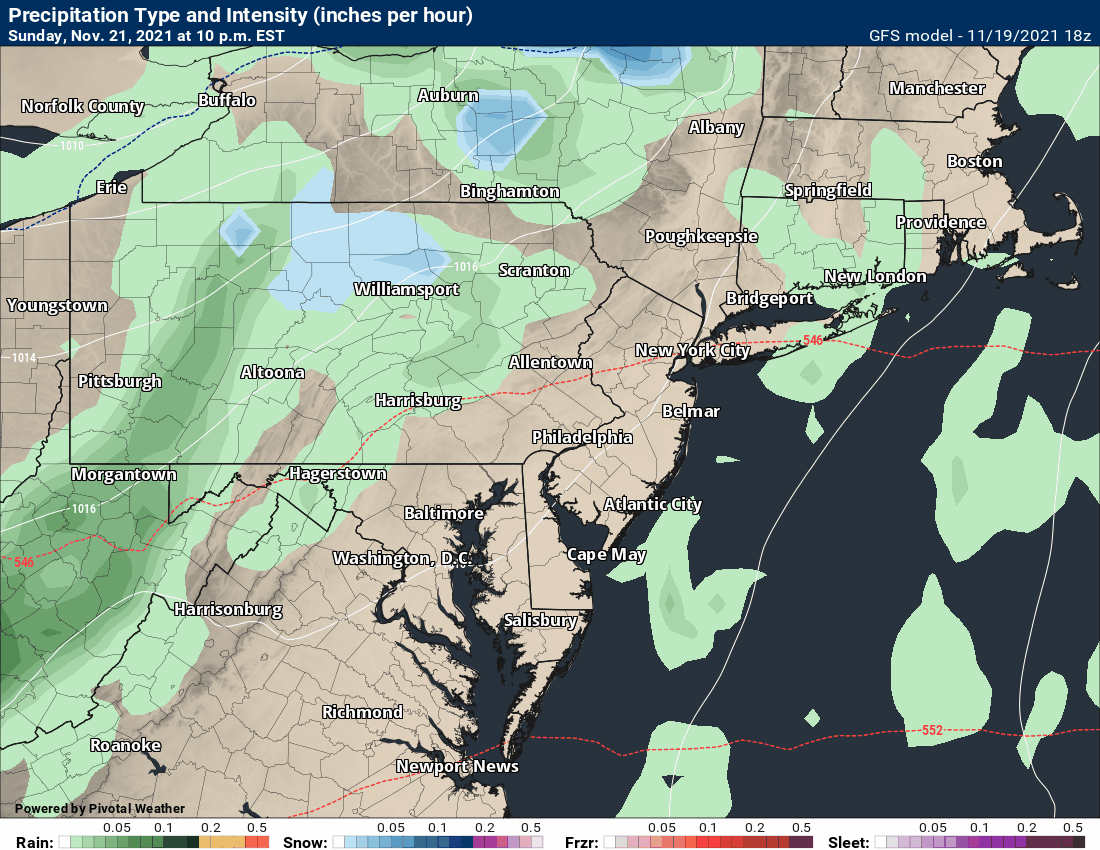 Winds should be pretty light while it rains. After it turns dry, winds will kick up out of the northwest. Expect sustained winds of 15 to 20 mph. It will lower our dew points, a measure of moisture, but not our temperatures yet. Highs will still be in the mid- to upper 50s.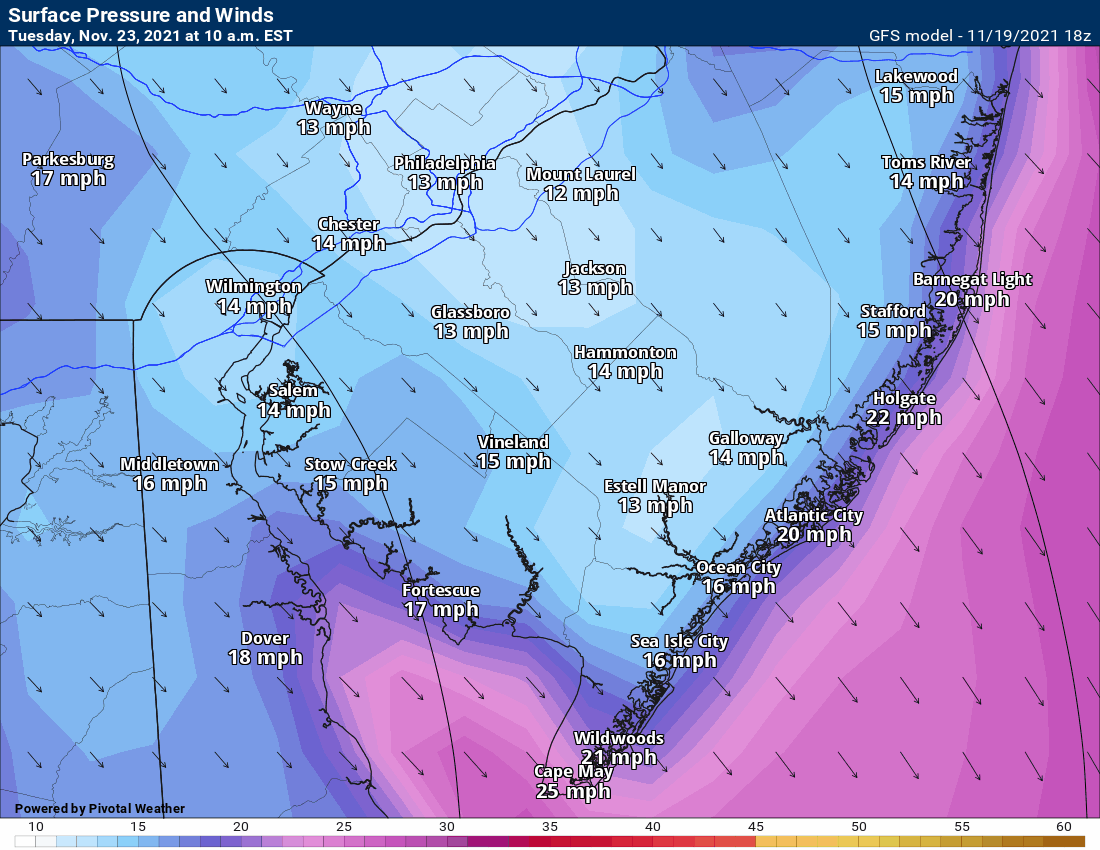 Overnight, winds will pick up a bit. Temperatures will crash as an arctic cold front passes. We'll be below freezing everywhere to start off Tuesday. Then, we only rise into the mid-40s. Talk about getting into the holiday spirit, it'll certainly feel like it.
Contact Joe Martucci:
609-272-7247
Twitter @acpressmartucci