Thursday will be a quiet day, with peeks of sunshine and seasonable temperatures. A nor'easter will pass far offshore Friday. Then, we continue to monitor a powerful storm system late Sunday into Martin Luther King Jr. Day.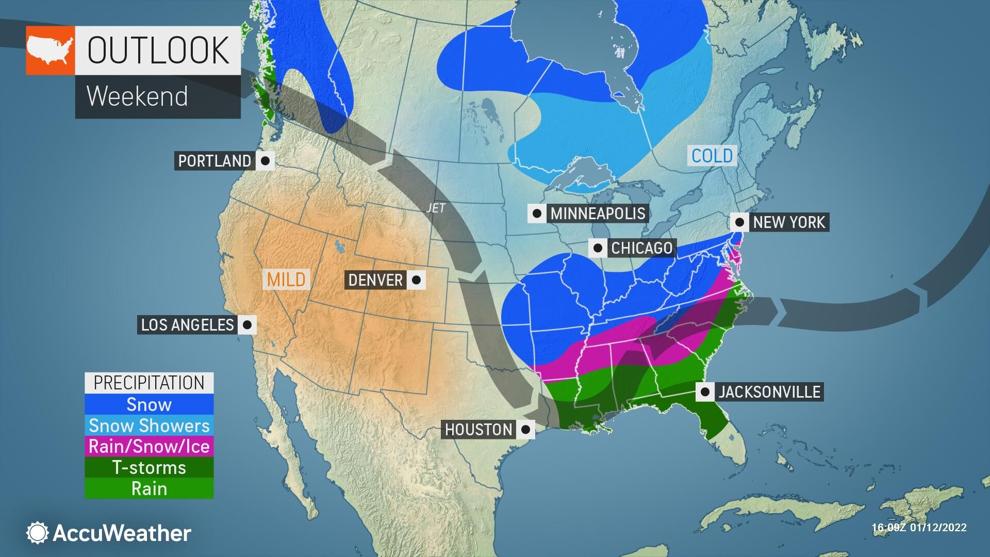 We'll start with the quiet weather Thursday. An Albert Clipper system will stay well to our north, so we won't see any snow. However, we will be mostly cloudy for the day. Temperatures will start in the upper 20s for Maurice River Township and the inland towns, with readings around 32 for Ocean City and the shore. From there we'll warm up into the mid-40s. All in all, good for outdoor work or projects.
Our first of two weekend storm systems will come early Friday. The center of a low-pressure system will move off the Florida coast to the north-northeast. The center of the low will be about 400 miles east of Virginia by sunrise Friday. The rain shield will stay just offshore. However, it will be cloudy Thursday night into Friday. Lows Friday morning will be around 30 inland and 35 at the shore, and that's actually our mildest night since Jan. 2.
Around that counterclockwise-spinning low-pressure system will be a brisk northeast (morning) to north (afternoon) wind during the day. Sustained winds will be 15 to 25 mph, with gusts in the 30s. Expect a cloudy, raw kind of day. Highs will be in the low to mid-40s in the morning. Then, we'll fall into the afternoon as cold air from Canada comes racing down. I'd expect us to be near 32 degrees by sunset.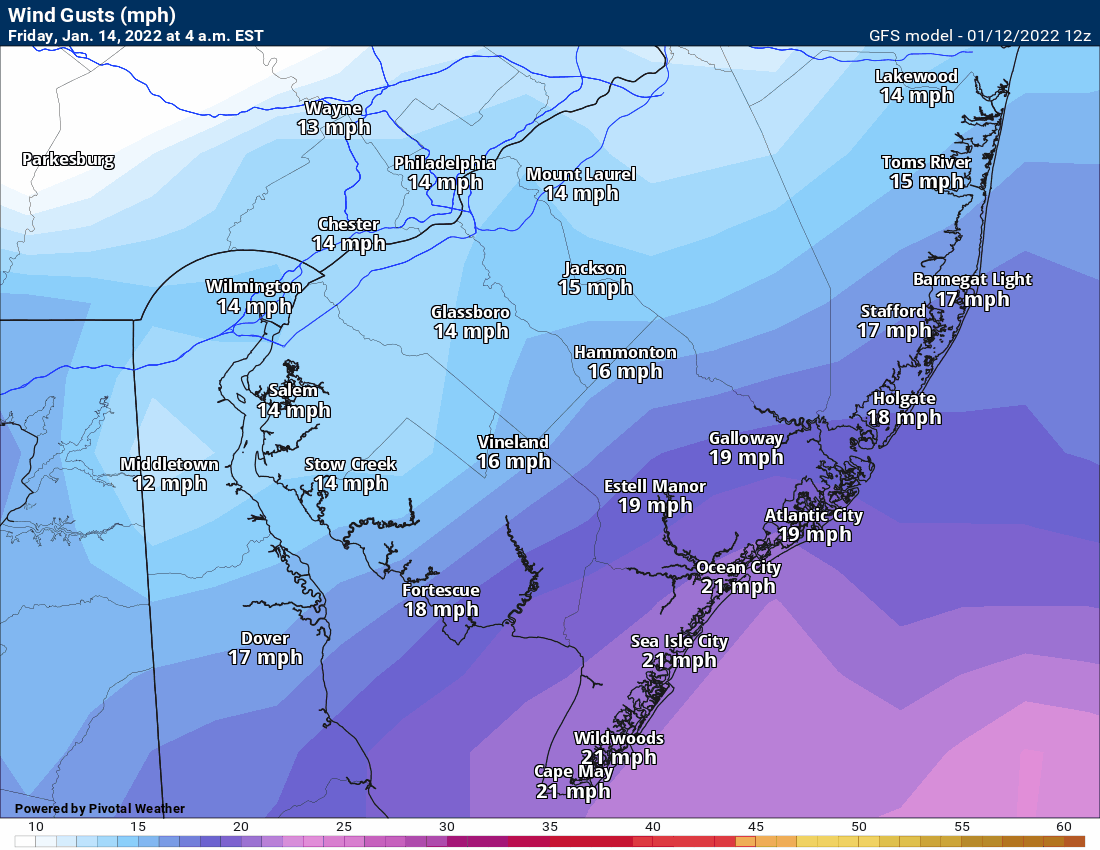 In fact, we'll plummet Friday night. Lows will be 10 to 15 degrees. Tack on a breeze, and wind chills will be around 0 after midnight. Make sure to bring your pets inside and bundle up good overnight.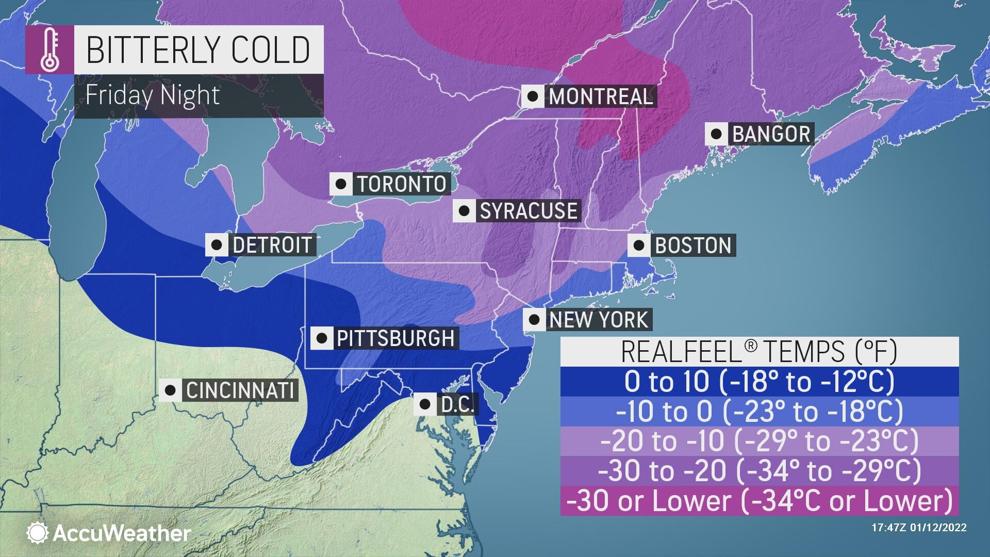 Saturday will then be like Tuesday, teeth-chattering cold. Highs will only reach the mid-20s. The winds should calm to a light breeze, so that's good, but wind chills will still be in the teens. Expect another night in the teens.
This brings us to the Sunday-into-Monday storm:
What do we know so far?
The storm is on, and direct impacts to our region will be expected.
You also can expect at least one round of high tide coastal flooding, if not three or four rounds. Given the full moon Monday, tides will be astronomically higher, and it won't take much of an offshore wind to spill saltwater onto the roads.
Expect minor flood stage, but my hunch would be we get into at least one cycle of moderate flood stage. That's when water gets into unraised homes and businesses near the bays. You could see a foot of saltwater on the roads.
Winds will be strong. However, whether they're power-outage worthy or just gusty remains to be seen.
What scenarios are at play?
Almost anything is on the table. As is typical for us, the forecast is heavily based on the exact track of the storm. The timeframe, though, is Sunday p.m. to Monday a.m.
Mostly rain scenario: The center of the low-pressure system will move right over the New Jersey Turnpike or eastern Pennsylvania as it rides up the coast. Strong southeast winds will blow around the counterclockwise-spinning storm (The right side of the storm is the warmest side). A brief onset of snow goes to sleet, freezing rain and then rain as we surge well into the 40s. The wintry weather will get washed away quickly.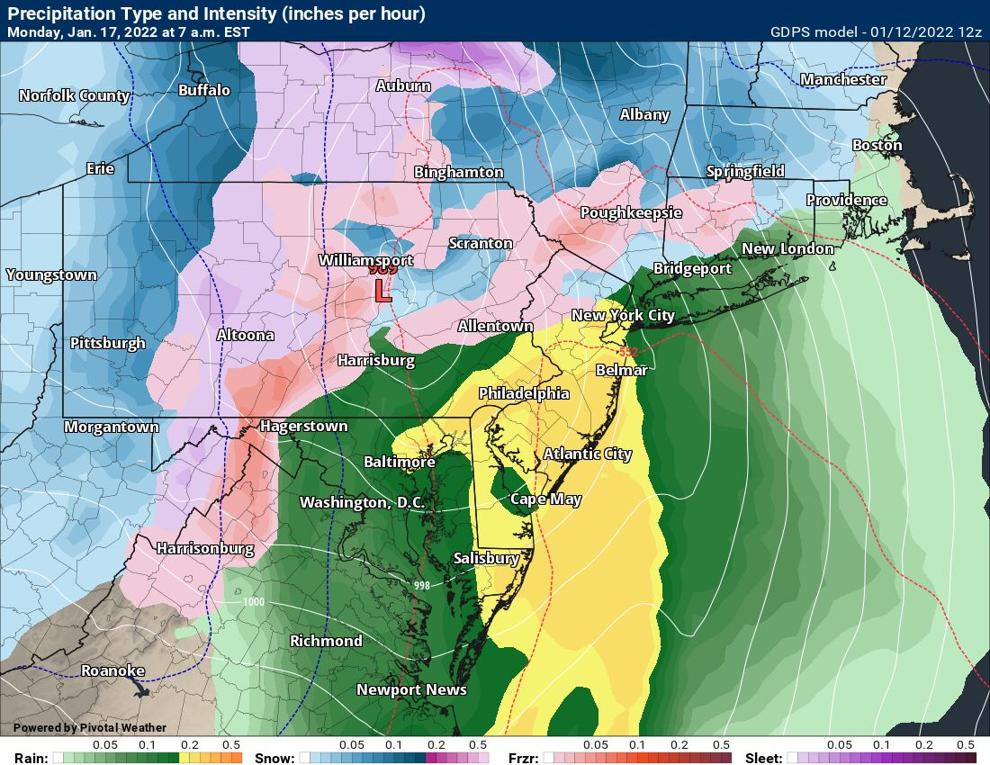 Moderate stage coastal flooding will be likely for at least one of the high tides Sunday into Monday. Minor stage coastal flooding will be around for another one or two cycles. Power outages and wind damage will threaten, with top gusts 50 mph inland and 60 mph at the shore.
Winds will wrap around to the northwest, but by then, the precipitation will be out of here.
A wintry mess scenario: This would mean the center of the storm is 50 to 200 miles offshore. Initially, we'd be on the warmer side of the storm when it's to our south. So expect accumulating snow to sleet to freezing rain and then rain.
However, winds will wrap back around to the northwest while precipitation is ongoing. A transition back to snow would be seen from northwest to southwest (think Trenton to Hammonton to Cape May). Snow would likely accumulate again before ending. Depending on where you are and the exact track, a plowable (2 inches or more) snow would happen twice.
Moderate stage coastal flooding will still be likely during one high tide. Minor flood stage would be likely for another one or two cycles. The strongest winds will likely be with the onshore winds while it changes from snow to rain. Power outages and wind damage will be possible, but not as likely as the above scenario.
The mostly snow scenario (least likely): The storm tracks well out to sea, sitting 200 or 400 miles offshore. In this scenario, snow would change to sleet and freezing rain. Rain may be had along the coast briefly. Winds would be breezy, but not damaging, coming from the east.
However, winds would turn to the northeast and north pretty quickly. That would mean a change back to snow. Plowable snow looks likely. However, this likely would be more in the range of last Friday's snow (3 to 6 inches) than Jan. 3's snow (8 to 14 inches for most in Ocean, Atlantic, Cumberland and Cape May counties).
One to two rounds of minor stage coastal flooding would be likely here.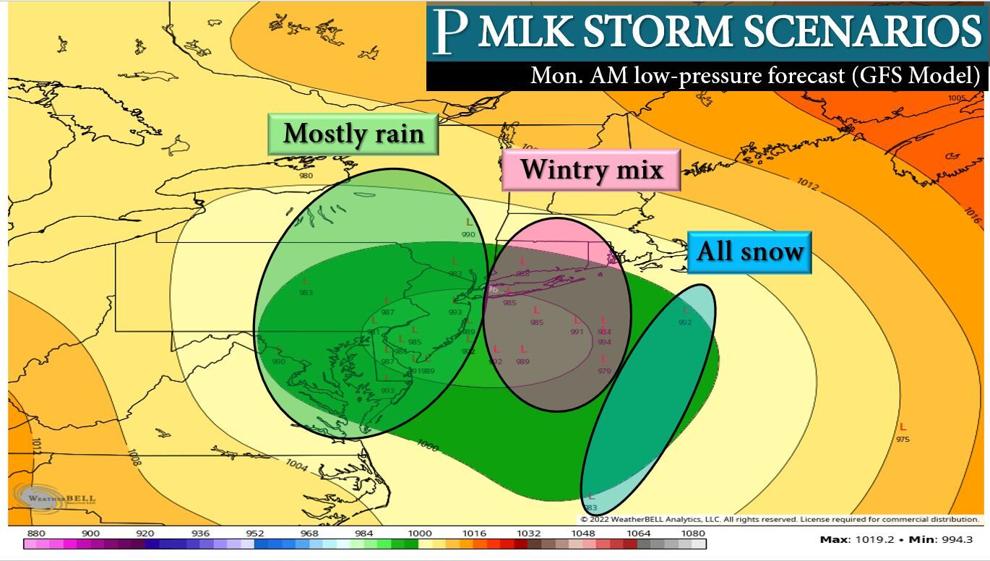 Wait, so it can go from teens to 40s, with rain, that quickly?
Yes, it's certainly possible.
Just like Frank S. Farley State Marina went from record highs Jan. 2 to its biggest snow in four years Jan 3., the opposite can happen, too.
Will the storm impact my holiday weekend travels?
While nor'easters bring everything from strong winds to heavy precipitation to coastal flood…
Delays will be possible flying into or out of Atlantic City International Airport, Philadelphia International Airport or Newark Liberty International Airport. Though, I will say, with the main time of impacts Sunday night, it will be lower impact than if this was during the day.
The Interstate 95 corridor will be primed for at least some wintry weather, if not a wintry mess. Focus your driving there to Sunday a.m. or Monday p.m.
Other roads in New Jersey, like the Garden State Parkway or Atlantic City Expressway, will need to be monitored. Their road status will be based on the track of the storm.
Anticipate road closures going between the mainland and the shore on the typical roads, such as Route 40, Route 30, Route 72, Longport Boulevard and the Ocean Avenue bridge near Cape May.
Contact Joe Martucci:
609-272-7247
Twitter @acpressmartucci