Early frost will be possible until 7 a.m. inland Thursday. Then, Canadian high pressure will keep temperatures cool through the end of the week, though with sunshine. Looking at the weekend, two storms will try to swipe New Jersey, bringing wet weather.
Powerful storms with characteristics similar to hurricanes can form over the Mediterranean Sea. Learn more about storms known as medicanes.
Frost will be possible early Thursday morning in rural inland places like Folsom and Mullica Township. It's unusual but not rare to have frost in these areas in this time of May. It will vary by location, but generally our latest frosts on record are around Memorial Day weekend.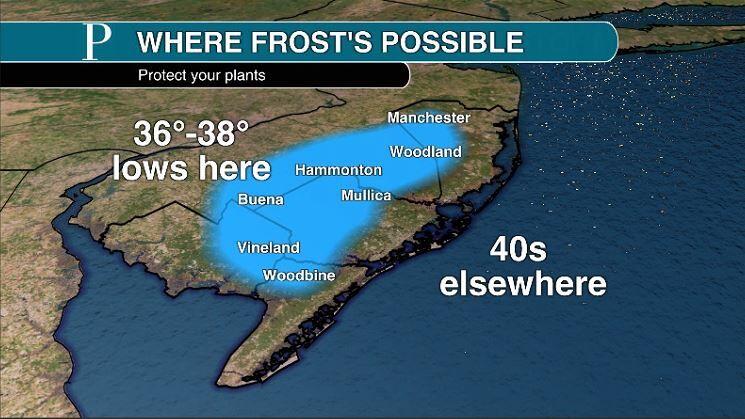 Otherwise, the next two days will be characterized by what I'd call comfortably cool weather. High temperatures both days will be in the 60s. It'll be cooler Thursday, with low to mid-60s expected. Friday will be a bit warmer.
Still, with plenty of very strong May sunshine, it'll feel warm in the sun.
The reason for these temperatures is a clockwise-spinning high-pressure system that will slide off the coast of New Jersey and toward far eastern Canada.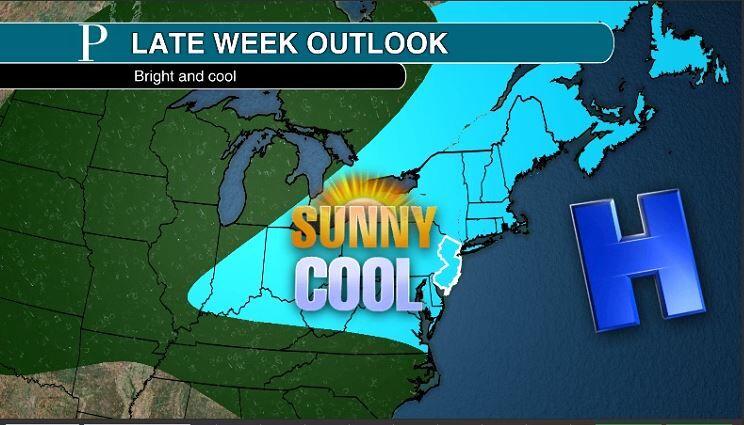 That will bring an onshore east wind for Thursday and more onshore southeast winds Friday. That will put more moisture in the air and end our wildfire spread risk.
In between, we'll have a seasonable Thursday night. Temperatures will fall into the 60s and 50s for the evening.
Inland temperatures will fall to the 40s. The farther you are from the gentle breeze of the ocean, the lower in the 40s you'll be. The shore, meanwhile, should be in the mid-50s.
The big question for the weekend forecast is just how wet Saturday will be. Friday night will be dry, though with thickening clouds. Lows will be in the 50s. Sunday should be dry, warm and bright.
So back to Saturday. It's tricky. To our south, we have a weak coastal storm moving north.
To our northwest, we have a cold front moving in.
Aloft, we have a trough of upper-level low pressure. This is the wheel to steer both systems.
If you live east of the Garden State Parkway, expect a few hours of rain, mainly during the p.m. hours. This will be from that coastal storm. A returning evening shower from the cold front will then be possible.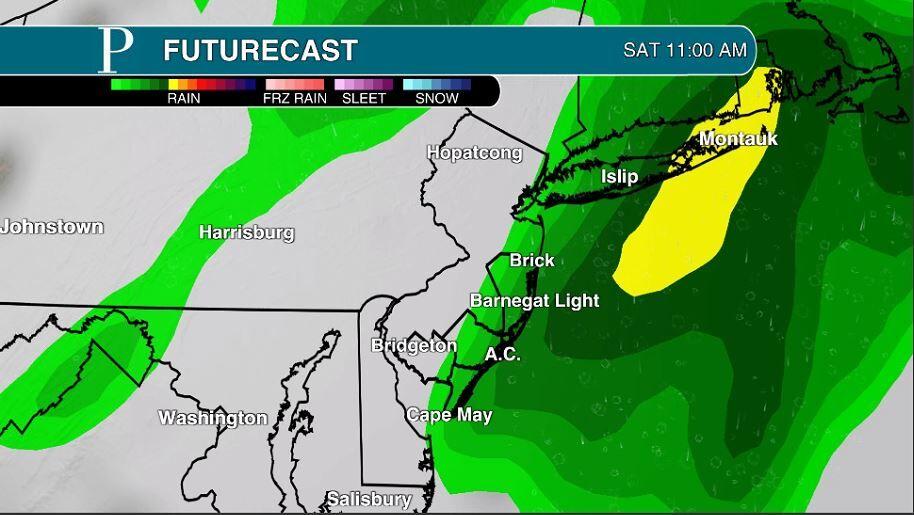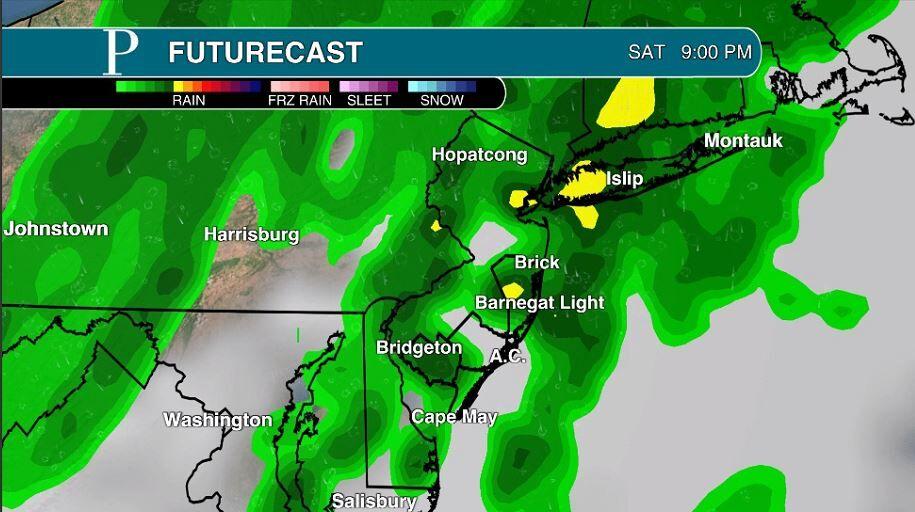 As you go west, the time spent raining from the coastal storm will go down. If you're in Bridgeton, for example, you could very well be dry. However, a shower between 5 and 10 p.m. from that cold front will be likely.
So morning outdoor events can stay on for now. Afternoon ones will need to be moved depending on how close to the coast you are.
A not favored, but possible, solution is that the coastal system runs north, up the Delaware Bay. That'd bring at least a half day of rain to everyone and then overnight showers from the cold front.
Also not likely, but something to be aware of, is the coastal storm staying offshore enough to keep just a p.m. shower around.
Press Meteorologist Joe Martucci's 7-Day Forecast
Inland 7-Day Forecast
Shore 7-Day Forecast
Contact Joe Martucci:
609-272-7247
Twitter @acpressmartucci