If you've been waiting for a rain-free, summer day that brought just enough heat but not much humidity, then Saturday will be the day for you. Sunday will bring a few showers on a mostly dry day. However, South Jersey continues to be near the path of Hurricane Isaias for early next week.
Saturday will be a much different start than Friday. Gone will be the rain and damp weather. In will be some sunshine and drier air.
Temperatures will start in the upper 60s on the mainland, with low 70s at the shore. As long as Atlantic City International Airport stayed above 70 degrees Friday then the longest streak of 70-degree or greater low temperatures will be ours in 2020.
Atlantic City and Cape May are poised for an upcoming 12-month stretch with more coastal flo…
Weak high pressure will pass through the Northeast during the day, keeping the cold front that delivered Friday's rain just far enough south for a dry day, with sunshine. High temperatures will be seasonable, not hot, with low to mid-80s expected everywhere. In other words, it's a fantastic day to be at the beach or working around your place.
Temperatures will fall into the 70s during the evening. Humid air will work its way in, as that cold front turns into a warm front and lifts north. The evening will be dry, but after about 2 a.m., showers will work in. Overnight lows will be in the low to mid-70s, likely occurring around midnight.
The National Hurricane Center has geared up for the 2020 hurricane season with four changes …
The showers should clear by 7 to 9 a.m. Then, while a storm can't be ruled out during the afternoon, plan on a dry day. The hot and humid weather will be back. High temperatures will be in the low 90s on the mainland, feeling like 100. The shore will get some sea-breeze relief, in the upper 80s. As long as you stay cool and carry water, you'll have time at the beginning and end of the day to do what you need outside.
A few showers will be around Sunday night as a cold front passes through. For the most part, it will be dry. Lows will be in the 70s, and stay sticky, again.
ATLANTIC CITY — The National Weather Service has taken steps to ensure the public is not lef…
Then, that takes us to Monday and Tuesday, and what Isaias will bring to the region. At this time, there's a few things that I can share.
First, swimming in the water will be dangerous Sunday through Tuesday, with a high risk of rip currents. Staying on the water topic, between the full Sturgeon moon and the approaching storm, the Sunday p.m. high tide will have spotty, minor coastal flooding. The Monday and Tuesday high tides may all have flooding, but we still need to determine how many flooding and whether it will be minor or moderate.
In terms of the track of the storm, a track 300 miles offshore to a landfalling tropical storm are still options. You do not need to prepare yet, but keep a plan in mind. In Sunday's column, we'll go in-depth and nail down a scenario.
August: Sturgeon Moon
The sturgeon, a large fish common to the Great Lakes and other nearby bodies of water, is most easily caught during this month. The reddish appearance of the moon through the frequent sultry hazes of August also prompted a few tribes to dub it the Red Moon. Other names included the Green Corn Moon and the Grain Moon.
Time of full moon: 11:59 a.m.
September: Harvest Moon
Many of the Native American tribes' staple foods, such as corn, pumpkins, squash, beans, and rice, are ready for gathering at this time. The strong light of the Harvest Moon allowed European farmers to work late into the night to harvest their crops. The Harvest Moon does not always occur in September. Traditionally, the name goes to the full moon closest to the autumn equinox, which falls during October once or twice a decade.
Time of full moon: 1:22 a.m
October: Hunter's Moon
After the fields have been reaped, the leaves begin to fall and the deer are fat and ready for eating. Hunters can ride easily over the fields' stubble, and the fox and other animals are more easily spotted. Some years the Harvest Moon falls in October instead of September.
Time of full moon: 5:05 p.m.
November: Beaver Moon
At this time of year the beavers are busy preparing for winter, and it's time to set beaver traps and secure a store of warm fur before the swamps freeze over. 
Time of full moon: 4:30 a.m.
December: Cold Moon
Winter takes a firm hold and temperatures plummet at this time. Sometimes this moon is also called the Long Night Moon as the winter nights lengthen and the moon spends more time above the horizon opposite a low sun. The full moon name often used by Christian settlers is the "Moon before Yule."
Time of full moon: 10:28 p.m.
March: The Worm Moon
Snow slowly begins to melt, the ground softens, and earthworms show their heads again and their castings or fecal matter can be found.Christian settlers also called this the Lenten Moon and considered it the last moon of winter.
Time of full moon: 1:48 p.m.
April: The Pink Moon
Flowers begin to appear, including the widespread grass pink or wild ground phlox. Other variations indicate more signs of full spring, such as Sprouting Grass Moon, Egg Moon, and Fish Moon (common among coastal tribes).
Time of full moon: 10:35 p.m.
May: The Flower Moon
Flowers come into full bloom and corn is ready to plant. Also called the Corn Planting Moon and the Milk Moon.
Time of full moon: 6:45 a.m.
June: The Strawberry Moon
Strawberry-picking season reaches its peak during this time. This is one of the few names that was universal to all Algonquin tribes.
Time of full moon: 3:12 p.m.
How about a blue moon?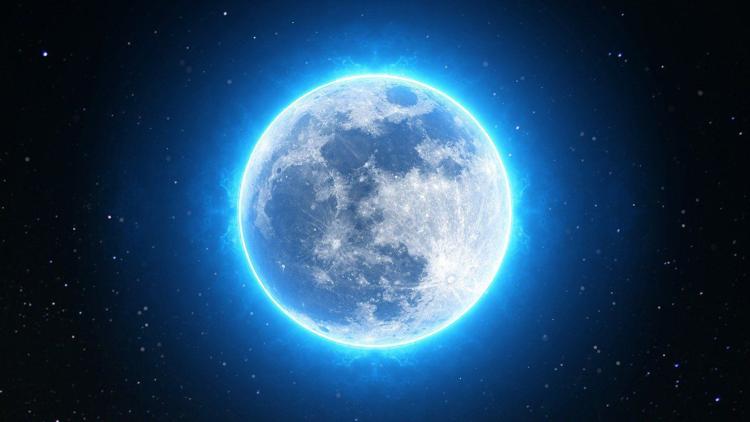 When you hear someone say "Once in a Blue Moon..." you know they mean: Rare/seldom. 
According to modern folklore, a Blue Moon is the second full moon in a calendar month. Usually months have only one full moon, but occasionally a second one sneaks in. Full moons are separated by about 29 days, while most months are 30 or 31 days long; so it is possible to fit two full moons in a single month. This happens every two and a half years, on average.
From: https://www.nasa.gov/vision/universe/watchtheskies/07jul_bluemoon.html