The winter of 2020-21 will likely take a page from the warm and nearly snowless playbook of the prior year. However, long-range forecasting experts offer a snowy glimmer of hope for winter-weather lovers.
Jim Sullivan, chief meteorologist at WeatherWorks, a weather consulting company based in Hackettstown, Warren County, says the winter should wind up warmer than average, with fewer chances of snow. However, it should not be as snowless or as warm as last winter.
A persistent La Niña pattern will likely keep the winter mild overall, with few opportunities for snow. However, long-range experts say the polar vortex, absent from South Jersey last winter, could very well arrive this winter, bringing at least one chance for a deep chill and perhaps a snowstorm.
Sullivan highlights the first few weeks into early January as the best time to see a "legitimate" period of winter. On average, the first snowfall at Atlantic City International Airport is Dec. 18.
Winter 2019-20 averaged 0.6 inches of snow in South Jersey, the least since records began in 1895-96, according to the Office of the New Jersey State Climatologist. This included no snow at all in March, also a record.
How much snow do you like?
Atlantic City International Airport recorded 0.5 inches of snow last winter, the second least since recordkeeping began there in 1943, while Cold Spring in Lower Township recorded 0.9 inches of snow and The Press' headquarters in Pleasantville measured 0.4 inches.
The average snowfall at Atlantic City International is 16.5 inches. Cold Spring averages 14.9 inches, while Seabrook Farms in Upper Deerfield Township averages 13.4 inches.
Winter forecasting includes looking at snow cover during the fall, water temperatures offshore, solar cycles and winds tens of thousands of feet above the surface in the stratosphere. However, no factor is more important than the state of the El Niño Southern Oscillation.
The ENSO is the state of the water temperatures along the equatorial Pacific Ocean. When they're above average, its an El Niño. When they're cooler than average, it's a La Niña. The state of ENSO has impacts far and wide across the globe, including in North America.
Winter 2020-21 will likely have the strongest La Niña since winter 2010-11. That gives a loud signal that winter will likely be warm and wet, rather than cold and snowy in South Jersey and for much of the southern United States.
"A lot of years, I don't say anything (about a winter forecast) because all bets are off until you see a strong signal. We're seeing a pretty strong signal (for a La Niña), and it doesn't bode well for those who love cold, snowy winters in New Jersey," said Dave Robinson, the New Jersey state climatologist and professor in the Department of Geography at Rutgers University.
In a La Niña pattern, an area of clockwise spinning high pressure sets up south of Alaska. This forces the jet stream — the river of air that separates cold air to the north from warm air to the south — to move from Alaska into the Great Plains and then turn back north over the Northeast, typically well west of New Jersey. Low pressure systems often follow the jet stream, and when they are to the west, their counterclockwise spin will shoot warming, southerly winds into the region. It is possible there are storms that will drop snow or sleet for a few hours, before the precipitation changes to rain and washes away the wintry weather.
Sullivan and Robinson agree this storm track signifies the likelihood of coastal flooding. With storm tracks staying inland, not offshore, nuisance to destructive flooding will be less of an issue.
Last winter, the polar vortex, an upper-level, low pressure system that rotates counterclockwise around the North Pole, never expanded into the Eastern United States.
The polar vortex is like a spinning top. When it spins strongly, it maintains its composure, this time at the poles. When it spins weakly, it can wobble, which can bring colder than average and potentially snowier than average periods.
The winter outlook in South Jersey appears to be one with more snow shoveling and more bundl…
"There was this beginning of the PV weakening in late November, early December. ... We got a weakening and the only snowstorm of the winter in December. But then that weakening of the PV never really got fully going," Judah Cohen, director of seasonal forecasting for Atmospheric and Environmental Research, said of last winter.
How much snow do you like?
This development led to winter forecasts gone astray.
The winter outlook in South Jersey appears to be one with more snow shoveling and more bundl…
"I was hinting into the winter that we'd have a good winter in the East. The snow cover was high, the sea ice was low. I thought all the signals were there," Cohen said.
However, Cohen said there are indications a weakening of the polar vortex will be possible in the winter ahead.
Cohen looked at the nine winters that were in a La Niña the past 20 years. Out of the nine, eight had a weakening of the polar vortex. Of those eight, Cohen classifies three winters as being at least partially colder than average in the Eastern United States.
The most recent one was the winter of 2017-18. That included a storm that brought double-digit snowfall to many places in Cape May, Atlantic and Ocean counties. The highest amounts were in southern Ocean County, with 18 inches in Stafford Township and 17.5 inches in Tuckerton. In March 2018, a quartet of nor'easters brought 9.6 inches of snow to Atlantic City International, and numerous rounds of coastal flooding. That frequency of coastal storms is not expected this winter.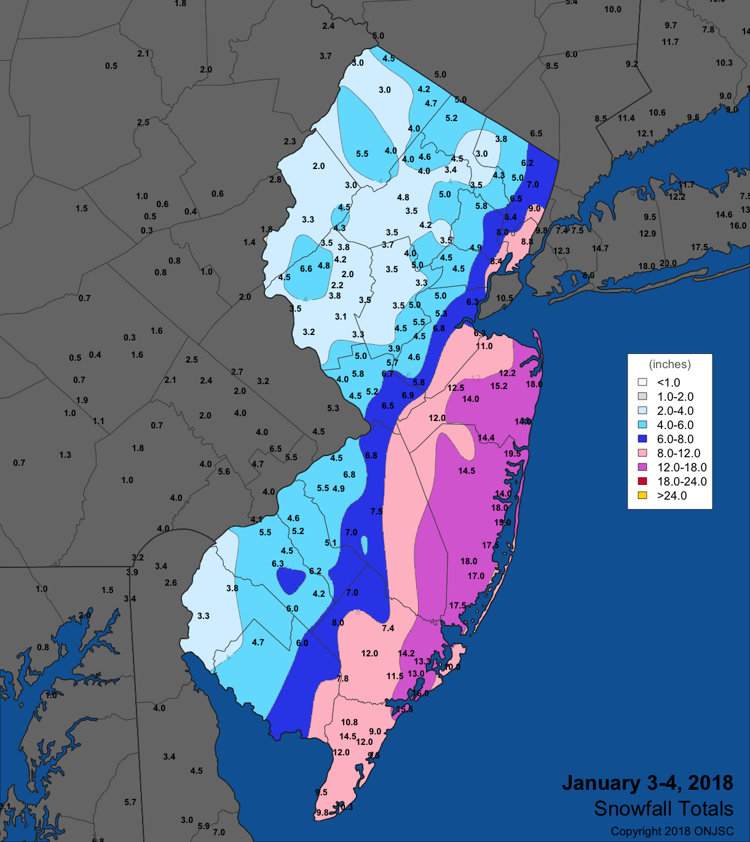 While La Niña typically brings milder temperatures and fewer chances of snow, Sullivan says this La Niña is "east-based." That could shift the jet stream in the Northeast from the interior to near shore, increasing the likelihood for cold air to push southeast, toward the coast.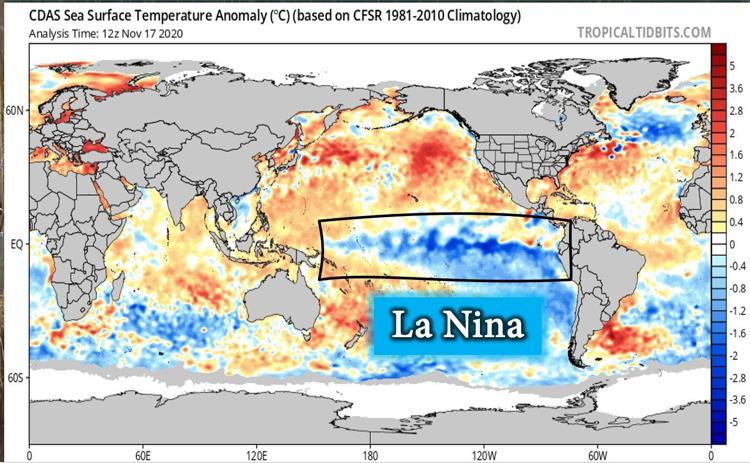 Furthermore, the solar cycle is slightly favorable for more snow.
"We're coming off of a deep solar minimum. It didn't help last winter, but it could this year," Sullivan said, noting that solar activity typically comes into play only if all other factors regarding a winter are equal.
Morning sun to clouds. Drizzle likely during the evening, with rain starting 11 p.m. to 1 a.m.
Rain until 7 to 9 a.m. Windy from the southeast early, but turning northwest for most of the day.
A mix of sun and clouds. A snow shower will not be ruled out at any point.
Mostly cloudy. Likely dry.
More sun than clouds.
A mix of sun, clouds
Monitoring a storm system.
Support South Jersey journalism at The Press of Atlantic City