Note: An error was made in Cape May in regards to the tide level. The tide height was 8.39', higher than the 8.35' originally reported. However, that ranks number nine (tied) in recorded history, according to mean higher high water heights, not three. The reason for the error was due to comparing Saturday's tidal height at Cape May (Canal) to Cape May (Harbor) historical crests. The numbers have now been updated. 
The worst coastal flooding since Sandy? Not quite but it was a top ten event for most locations. Saturday's storm delivered downed power lines, damage from fallen trees and the most extreme tides in nearly three years.
The storm came in three parts. First was the driving rain late in the evening until the early morning on Saturday, which was accompanied with a stiff wind. However, the strongest winds were saved until Saturday morning, after the heaviest rain had left. Finally, a round of coastal flooding not seen in years swept through late morning into the early afternoon.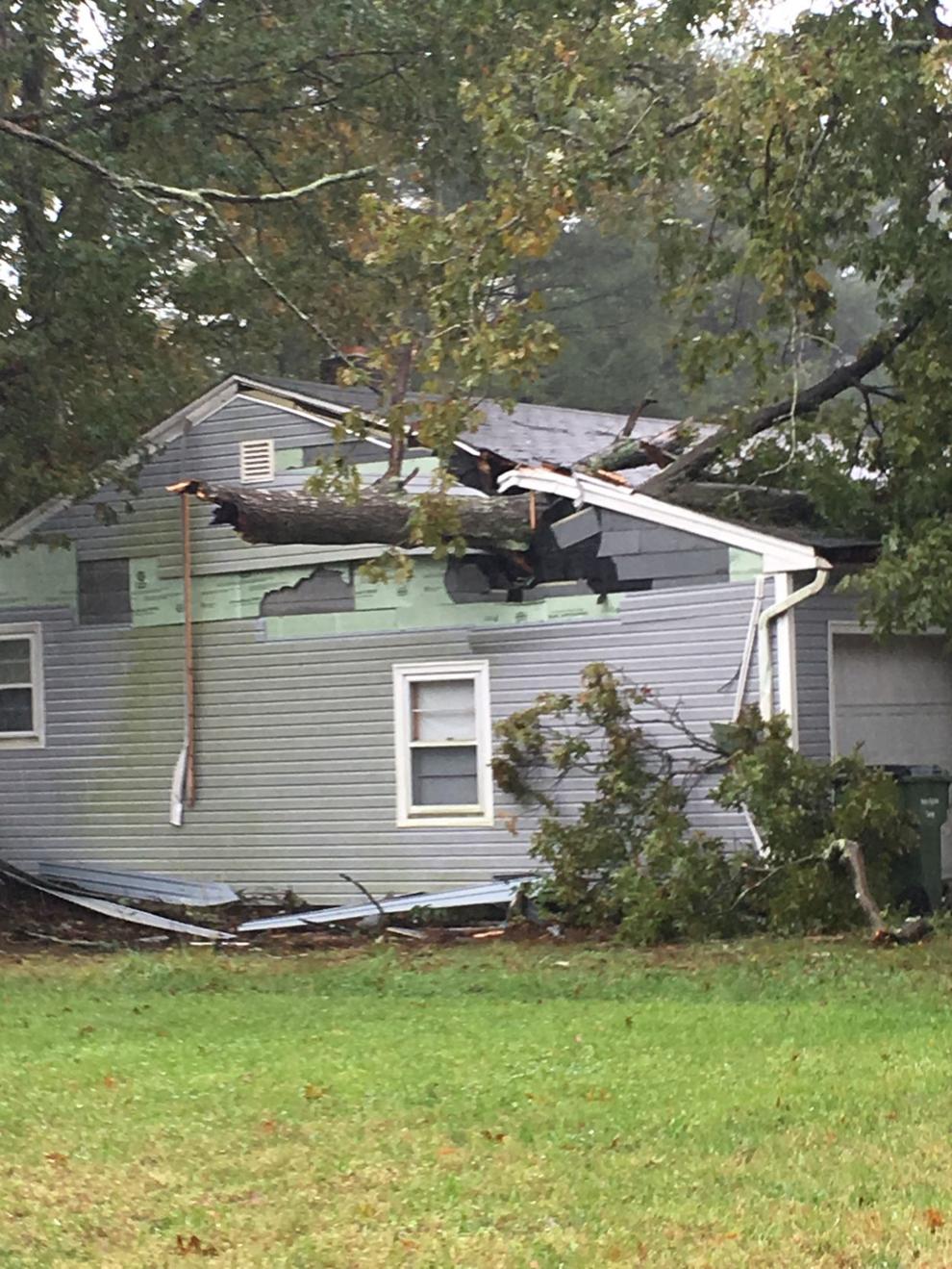 In terms of coastal flooding, this storm will rank up there as the one of the worst in recent memory. Tidal gauges at Cape May reached major flood stage. Ocean City, Atlantic City and Barnegat Light were in moderate flood stage. 
Looking at the numbers from Saturday morning, Cape May Canal had the ninth highest tide (in reference to mean higher high water) in recorded history.
When looking at the mean lower low water heights, Saturday reported a crest of 8.39 feet (preliminary number). The Blizzard of 2016 was the highest, at 8.96 feet. Sandy recorded a high tide of 8.89 feet, with another high tide at 8.40 feet, virtually a tie with Saturday's height. 
In Ocean City, it was the fourth highest tide in recorded history. Since Sandy, only the January blizzard of 2016 was higher.
Public Information Officer Doug Bergen said that the real-time tide gauge on the bay showed the water at 7.25 feet at the peak the high tide and Winter Storm Jonas was 7.66 feet.
While there could be some vehicles with some water damage, he said that he doesn't anticipate damage to property.
GALLERY: Flooding photos from Oct. 27 storm
Barnegat Light had the eighth highest tide in recorded history. Only on February 9, 2016 was the crest higher since Sandy. 
Ventnor Police Chief Douglas Biagi said that the four-hour high tide was "unheard of" even if the moons are aligned, for the city.
"We weren't unprepared, it's just that the public didn't expect it," he said, adding that it's just another day on the job for first respondents. "I think people just watched in amazement as the water kept coming up and coming up."
He said that he expects reports of property and vehicle damage. 
In Atlantic City, it was the 13th highest tide in its long, recorded history. Only the January blizzard of 2016 had a higher tide since Sandy.
Atlantic City Fire Chief Scott Evans said there was 3 feet of water on Massachusetts Avenue, 2 feet in Lower Chelsea and in low-lying areas it was even deeper.
"The Chelsea Heights neighborhood took a real beating as the water overtook the berms along South Boulevard Avenue," he said, adding that at 8:30 a.m., there was no water and at 10:30 a.m., there was a lot of water. "As it came up, the wind stayed constant from an east northeast direction, pushing the water up rather quickly."
Chris Macaluso, 32, was born and raised in Atlantic City. He purchased his home on Arizona Avenue with a first-time homebuyers loan in 2011 and spent money upgrading during the same year. He is still living in the same house. His real estate agent did not inform him about the flooding.
After Hurricane Sandy, he had 3 feet of water in his house. He had to redo all the electric, sheet rock, hardwood floors and kitchen stuff.
Macaluso said the water this time was almost in his house. It was up to his porch, and his backyard was full of water.
"This storm was as bad as Hurricane Jonas in 2013," Macaluso said.
Macaluso lives on the right side of the street with the even number houses. Six houses on the left side of the street had water in them, the same six houses that had water in them during Hurricane Sandy, he said.
Macaluso said he heard the Baltic Avenue canal did not turn on again on Saturday. The city was offering parking at the Wave Garage.
Macaluso said he was frustrated by the fact that there seems to be no resolution to this issue.
"Water was crashing in front of our houses," Macaluso said.
At 3:30 p.m., he said the water was up to his shins on his street.
Macaluso said he wants to know what the city's plans are for the future when it comes to flooding in the area. Does the city have any plans for the area, or is it going to let it be taken by the bay?
"People in this area feel abandoned 100 percent," Macaluso said.
So, for many, this may not have been the worst since Sandy, but it came very close and will be notable for shutting down the Ocean City-Longport Bridge. 
The severe winds were right up there with the coastal flooding in terms of impacts. The low pressure system took the form of an elongated shape. While the storm wasn't noteworthy in terms of its lowest pressure, a tight pressure gradient, thanks to a Canadian high pressure nearby, created a long fetch for the storm to pull and strengthen winds from. This generated an extremely windy morning for New Jersey.
As of early Saturday evening, nine reports of wind damage were seen in Ocean, Atlantic, Cape May and Cumberland counties. Among them were a tree that fell on a roof in Egg Harbor Township and a downed tree in Estell Manor that shut down Route 50.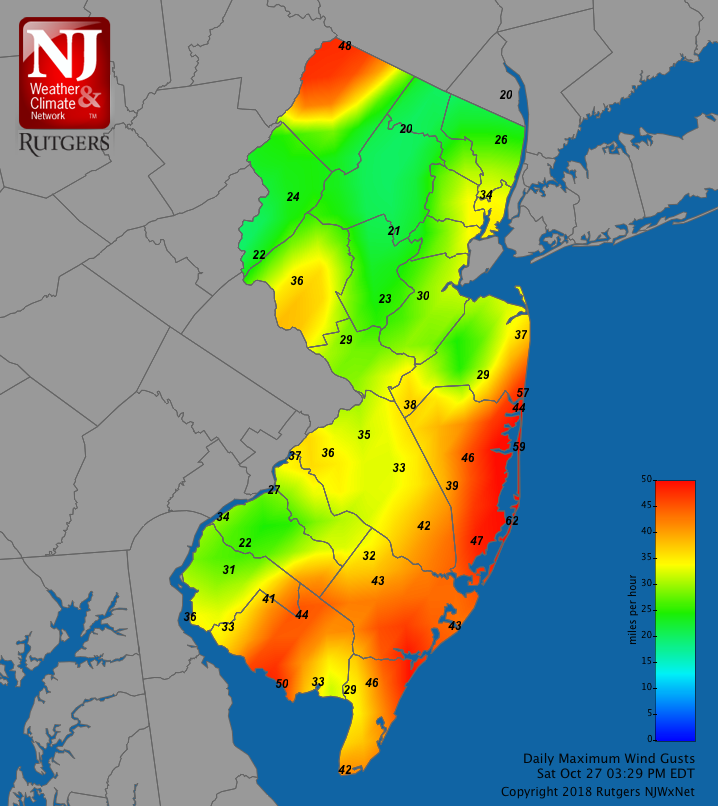 Wind gusts of 40 mph were common for most of southeastern New Jersey. Long Beach Island experienced the strongest gusts, with a 62 mph reading in Harvey Cedars and a 58 mph reading in Barnegat Liight. Further north in Ocean County, a 67 mph wind gust was recorded in Seaside Park.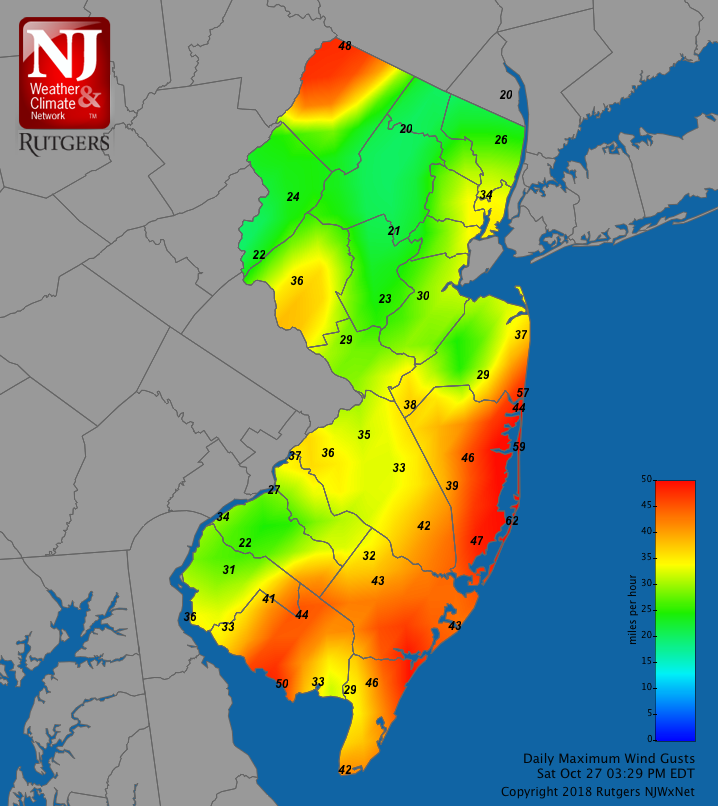 The winds and the coastal flooding caused the most issues, but rain did come down heavy for a few hours, as well. Most locations saw between 1 to 2 inches of rainfall. However, higher amounts were had along the Garden State Parkway corridor.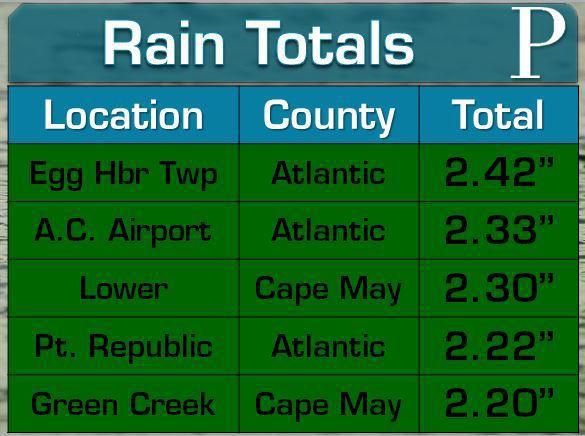 Egg Harbor Township reported the most rainfall, with 2.42 inches of rain. Atlantic City International Airport reported 2.33 inches of rainfall.