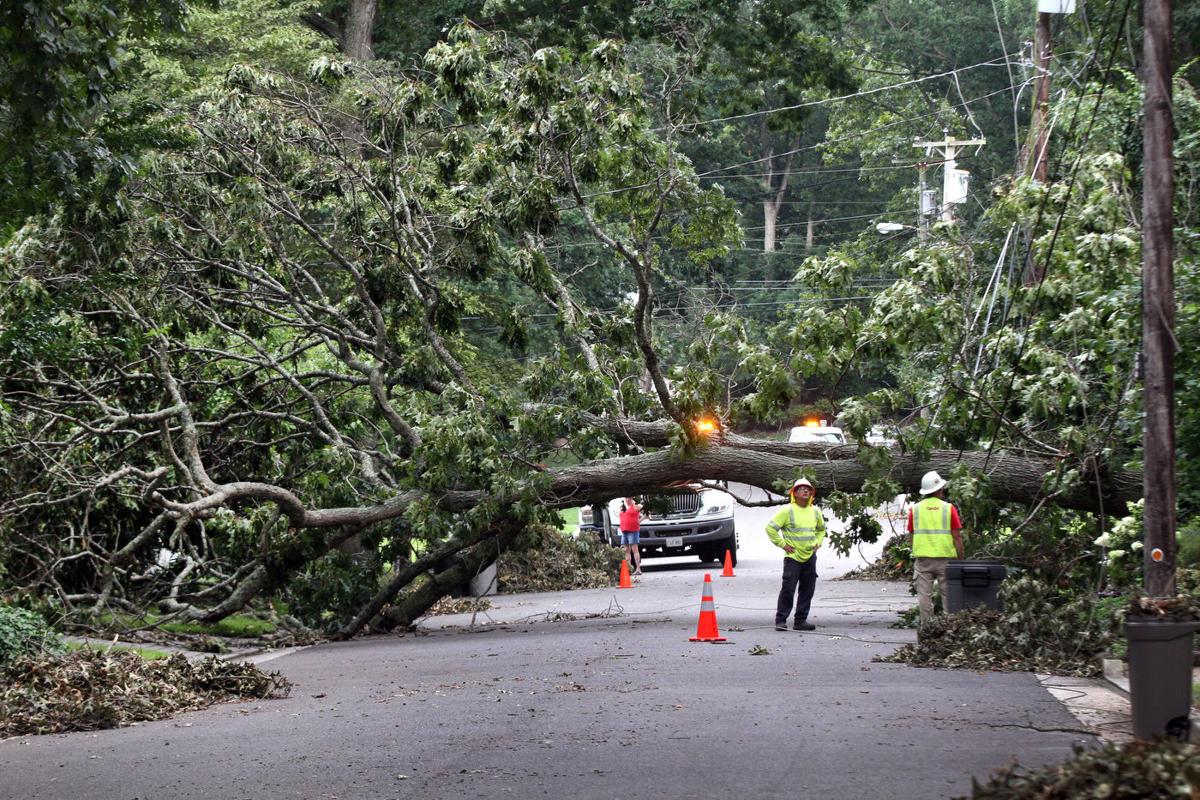 South Jersey has been the landing spot for three tropical systems in the past decade. While experts say it is a stroke of meteorological coincidence, a changing climate does bring the increased risk of stronger storms to the shore.
In the past decade, Irene (2011), Superstorm Sandy (2012) and Fay (2020) all made landfall in South Jersey, Irene and Sandy both crashing into Brigantine.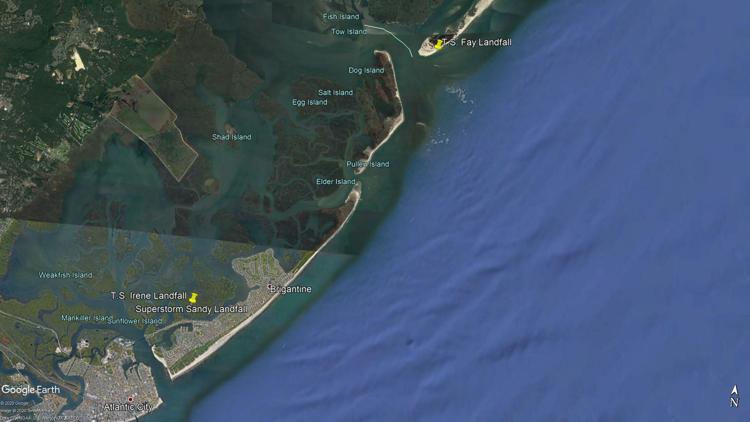 But experts say that despite the record-breaking pace of storms in the Atlantic Hurricane Basin this year, there is no evidence linking climate change to the quantity of the storms striking our coastline.
"A little bit of it is just luck of the draw. If you look at the geometry of the Jersey coast, the southern coast goes from southwest to northeast and then it makes a turn north up Long Beach Island. ... I think that opens up for a storm to come in there," said Dave Robinson, the New Jersey state climatologist and professor of geography at Rutgers University.
But a warming ocean and other factors are leading to more potent hurricanes and tropical storms, said Sean Sublette, meteorologist at ClimateCentral, a nonprofit based in Princeton.
Utilities and shore towns are preparing for more severe weather. Atlantic City Electric is developing an Atlantic City/Brigantine Community Reliability Project, which will replace an existing substation and rebuild two transmission lines between Atlantic City and Brigantine.
"Across South Jersey, we are seeing the impacts of more frequent and more severe weather driven by climate change. These storms and hurricanes are bringing stronger and more damaging winds and extreme flooding, and are having lasting impacts, particularly across the barrier islands," said Frank Tedesco, senior communications specialist for Atlantic City Electric.
The reason for more intense storms is mainly twofold, taking into account warming ocean waters and decreasing vertical wind shear, or change in winds with height.

"With climate change, we expect a basin wide-warming of ocean waters, so a storm can hold or maintain a certain intensity as it moves along the East Coast of the United States. With this kind of warming, you very likely have storms following the Gulf Stream," said Jhodranne Jones, research assistant at Colorado State University, which produces a widely accepted hurricane forecast in April with updates in June, July and August.
This month, the university predicted the Atlantic Hurricane Basin will have the second-most active season on record, with 24 named storms, 12 hurricanes and a 49% chance of a major hurricane, with maximum sustained winds of 111 mph or greater, making landfall on the East Coast. The average chance of a major hurricane making landfall is 31%. The prediction covers the Atlantic Ocean, the Gulf of Mexico and the Caribbean Sea.
According to the National Oceanic and Atmospheric Administration, water temperatures are about 0.6 degrees Celsius warmer than the 1981-2010 average in the North Atlantic during 2019. Tropical systems need warm water, typically at or above 80 degrees Fahrenheit, to strengthen and maintain their intensity.
"With climate change, there is an increased likelihood that more intense storms will reach New Jersey. With this kind of warming, you very likely have storms following that Gulf Stream," Jones said.
With warmer waters, storms have also intensified at a quicker pace. This occurs when there's an increase in the maximum sustained winds of at least 35 mph within a 24-hour period. In 2017, three storms underwent rapid intensification. Two achieved RI in 2018, and three again in 2019. No storms have so far in 2020.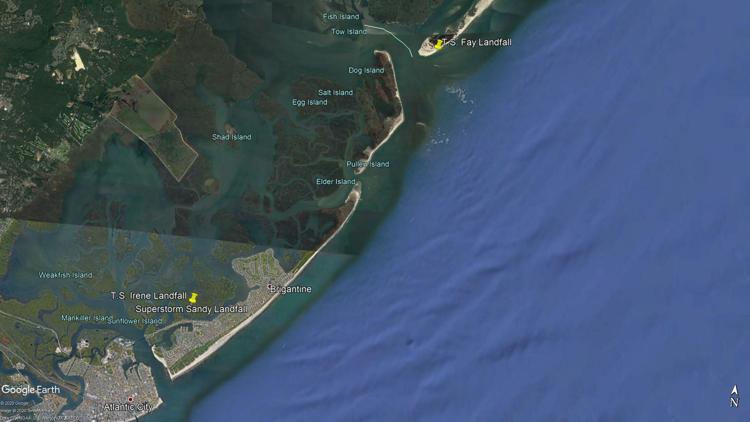 In addition to the warmer waters, the reduction in vertical wind shear has and will continue to intensify storms. Since hurricanes take up the full vertical extent of the troposphere, the lowest layer of the atmosphere, and are steered by the winds in the vertical column, a reduction in wind shear prevents storms from being ripped apart by winds traveling at different speeds at different heights.
Future rapid intensification events will more likely be closer to land, too. Research in the journal Scientific Reports shows wind shear has decreased around and near the southeastern U.S. coast since the 1970s; future climate projects predict wind shear will continue to weaken. However, shear increases in the Gulf of Mexico and Caribbean Sea, indicating there may be weaker storms there.
Earlier this month, Isaias made landfall in North Carolina and moved inland, up the East Coast. As it entered New Jersey on Aug. 4, two EF-1 tornadoes spawned from those storms. Tornadoes are measured on an Enhanced Fujita (EF) scale for severity, ranging from 0 to 5. One EF-1 tornado, with maximum winds of 100 mph, damaged the Oak Ridge Resort campground, Pine Hill Mobile Home Park and other places in the Marmora section of Upper Township. The second EF-1 twister passed over Barnegat Bay and over the Route 72 causeway connecting Long Beach Island to Stafford Township, largely passing through undeveloped land in the town. A wind gust of 109 mph was recorded at a weather station in the path of the storm.
Despite the rarity of such events, there is no correlation to an increased number of tornadoes in tropical systems.
"I don't see an immediate reason for that," Sublette said.

Jones agreed, adding research has shown stronger tropical systems do produce more tornadoes. However, even weak storms, like Isaias, can produce many tornadoes if environmental conditions are right.
There are other, naturally occurring cycles that impact hurricane activity.
The El Nino Southern Oscillation is a periodic variation in winds and sea surface temperatures over the equatorial Pacific Ocean off South America.
In an El Nino pattern, warmer waters in this part of the globe typically decrease hurricane activity in the Atlantic Ocean. The opposite pattern, La Nina, where cooler waters promote less wind shear in the Atlantic, increases hurricane production.
As of Aug. 10, the ENSO state was neutral, according to NOAA, which still yields higher activity than an El Nino season. There is, however, a La Nina watch for fall 2020.
The other cycle is the Atlantic Multidecadal Oscillation, which is a change of about 1 degree in sea surface temperatures in the entire ocean roughly every 30 years. This has been occurring for at least 1,000 years, NOAA says. During the warm phase, which the planet has been in since 1995, the number of tropical storms that turn into hurricanes is much greater than during cool phases, which will likely start in the mid-2020s.
But even a degree of cooling will likely be offset by the warming of ocean temperatures due to climate change.
Between exploding development along the Jersey Shore and climate change, future tropical systems will likely bring more damage to shore towns. Sublette specifically cites sea level rise as an issue. Higher waters mean more homes and businesses under water. Factor in the trend for more intense storms, and situations worse than Sandy will be possible.