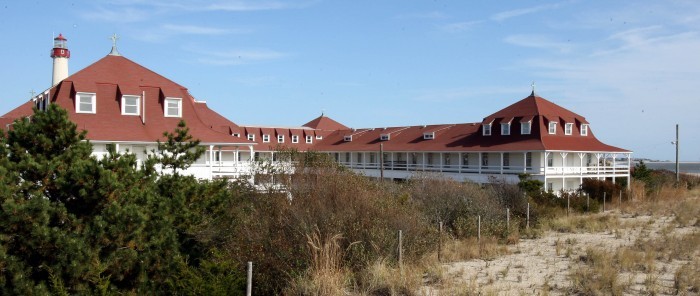 Four nursing homes sit just a few miles away from one other on the western side of the Garden State Parkway in Middle Township, Cape May County.
During the first half of 2009, township police and ambulances were called an average of 12 times each month to each of the homes, Middle Township police statistics show.
The Loyalton of Cape May and the Oceana Rehabilitation and Nursing Center are for-profit businesses. Combined, the two paid $163,000 in taxes in 2009, money that went to the township's budget and helped fund some of the services that were provided to the nursing homes.
But the Eastern Shore Nursing and Rehabilitation Center and Courthouse Convalescent, with property valued at $5.5 million and $6.2 million, respectively, are nonprofit, and pay no taxes.
About $21 billion in property — about 10 percent of the total — in Atlantic, Cape May, Cumberland and Ocean counties is tax exempt, according to a Press of Atlantic City review of more than 49,000 property-tax records. The value of the property may actually be higher, but municipal tax assessors often are not as vigilant in reassessing a tax-exempt property, since doing so doesn't add a dime to the municipality's revenue, a Rutgers study found.
Even as budgets get tighter across New Jersey and property-tax rates continue to rise, the idea of taxing exempt land remains largely taboo.
State Sen. Jeff Van Drew said he believes that may not be the case for long.
"We are living in historic times. This will be the most challenging budget in New Jersey, and there are going to be conversations that really weren't on the table before," he said.
Van Drew, D-Cape May, Cumberland, Atlantic, said he would oppose lifting tax exemptions.
Tax-exempt property can include churches, charities, nonprofits, hospitals, railroads, cemeteries, public parks, nursing homes, state, county or federal land, schools, universities and the homes of disabled veterans. They include property-tax abatements used to encourage growth.
Property-tax exemptions can be found in every municipality. The state Division of Taxation estimates that 9.8 percent of all property in the state is tax-exempt.
In Hammonton, American Legion Post 186 sits on one-third of an acre on French Street and is assessed at $270,900. It does not pay property taxes.
Commander Arthur Orsi said small posts such as his could not afford any extra tax or fee.
The post concentrates on veterans' care and provides assistance to local veterans, he said.
"I can only speak for our post, but I know other posts in Atlantic County and others in the area are struggling," he said. "Many of them had to sell their buildings. A tax on a building would be a tremendous hardship to many of the service posts. Most of them, to be perfectly honest with you, are living from month to month."
In 2005 in Harvey Cedars, Ocean County, the borough lost its largest taxpayer when the Maris Stella Sisters of Charity received a tax exemption. At the time, the charity paid nearly $50,000 per year in property taxes.
The organization succeeded in converting the 13-acre bay-to-ocean area from a nuns' vacation retreat to a property offering educational retreats and access to other nonprofits.
In Cumberland County, Vineland has $464 million worth of tax-exempt property, including $38 million in churches and charities.
Millville has nearly $44 million worth of churches and charities.
Starting under a state law in 1851, the state Constitution exempted property used entirely for religious, charitable, educational or cemetery use from paying taxes. Over the years, the state Legislature has expanded those categories to include historical societies, public libraries, first-aid squads, hospitals and parsonages.
But when a property doesn't pay taxes, that means those who do pay taxes have to cover the bill.
In southern New Jersey, 10 percent of the region's ratable base is exempt from paying taxes. That means, for every dollar a taxpayer pays in property taxes, about 10 cents on average goes to paying for those who don't pay property taxes.
In Somers Point, Atlantic County, Shore Memorial Hospital's approximately $57 million complex doesn't pay property taxes, although the hospital does pay a contribution known as a PILOT, or payment in lieu of taxes, to the city.
Still that doesn't sit well with a local attorney.
Seth Grossman, who is also director of Liberty & Prosperity, a grassroots citizens group, said allowing hospitals, government-operated golf courses and stadiums to not pay property taxes opens the door to corruption in government. At the very least, it provides tax breaks out of the reach of most ordinary citizens, he said.
"When you have these exemptions, you end up with things that are very complicated and end up being more expensive," he said.
Grossman said he believes places of worship are probably the only places that should be exempt.
In Middle Township, the 242-bed Cape Regional Medical Center on Stone Harbor Boulevard does not have to pay property taxes on its $42 million property. If taxed fully, it would generate more than $500,000 annually.
Police responded to the hospital 100 times between Jan. 1 and May 20 last year, on calls ranging from disorderly conduct, accidents, false alarms and community policing.
But hospital spokesman Thomas Piratzky said that if Cape Regional had to pay property taxes, it wouldn't be able to provide as many services and programs as it does now.
Cape Regional Medical Center provided about $7 million in uncompensated care for the uninsured in 2009, he said.
"New Jersey's acute-care hospitals are almost exclusively not-for-profit entities — any excess revenue over expenses is returned to the community in the form of new medical technology, expanded hospital services, maintenance and expansion of physical infrastructure and the enhanced ability to hire and maintain a skilled work force," Piratzky said.
But not everything is exempt at Cape Regional.
A Subway restaurant that recently opened on the first floor of the hospital is being taxed, as is a cellular telephone company that pays rent for an antenna tower located there, Middle Township Tax Assessor Joseph Ravitz said.
Matt Weng, staff attorney for the New Jersey League of Municipalities, said there have been scattered attempts in the Legislature to address tax exemptions, but they have fizzled.
"So far they haven't been really very successful," he said.
One state Assembly bill that the League of Municipalities supported (A-1752 in 2008-09) would have required certain tax-exempt housing to reimburse school districts based on the number of students attending school there, Weng said. The bill, introduced by Mercer County lawmakers, died without action, but it has been reintroduced this year.
Kail Padgitt, staff economist at the Washington, D.C.-based Tax Foundation, said the economy is seeing a trickle-down effect as the federal government is running a huge deficit and state governments are pulling funding from municipalities, which need to find ways to cover operational costs.
Across the country, government is being forced to consider whether it can afford to exempt properties from paying taxes, Padgitt said.
In Pennsylvania, state lawmakers have talked about the possibility of allowing municipalities to charge fees for tax-exempt organizations.
Taxing churches and hospitals and nonprofits?
"This is very politically unpopular," Padgitt said. "Although there might be a desire to do it and economic justification to do it, it's going to be politically unpopular just because of what it looks like."
In 2009, $538 million worth of church and charitable property was not taxed in Cape May County, with nearly half of it located in Middle Township and Ocean City, according to Cape May County Board of Taxation figures.
"These issues come up, and some will come up even more as communities are more strained in providing services off the tax base," said David Listokin, a professor at the Edward J. Bloustein School of Planning and Public Policy at Rutgers University.
Cape May Point is a small, quaint vacation town with 223 full-time residents.
Last year, the Sisters of St. Joseph — a Pennsylvania-based order of nuns — fought their taxes, arguing their waterfront $6.3 million St. Mary by the Sea retreat should be exempt because they converted the use of the building from a vacation spot to one serving religious purposes.
The order, which bought the property in 1909, won a partial tax exemption that reduced its taxes by about $10,000 — or one-third.
"There are a lot of nonprofit organizations in New Jersey, including school and churches and all sorts of other organizations like that, for (which) it would be a hardship to pay tax," said Mary E. Forsberg, interim president of New Jersey Public Policy Perspective. "But there are certainly situations where some kind of in-lieu-of-tax payment could be made. There are agreements that municipalities reach with some nonprofits to get them to contribute in some way."
Although tax-exempt organizations do not pay property taxes, some do contribute the payment in lieu of taxes to offset some of the costs associated with providing police and fire protection to the properties.
The Diocese of Camden has owned a 17-acre parcel of vacant land in Middle Township's Rio Grande section for more than 20 years. The diocese pays taxes on the land, valued at $602,000.
In January 2009, the Diocesan Housing Service Corp. received $11.2 million in federal funding to build a 74-unit affordable-housing complex for senior citizens. Plans have not gone forward yet, but a building there would be tax-exempt, and the organization would pay a percentage of rents to the township instead of taxes.
Towns have generally embraced such arrangements, particularly as a way for them to meet the state's requirements under the Coalition On Affordable Housing, or COAH.
In a 2004 study, Rutgers University professor Donald Krueckeberg asserted that the burden of supporting tax-exempt properties was unevenly and sometimes unfairly distributed to the communities that could least afford it.
Krueckeberg, now deceased, believed the state needed to redistribute the burden so that everyone paid an equal share for all the tax-exempt properties. Towns with the higher levels of tax-exempt properties often have higher tax rates, Krueckeberg found.
"Tax exemptions of churches raise two conflicting concerns," he wrote. "One is that the exemption might be considered a subsidy and therefore might establish the exempted religion as an arm or endorsed faith of the state. The second is that if tax exemptions were not granted, the expense of paying taxes might inhibit the free exercise of religion by making that exercise unaffordable."
Van Drew said the state's budget problems are more a spending problem than a revenue problem.
"If we start taxing nonprofits and churches, it's going to have a negative impact on the work they do," Van Drew said.
"If you start taxing hospitals, ultimately at the end of the line, at the end of the day, people are going to pay more for health care," he said.