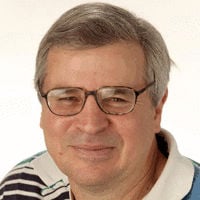 Guy Gargan
Staff Writer
Bio

I've been at The Press since January of 1983. I cover all sports in general, but mostly lifeguard racing, and high school field hockey, football, swimming, basketball, crew, baseball and softball.
Pinelands Regional High School's John Hart scored the game-winner in the second overtime as the Wildcats boys soccer team beat visiting Lacey …
James M. Reina has been approved as the new superintendent of the Greater Egg Harbor Regional High School District.
MILLVILLE — An exciting game between the Middle Township and Millville high school field hockey teams went back and forth Monday.
The Haddonfield High School field hockey team beat previously unbeaten Ocean City 3-2 in overtime Saturday in O.C. in a meeting of two teams i…
The Ocean City High School football team, ranked No. 5 in The Press Elite 11, improved to 3-0 Saturday with a 45-7 win over host Cedar Creek.
LINWOOD — The Mainland Regional High School football team, led by backup quarterback Brody Levin, wrote a dramatic ending to an otherwise slop…
ABSECON — The Mainland Regional High School girls soccer team overcame a great first half by host Holy Spirit and rallied for a 4-2 win Thursday.
Camryn White scored all three goals for the Barnegat High School field hockey team Tuesday as the Bengals beat visiting Manchester Township 3-…
LINWOOD — The Ocean City High School girls soccer team never trailed and beat rival Mainland Regional 3-2 Saturday in a fast-paced game betwee…
View all