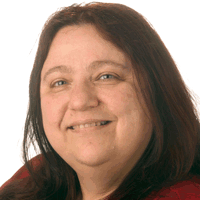 Becky Hendricks
Copy Editor
Bio

Five years as Ocean County bureau chief, 12 years as regional news editor (not continuous), 10 years as copy editor (also not continuous), all at The Press of Atlantic City.
OCEAN CITY — The increasing intensity and incidence of severe weather seemed to be a topic on most people's minds at Thursday night's Cape-Atl…
WILDWOOD — Can you hear it? The rumble of tens of thousands of Harley Davidson motorcycles, occasionally cut with the higher whine of a Kawasa…
ATLANTIC CITY — Food, drinks and dancing are what millennials look for when they come to the resort, according to a recently released report b…
ATLANTIC CITY — Tioga Downs Casino, in Nichols, New York, continues its two-day job fair at the Claridge Hotel today.
ATLANTIC CITY — Teachers have not yet arrived for the first day of school, but Wes Wallace is already thinking about hiring substitutes.
TOMS RIVER — Gov. Chris Christie announced Friday that towns devastated by Hurricane Sandy will be able to apply for reimbursement of money th…
ATLANTIC CITY — The forum Blacks in American Media: Perception Matters takes place Saturday, organized by Black Lives Matter AC.
As one of the most anticipated annual meteor showers, the Perseids almost always delights star gazers early each August. It's typically a show…
New York Rangers' Wayne Gretzky smiles as he waves to the crowd following his last game in the NHL Sunday, April 18, 1999, in New York. Gretzk…
View all