ABSEGAMI
Coach: Jim Winkler
2018-2019 record: 0-7
What to watch: The Braves had a few graduations, but return Jana Baligod and Emma Sahl. Bella DeStafano and Stephanie Ruales are two good freshmen.
"We lost some depth but much of our talent is here," Winkler said. "Our top four should be a nice relay for us. We're trying to build for the future."
ATLANTIC CITY
Coach: Sean Duffey
2018-2019 record: 4-3
What to watch: The Vikings will be led by sophomore Megan Fox, a first-team Press All-Star last year who was fifth in the 500 freestyle and eighth in the 200 freestyle at the state Meet of Champions. Other key scorers are Sarah Tran, Kara Graybill, Madelyn Fox (Megan's older sister) and Cass Scott. The Vikings' lineup also has Julia Logue, Alex Siganos, Julia Arndt, Grace Bancheri and Kassandra Franco. Melissa Tran, Olivia Kulakowski and Grace Gaskill are good freshmen prospects.
"We definitely gained some speed and depth," Duffey said. "It's going to be an exciting year to watch their progress. We're looking forward to the season."
EGG HARBOR TOWNSHIP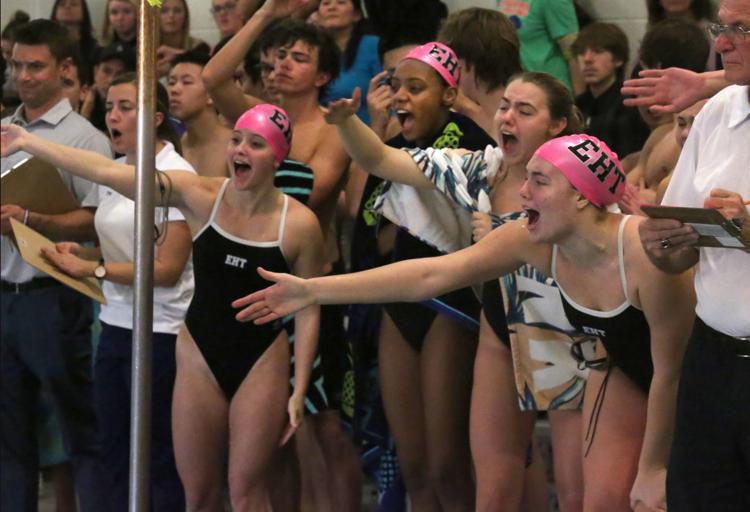 Coach: Mark Jamieson
2018-2019 record: 7-2
What to watch: The Eagles return many of their frontline swimmers from last year's team, which won its second straight conference title and lost to Cherry Hill East 101-69 in the South Jersey Public A final. EHT led the area with a final Press Elite 11 ranking of fourth.
This year's team will be led by Alexandria Cotter and Ava McDonough, both returning first-team Press All-Stars, plus Caitlin Moore, Sarah Azegzao, Olivia Evans, Lauren Greenleaf, Madison Keller and Ally Seiverd. Freshman Denise Yushan, Meredith Elko, Tram Duong and Sydney Kreidler will help keep the Eagles a South Jersey power.
"I think we have a lot of expectations," Jamieson said. "The conference is better. Mainland, Ocean City and Vineland are all strong. We want to have a competitive CAL conference season and go deep into the NJSIAA playoffs."
MAINLAND REGIONAL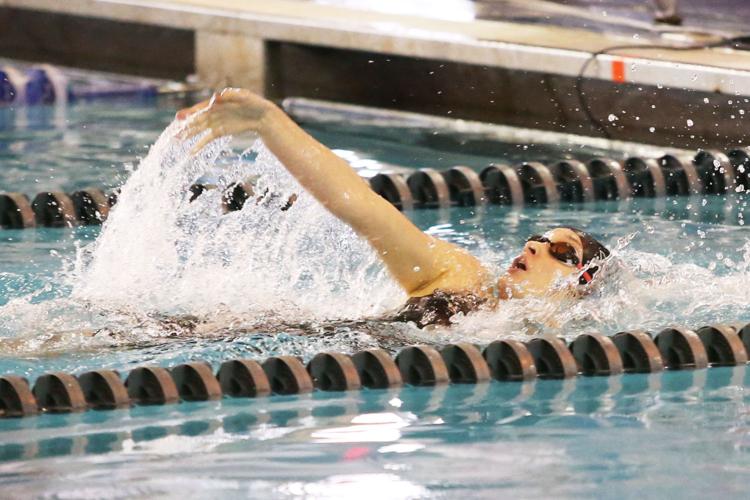 Coach: Mike Schiavo
2018-2019 record: 7-3
What to watch: Mainland features junior Katie McClintock, last winter's Press Girls Swimmer of the Year. McClintock set a national public school record in the 200-meter individual medley (2 minutes, 15.94 seconds). She also won the 200-yard IM at the Meet of Champions and was second in the 100 backstroke.
The Mustangs return several others who helped last year's team to a No. 6 final ranking in the Elite 11. Grace Gallagher, Rileigh Booth, Julia Goodman and Sophie Sherwood will keep Mainland a winner. The team also has Madeline Falk, Danielle Schuster, Shelby Spica and Alexandra Batty.
"We're excited for the season. The girls are working hard and growing together," Schiavo said. "We're looking forward to swimming fast."
MILLVILLE
Coach: Anthony Ganci
2018-2019 record: 3-5
What to watch: The Thunderbolts lost Colleen Renshaw, a three-time first-team Press All-Star, to graduation, but have increased to about 30 on team. Top scorers include Katherine Clark, Lexi Kukal and Hailey Schwegel. Julia Thompson, Lily Mahabir and Reese Sheppard are three good freshmen.
"We have a lot of freshmen and sophomores, which is good," Ganci said. "We expect to get better and build throughout the season. We expect to build up with numbers and great swimmers. Our goal is to reshape the swimming program (for both girls and boys)."
OCEAN CITY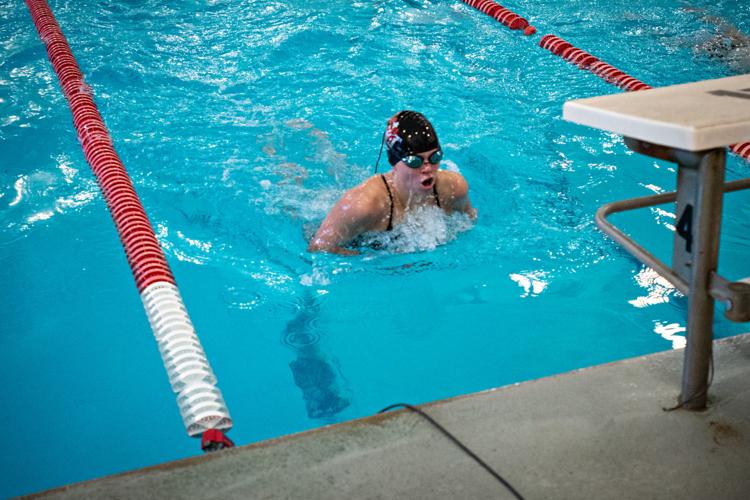 Coach: Ian Keyser
2018-2019 record: 11-3
What to watch: The Red Raiders should continue their great rivalries with Egg Harbor Township and Mainland this winter in the conference race. Ocean City returns nearly all of last year's team, which advanced to the lost to the South Jersey Public B final. The Red Raiders return Alex Antonov, a first-team Press All-Star last year. O.C. has a strong lineup which includes sisters Claudia and Olivia Scherbin, Emily Myers, Isabella Pagan, Brooke Powell and Brynn Bowman. Katie Barlow, a transfer from Bishop Eustace, will be a big help.
"We have a good core," Keyser said. "We should have a very successful season. New swimmers will fill spots in the lineup. Our goal is always to be as good as possible, and if that happens we'll be very successful."
VINELAND
Coach: Mike Schneider
2018-2019 record: 3-4
What to watch: The Fighting Clan graduated four key scorers but have 17 new swimmers. Back are Alaina Merighi, Carly Hullihen, Delaney Fisher, Angie Mainiero and Faviana Cohen. Leading freshmen include Ava Levari, Lena Luciano, Hannah Jara and twins Jada and Vanessa Williams.
"There's a lot of learning going on, and a lot of younger kids have the potential to help," Schneider said. "As far as I know, last year was the first year we didn't make the tournament, and one of our goals this year is to get back. We expect to have a lot more depth this year."
CAPE MAY TECH
Coach: Dawn Dudley
2018-2019 record: 6-3
What to watch: The Hawks won the first two playoff meets in program history last year and reached the South Jersey Public C semifinals. Cape May Tech has several returnees, led by Lindsay Robbins, Ruby Redmond, Cameron Muir, Alyssa Hicks and Emie Fredericks. Nicole Wright, Jayne Seitz, Alexandra Bruno, Jacque Jamison and Ally Boehm will help keep the Hawks competitive. Kaitlyn Crouthamel, Alexis Sykes and Dempsey are three good freshmen.
"We have a lot of returnees and it's definitely our year to shine," Dudley said. "The girls have been working really hard and we're really excited for the season."
CEDAR CREEK
Coach: Lauren Ciccariello (first year)
2018-2019 record: 2-4
What to watch: The Pirates are looking to improve with several young swimmers. Marlee Canale and Hailey Ingemi are leading swimmers, and Paige Goolden and Stacey Ngo will help. Logan Roesch and Megan Winterbottom are good prospects.
Ciccariello, who's also the Cedar Creek boys coach, is a former Rancocas Valley Regional and Cabrini College swimmer. She had been a Pirates boys and girls assistant for five years.
"We want the girls to continue with rebuilding and make it to the playoffs," Ciccariello said. "We have mostly a freshman team with a lot of new swimmers. We're looking forward to having a great season."
HOLY SPIRIT
Coach: Sari Carroll (first year)
2018-2019 record: No team
What to watch: The Spartans had a year swimming as a coed team with boys, and now, with greater numbers, once again have a girls team. The 15-member team is nearly all non-seniors. Grace Kaplan, Elle Summers, Halle Burns andd Cassidy Ross are key returnees. Bianca Gambino, Megan Baldwin and Sydney Drexler will add points. Sophie Sobinski, Lauren Tate and Maura McNulty are leading newcomers.
Carroll, long active as a coach in the swimming community, will be a high school head coach for the first time. She was a volunteer assistant for Absegami the last five years.
"We really excited to get started," Carroll said. "They really wanted (to have a girls team) and they're happy to have it. We have a lot of sophomores and juniors, and they'll do well once they work the kinks out. They're talented, and we're expecting the girls to do well."
LOWER CAPE MAY REG.
Coach: Brittany O'Donnell
2018-2019 record: 0-5
What to watch: The Caper Tigers have a slight increase in numbers. Key swimmers include Samantha Downes, Iris Sanchez, Mia Feulner, Julia Gibson, Drew Montanero and Sophia Kelleher.
"As always, we're looking for in times and in abilities," O'Donnell said. "We always stress getting better, with better times. That's all we can ask for."
MIDDLE TOWNSHIP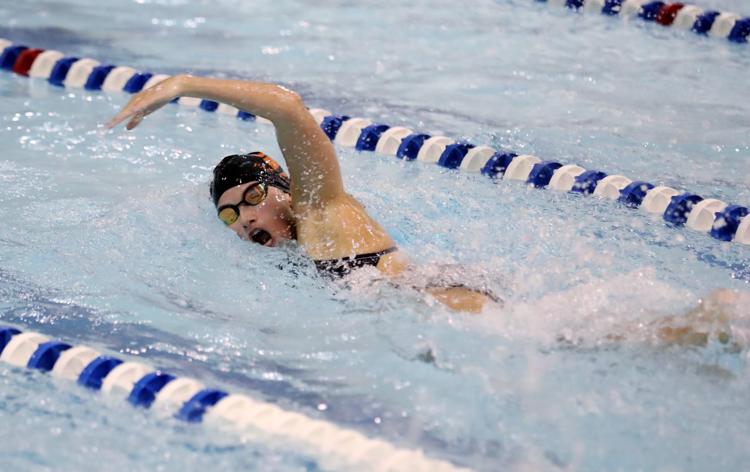 Coach: Dede Bosacco
2018-2019 record: 6-3
What to watch: The Panthers return several swimmers who led Middle to its first conference title last winter. The Panthers reached the South Jersey Public C finals and lost to Haddonfield 124.5-45.5.
Key swimmers include Sophia Bosacco (the coach's daughter), Natalie Ilieva, sisters Sophia Braun, Ishika Patel and Samantha Braun. Catherine Bostard and Sarina Wen will help keep Middle a winner.
"We graduated seven but all of our (Frank P. Forde) CAL (Individual Meet) qualifiers are back," Dede Bosacco said. "We're very strong in our senior class and have a lot of novice talent. We have a lot of returning depth. We have many three-sport athletes and they really know how to work hard.
"We are hopeful to be contenders for another CAL (conference) championship and hope to make the South Jersey final."
OAKCREST
Coach: Mike Demarest
2018-2019 record: 5-4
What to watch: The Falcons return four key swimmers in Kaitlyn Stollenwerk, Sadie Crispell, Abby Thompson and Hannah Tran. Oakcrest has three talented freshmen in Tiffany Tran (Hannah's sister), Jade McCoy and CeCe Capone.
"We're very excited," Demarest said. "We have new talent and high numbers. We're excited for our potential. The three freshmen will be big contributors."
OUR LADY OF MERCY
Coach: Noelle DeLusant (first year)
2018-2019 record: 3-4
What to watch: The Villagers' top swimmers include Nikki Carpenter, Leigha Sepers, Liz Myers, Erin Miller and Julie Andaloro. Izzy Rossi and Carley Volkmann are two good freshmen.
DeLusant swam for Oakcrest, graduating in 2012 and The College of New Jersey, graduating in 2016.
"We have a small team, but it will definitely be a good year," DeLusant said. "We're looking to be competitive in the CAL."
BARNEGAT
Co-coaches: Emily Cherry and Rebecca Kane
2018-2019 record: 4-6
What to watch: The Bengals' four wins last year was the best in program history and that was accomplished with only 14 swimmers. This year Barnegat has a young team led by captains Alexis Jackson and Paige Menegus. Key scorers include Jasmine Anderson, Vero Gleghorn, Gabby Kovaly, Ashley Sojak, Kirsten Langen, Erin Lustenberger and Jess Notaro. Delaney Dobbin Hailee Lutz, Emily McAvoy and Nicole Schiverea are key newcomers.
"Our girls team continues to improve and grow," said Cherry and Kane in a joint press release. "We graduated some key swimmers last year and already have returning swimmers eager to step up and filll their shoes. With a larger team this year than last, we are looking to make more of an impact."
SOUTHERN REGIONAL
Coach: Bill Entrikin
2018-2019 record: 8-3
What to watch: The Rams look talented with several returnees and a lot of good younger swimmers. Mia Amirr, Abby Malandro and Veronica Ruoff are three top seniors. Other key scorers include Phoebe Sprague, Kaylyn Iusan, Mya Pierson and Liv Auge.
"I think we'll have a very strong team," Entrikin said. "Four of the last five years we've had our fastest team in terms of power points, and this year I see no reason why we can't do that again. Our freshmen are looking fast. Our goal is to make states, and if we do it will be the sixth year in a row."
LACEY TOWNSHIP
Coach: Aaron Fritz
2018-2019 record: 2-7
What to watch: The Lions look to improve with returnees Coralea Kravanja, Victoria Bailey, Rachel Maione, Morgan McGinley and Maddisyn Vaccaro. No other information was available.
CUMBERLAND REG.
CUMBERLAND REG.
Coach: Rachael DeSantis (first year)
2018-2019 record: 3-6
What to watch: The Colts are led by senior sprinter Melissa Lowry, a first-team Press All-Star her first three years. Other key swimmers include Ashee Patel, Renee Sheppard, Elivia Lively, Amy Jespersen, Caroline Kennedy and Emily Rothman.
DeSantis swam for Cumberland, graduating in 2010. She was a club swim coach for five years, and assisted for the Cumberland girls and boys team last winter.
"One thing we want to do is win more meets than last year," DeSantis said. "We want to make progress throughout the season with better times."