If the Phillies were a football team, everything would be fine.
Philadelphia returned to the field Monday for the first time since July 26.
"If we were in football, we'd be in good shape," manager Joe Giradi said. "Guys would have gotten an extra day to rest. Instead of playing on Sunday, it would 'Monday Night Football.'"
Unfortunately, the Phillies are a baseball team, and that's a sport meant to be played every day, which the team hasn't done for the past seven days because of COVID-19 issues. Philadelphia had to overcome more than just the extended layoff in its return to play. The Phillies were scheduled to play the first of four games this week against the powerful New York Yankees at Yankee Stadium on Monday.
The Yankees (7-1) were slated to pitch ace Gerrit Cole on Monday. New York slugger Aaron Judge had hit home runs in five straight games heading into Monday.
"The hardest thing is trying to keep players sharp," Girardi said in a video conference with reporters before Monday's game. "We're really not going to know until we go through this. You want to get back to some kind of normalcy and normalcy in baseball is playing every day."
The Phillies (1-2) have been caught in the fallout of the Miami Marlins new coronavirus outbreak. Miami, which played three games in Philadelphia on July 24-26, has reportedly had 18 players test positive for the virus. The Marlins spent last week quarantining in a Philadelphia hotel.
The Phillies have undergone daily testing since last Monday. No players have tested positive.
First baseman Rhys Hoskins said before Monday's game that there was no talk last week among the Phillies of players possibly opting out of the season because of the virus.
"It was more like we were anxious to get back on the field," he said, "and build back into a routine."
The Phillies will face some more schedule upheaval this week this time because of weather.
Tuesday's game between the Phillies and New York at Yankee Stadium was postponed because of Tropical Storm Isaias. The teams will play a doubleheader of seven-inning games at Citizens Bank Park beginning at 4:05 p.m. Wednesday. They will also play a single game in Philadelphia at 6:05 p.m. Thursday.
"We're doing what we can," Hoskins said. "Obviously, this not the hand we would have liked to have been dealt. But we're taking everything as we can in stride, and I think we'll be ready."
Where is Isaias now? Where is the forecasted path?
New Jersey remains in the forecast cone. Options from a graze up the coast to an inland track near the Delaware River are possible. Tropical storm warnings extend from Boston, down the I-95 corridor to Myrtle Beach, South Carolina.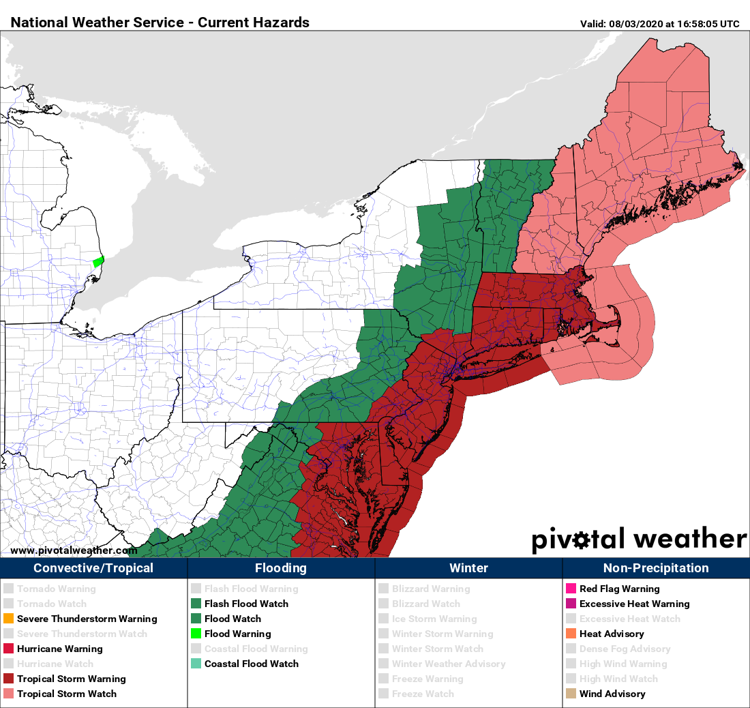 It is important to note that the heaviest rain will be to the west of Isaias' center. Meanwhile, the strongest winds will be to the east. 
WEATHER: What to expect from Isaias Tuesday in South Jersey
What are the threats for the mainland and the shore?
Mainland
The potential for roadway, stream and creek flooding will be the highest threat. However, recent developments makes winds an issue as well, especially if the center of the storm moves through the Garden State.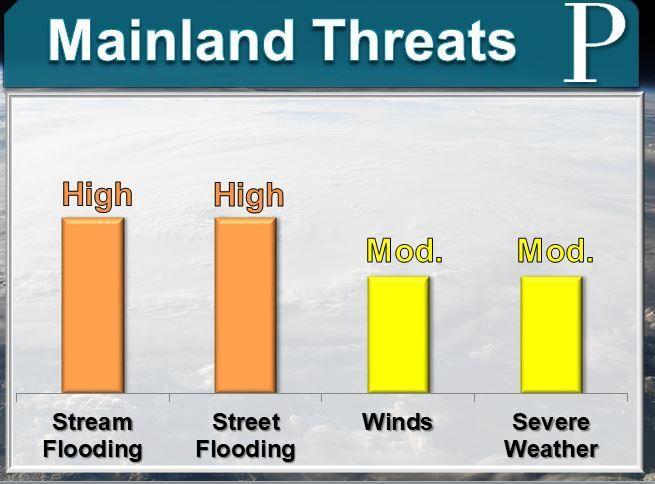 Shore
Rip currents and high surf continue to be the most dangerous threats from the shore. However, a bump up in the threat level for winds has been included. Tropical storm force winds (39 mph sustained or higher) will be likely for up to 5 hours Tuesday. Gusts up to 70 mph will be possible.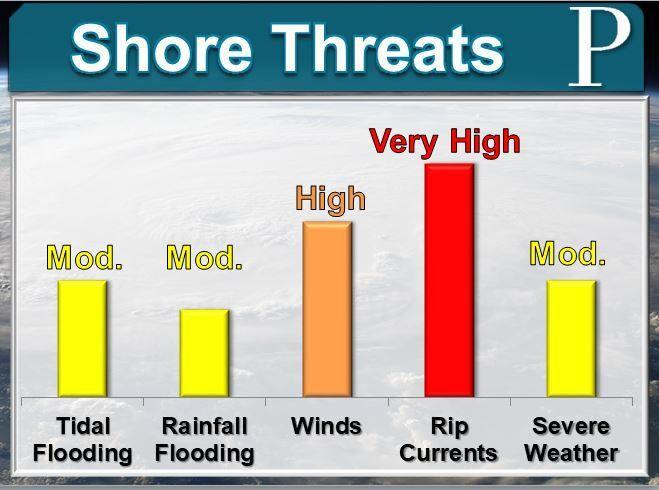 A closer look at: Rip Currents
A high risk of rip currents will be present Tuesday. Do not go out in the water, as the water will be dangerous. A high surf advisory is in effect from 8 a.m. Tuesday through midnight Wednesday, with surf heights 6 to 10 feet. 
Rip currents are caused by breaks in the sand bar. Water escapes quickly through them, dragging swimmers out to sea. During Tropical Storm Fay, an 18-year-old New York man drowned while saving two others in the waters.
If caught in a rip current, don't fight it. Let it pull you out to sea as you call for help. Once out of the rip current, continue to call for help, while swimming diagonally back toward the shore. 
A closer look at: Wind
For the shore, winds will be the biggest threat with Isaias. At the shore, and along the Delaware Bayshore, power outages, downed tree, flying loose objects and more will be expected. Restaurants with outdoor dining will need to secure all materials.
On the mainland, winds will also be the concern, especially in Cape May County. However, winds will be slightly weaker. 
Regardless of storm path, winds will be howling. The strongest winds are on the northeast side of the storm. So, even though a track up the Delaware River would yield a weaker storm, the region would be on the strongest side of it.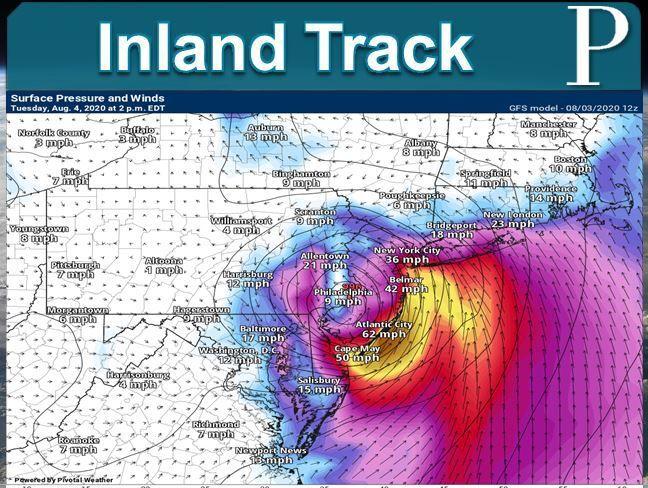 On the other hand, if the storm spends more time overwater, we'd be on the weaker, western side. However, the region would be so close to the core of the storm, the winds would still be high.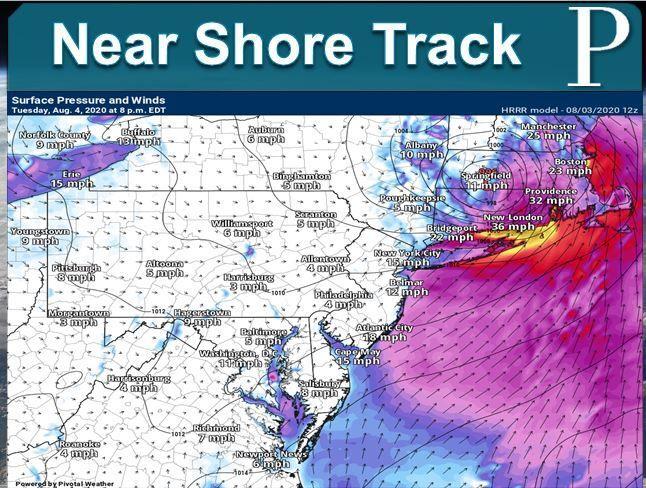 Here's an idea at on how winds will be Tuesday.
8 a.m. - Southeast 10-20 mph, gusts in the 20s for all.
11 a.m. - Southeast 25-35 mph with gusts to 50 at the shore, mainland will have 20-25 mph winds, with gusts to 40 mph
2 p.m. - Southeast to south 40-50 mph, gusts to 75 mph at the shore. The mainland will be 25-35 mph, with gusts to 60 mph. 
5 p.m. - Southwest winds 25-35 mph at the shore, with gusts to 50 mph. The mainland will be 20-25 mph with gusts to 40 mph. 
8 p.m. - Southwest winds 15-20 mph, with gusts to 35 mph at the shore. The mainland will be 8-14 mph, with gusts to 20 mph. 
Remember, emergency personnel are not allowed to respond, by law, when sustained winds are tropical storm force. 
A closer look at: Rain, Flash Flood Watch is in effect
Southeastern New Jersey should escape the worst of the rain from Isaias. More than likely, the heaviest rain should hold to the New Jersey Turnpike corridor, into eastern Pennsylvania. Still, areas of roadway, stream and creek flooding will be likely, mainly away from the shore. A flash flood watch is in effect from 10 p.m. Monday to midnight Wednesday, a change from earlier.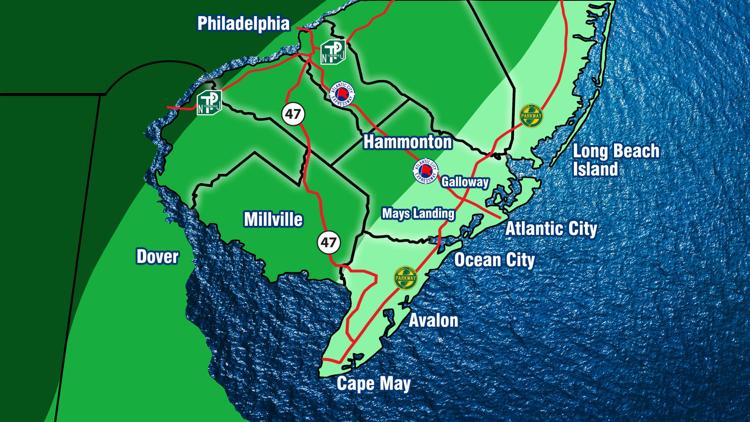 Rain showers and storm will be present overnight, especially before midnight. 
Steady rain will then enter the picture around 9 a.m. Tuesday. Rain will turn heavy, with torrential downpours expected during the midday and early afternoon. 
The steady rain will end by 12 p.m., as the storm lifts north. Then, expect just scattered showers until 4 p.m.
A closer look at: Severe weather, tornado watch in effect
Waterspouts and weak, isolated tornadoes will be possible with Isaias as it passes through South Jersey. A tornado watch is in effect through 12 p.m. for Cumberland and Cape May counties, with another watch covering Atlantic and Ocean counties through 4 p.m.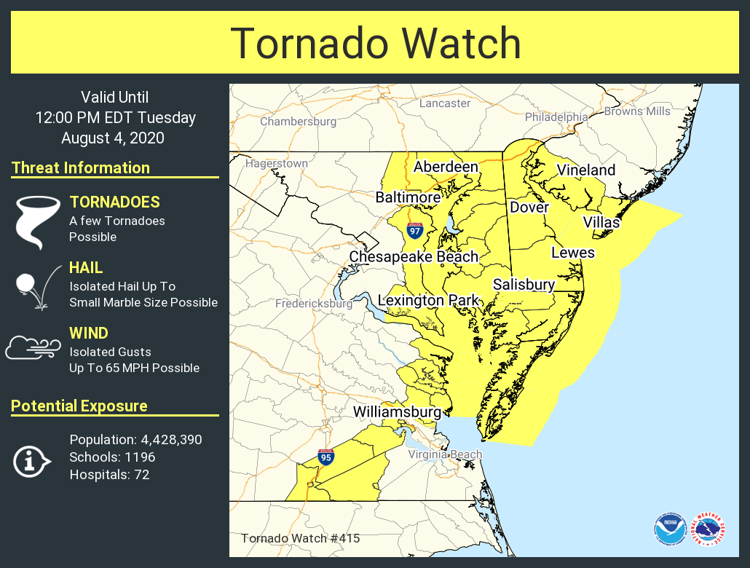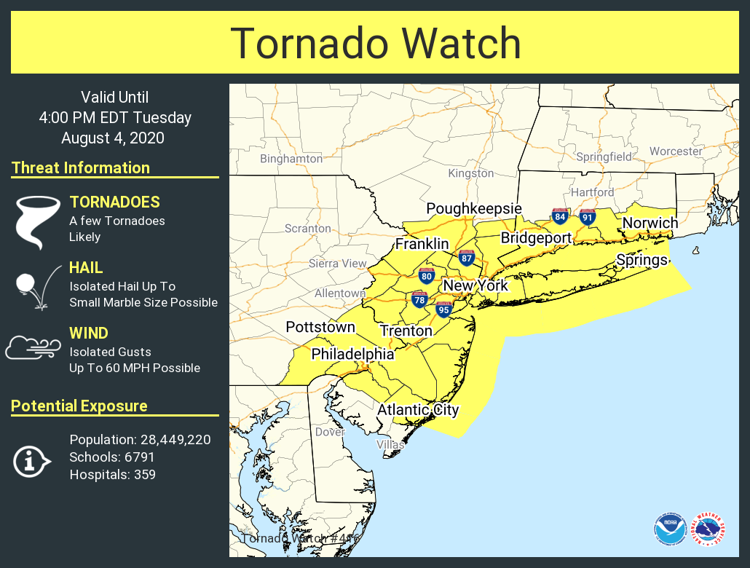 Tropical systems often have spinning supercell storms, where tornadoes come from. Secondly, the warm, moist air of a tropical system acts as the fuel needed for severe weather.
Hail will not be likely. Hail needs cold air aloft to form, which tropical systems do not bring. 
The Storm Prediction Center, a government agency in Norman, Oklahoma, has placed South Jersey in a level 3 of 5 risk for severe weather Tuesday. That's an upgrade from a level 1 forecast Sunday and a level 2 forecast Monday. Numerous severe storms are possible in this set up.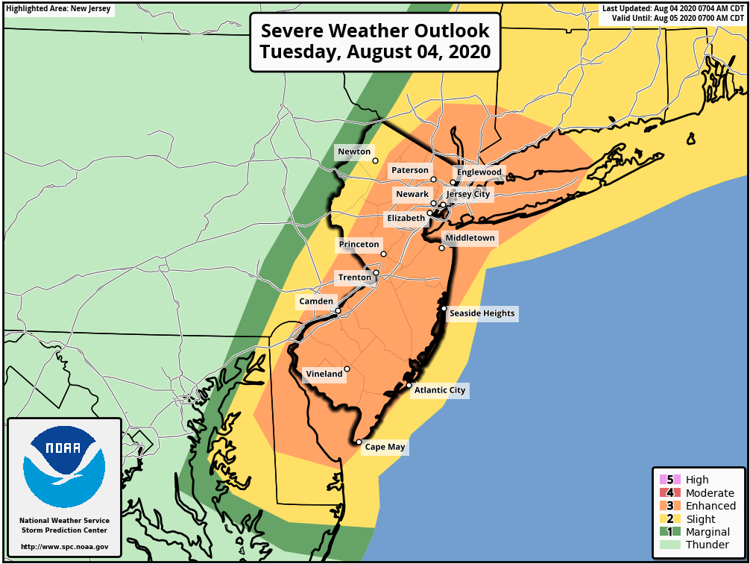 A closer look at: Coastal Flooding
No significant coastal flooding is likely -- great news for the Jersey Shore and Delaware Bay communities. 
However, minor, nuisance flooding, up to moderate flood stage will be likely. The full moon Monday, occurring at 11:58 p.m., will prime the waters with naturally higher tides. The Tuesday p.m. high tide, between 9 and 11 p.m., should be in minor, possibly moderate flood stage. The Tuesday a.m. high tide will be in minor flood stage for localized spots. 
The timing of the storm will be key. Low tides will be in the 2 p.m. hour on the ocean and the 3 p.m. hour on the bays. The strongest onshore winds likely will occur then. By the time of the evening high tide, winds could already be blowing west. This will bear watching.
The Delaware Bay likely will have the most coastal flooding, as Isaias will be a plug to the mouth of the bay. Even here, though, moderate flood stage, at worst, will be expected.  
To find coastal flooding on your block, go to the bottom of www.pressofac.com/weather, where you'll find Climate Central's Surging Seas Risk Finder. A how to video will show you how to search for the tidal information on your street. 
For more context on Isaías and the 2020 hurricane season
The Press of Atlantic City's Hurricane section of the Weather Center has the information you need to know to protect yourself and learn more about tropical systems in South Jersey. 
Ten tropical storms and hurricanes have made landfall in South Jersey since 1900. Here's the list, newly updated with Tropical Storm Fay, which made landfall July 10. As long as the storm makes landfall in New Jersey, it will be the first time with two storms making landfall within the same year.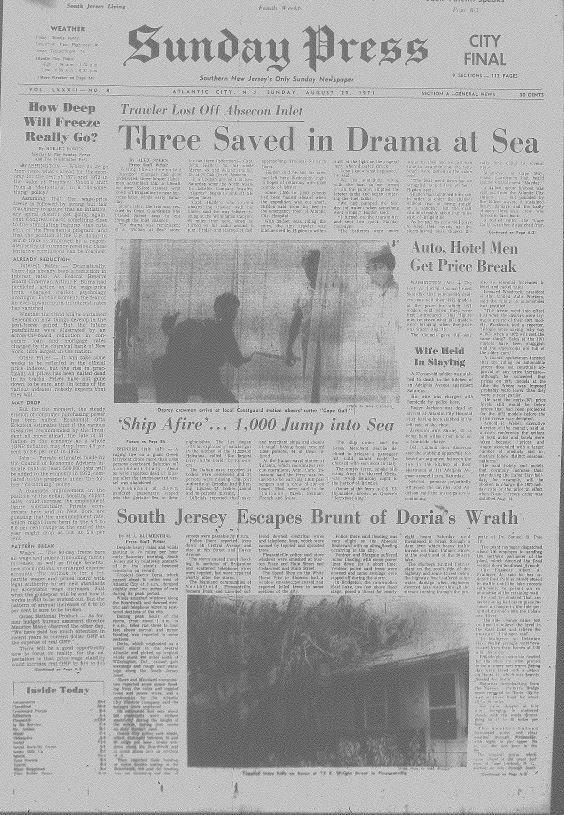 An active 2020 hurricane season was predicted by Colorado State University. With Isaias, 2020 continues its record breaking pace to hurricane season, beating out the historic 2005 year. 
How do you say Isaías?
"Isaías" is the Spanish and Portuguese word for the biblical Isaiah. It is pronounced ees-ah-EE-ahs.