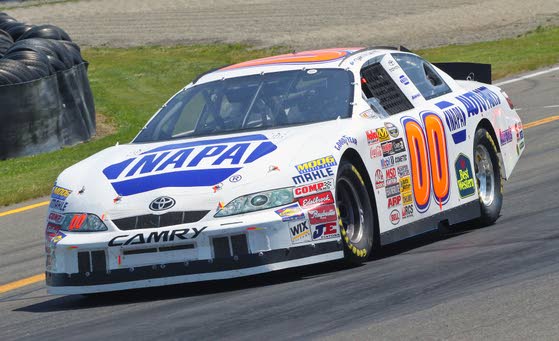 NASCAR is returning to New Jersey for the first time since 1998.
The New Jersey Motorsports Park in Millville announced Wednesday that the NASCAR K&N Pro Series East will come to the track on Sept. 17, 2016.
"We've been talking with NASCAR for the last three years about hosting an event," Brad Scott, NJMP chief operating officer, said Wednesday in a phone interview. "As we've continued to grow as a racing facility, we had more conversations, and we've had some pretty deep conversations with NASCAR this whole year."
Scott indicated that NJMP signed a one-year contract, but expectations are for the race to become an annual event.
NJMP will be one of just three road courses in the United States hosting a NASCAR K&N Pro Series East race in 2016, joining Virginia International Raceway in Danville, Virginia, and Watkins Glen International Raceway in New York.
"One of the great things about the K&N Pro Series is the variety of race tracks the series runs on," said Chris Wright, NASCAR K&N Pro Series East director in a statement. "This helps prepare the drivers for the next level. Road-course racing is a unique discipline that will test our drivers and we welcome the addition of New Jersey Motorsports Park to our schedule."
A NASCAR touring series last held a race in New Jersey from 1995-1998 when the Craftsman Truck Series made a stop at the now-demolished Flemington Speedway.
"This announcement is a great way to kick off NJMP's ninth race season," Lee Brahin, NJMP's managing partner, said in a statement. "We are thrilled to be welcoming NASCAR next September."
This is the second stock-car race that will be held at the track in 2016. The Automobile Racing Club of America (ARCA) has been hosting an annual race at NJMP since 2008 and will race at the track on May 28.
The NASCAR K&N Pro Series provides a cost-effective opportunity for young drivers to gain valuable experience and exposure to highly competitive racing.
The series, which includes championships in the east and the west, is considered the top tier of NASCAR's developmental programs. Drivers will often compete in this division before progressing to one of the three national series -- the Craftsman Truck series, the Xfinity series and the Sprint Cup series.
Since 2007, the NASCAR K&N Pro Series East has produced stars such as the 2011 Daytona 500 winner Trevor Bayne, 2015 Daytona 500 champion Joey Logano and 2014 NASCAR XFINITY Series champion Chase Elliott, along with NASCAR Next drivers Ryan Blaney, Kyle Larson, Darrell Wallace Jr., Daniel Suarez.
Stafford Township native Ryan Truex won the K&N Pro Series championship in 2009 and 2010 while driving for Michael Waltrip Racing.
"We are extremely excited to welcome the NASCAR K&N Pro Series East to New Jersey Motorsports Park," said Mark Verrastro, NJMP general manager. "These are the future stars of NASCAR that will be racing here at NJMP next September. We are expecting record crowds for this monumental event."
Tickets are $15 with kids 12 and under free with a paid adult and can be purchased through the track's website NJMP.com.
Press staff writer David Weinberg contributed to this report.