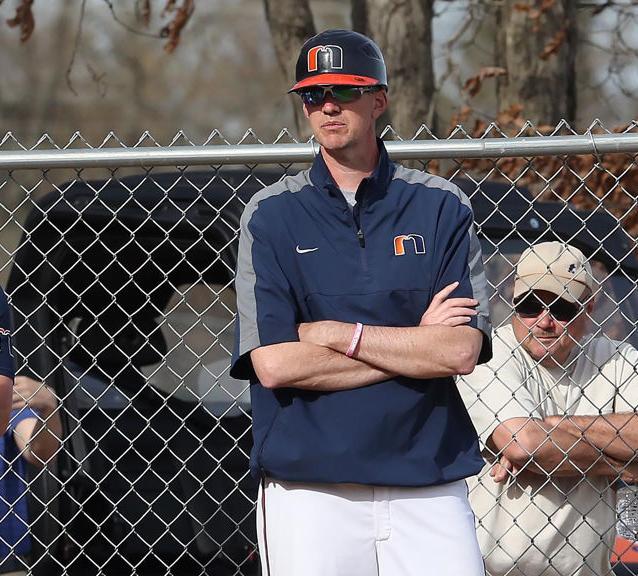 MILLVILLE — Roy Hallenbeck made one of the toughest decisions of his professional career this summer.
The Millville High School baseball coach announced Monday he is stepping down after 21 seasons with a career record of 330-194-1. Hallenbeck coached 2009 Millville graduate and two-time American League MVP Mike Trout.
Hallenbeck said handling duties to his family and the program was just too much. Hallenbeck told the Millville players Monday afternoon.
"It was agonizing," he said of the decision. "I'm confident it's the right one. But it hasn't been easy. It was really difficult to stand in front of the players and say it."
Hallenbeck, 48, will remain a health and physical education teacher at Millville. He and wife Kim have two children. They dropped their son, Kevin, off at West Virginia University for his freshman year Aug. 7. Their daughter, Megan, is a high school junior.
Hallenbeck said he thought of stepping down during last season. He missed a game for the first time in his career because he was with his son in West Virginia.
"I had to choose which family do I support (his actual family or his baseball family)," Hallenbeck said. "I realized on that trip that that was not the last time I would have to make that choice. I hated it. It killed me not being at the game."
Hallenbeck said he will only have more college commitments with his son and daughter in the future. He wants to be with his family and doesn't want to shortchange the baseball program.
"We ask too much of the kids, and they give too much, for me to start cutting corners," Hallenbeck said. "I can't do it that way."
Millville is a perennial power. The Thunderbolts finished 14-7 last season. Under Hallenbeck, they won five Cape-Atlantic League division or conference championships and the 2011 South Jersey Group IV title. Millville also reached the 2010 final of the prestigious Joe Hartmann Diamond Classic.
"South Jersey baseball is going to miss Roy," Mainland coach Billy Kern said. "Every time you stepped on the field with Millville, you knew you were going to get seven tough innings from a quality, well-coached baseball team."
Millville athletic director Dave LaGamba said Hallenbeck's program was about more than wins and losses.
"Between his passion and dedication and his caring for his kids," LaGamba said, "those are all the qualities that lead to a successful program."
In addition to Trout, Millville produced multiple outstanding players, including Buddy Kennedy, who plays in the Arizona Diamondbacks organization.
"It's just the kids," Hallenbeck said when asked what he would remember. "It sounds corny, but it's not teaching baseball but it's sharing baseball with the kids. It's not the big drills you run, but the little talks you have off to the side about tiny things or even things off the field. It's those little connections. Hopefully, we've made some good ones."
Hallenbeck said he's most proud of how much his former players have stayed involved in the program.
"They always come back and visit," he said. "It doesn't matter if you're Mike Trout, the greatest player in the world, or some player you've never heard of because he played one year of varsity baseball and didn't get on the field much. They're all alumni. They're all family."
Hallenbeck might be best known for coaching Trout, whose success with the Los Angeles Angels made the Millville baseball program known around the country.
"I was just lucky to be here when he was," Hallenbeck said. "That was just a timing thing. If he had come through some other local school or with some other coach, I'm quite certain he'd be exactly where he is today. We're just so fortunate and lucky to be there at that time in his life. To be able to be linked (with Trout) like that is incredible."
Contact: 609-272-7209
Twitter @ACPressMcGarry