Nia Ali knows tragedy can come close to destroying a person's dreams.
She knows the thrill of achieving one's dreams.
And - most importantly - she knows sharing those dreams with family and friends makes them more special than ever.
The 2006 Pleasantville High School graduate will compete in the 100-meter hurdles when the Olympics begin in Rio de Janiero on Friday. Ali, 27, made the U.S. team by finishing third at the U.S. Olympic Trials in Eugene, Oregon, last month.
"I can't find the words to describe how excited I am," she said in a telephone interview from her Los Angeles home last month. "I'm so excited I get to represent the country, and I get to do it with my whole family there."
As compelling as Ali's story is, her 14-month-old son, Titus Tinsley, might have an even better Olympic tale.
Not only is Ali going to the Olympics but so is Titus' dad, Michael Tinsley, who qualified for the U.S. team in the 400 hurdles. Titus will be in Rio to watch mom and dad run, as will the families of Ali and Tinsley.
"This shows (Titus) you can follow your dreams," Ali said. "Whatever road (Titus) decides to take he can believe in what he does and be the best at it."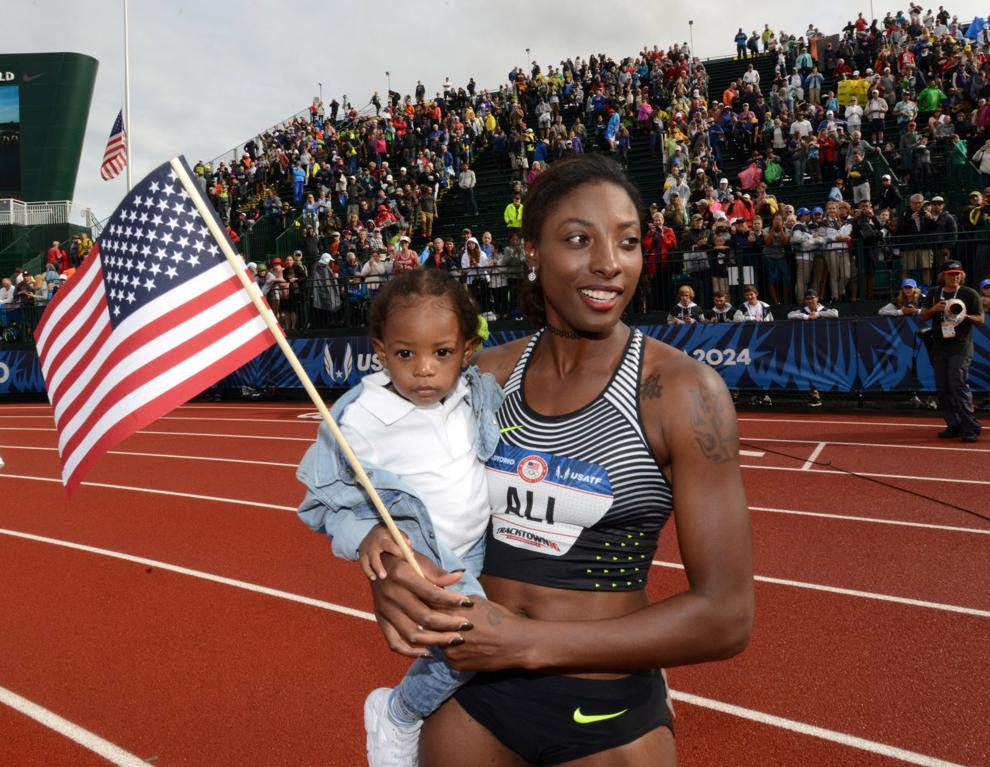 Ali grew up in the Germantown section of Philadelphia. She danced as much as she ran growing up. She often went from a track meet to a recital.
Her track career began when she was 6 years old. Philadelphia's famed Mallery Challengers Track Club practiced on a track located between Ali's home and her babysitter. Every time her mother, Melita Johnson, drove past the track, Ali begged to join the club.
"Every time we rolled by there and saw them practicing she would be like, 'Mom, Mom, c'mon, c'mon, c'mon,' " Johnson said. "Finally, I pulled over."
Ali moved to Pleasantville for her senior year of high school. Ali's family is close with Pleasantville track and field coach Alan Laws. They come from the same Philadelphia neighborhood, and Ali refers to Laws as her uncle.
Ali won the 100 hurdles championship at the 2006 New Jersey outdoor track and field Meet of Champions. She still holds the Cape-Atlantic League 100 hurdles record with a time of 13.65 seconds.
Ali will occasionally drop by a Pleasantville practice when she's on the East Coast. She donates spikes to the program. Ali said her time in Pleasantville gave her the foundation for her future success.
"I was with some of the hardest working people I've ever been around," she said. "They eat, breathe and sleep track and field. It instilled a lot of confidence in me to go to the next level. They've always believed in me. Everyone in Jersey has had my back, and I appreciate that."
Ali left Pleasantville with plenty of promise, but in 2009 when she was a sophomore at the University of Southern California tragedy almost crushed her dreams.
Nia Ali crossed the finish line of the 100-meter hurdles at the U.S. Olympic track and field…
Her father, Aleem Ali, killed himself in a murder-suicide in Philadelphia. Aleem shot a woman he was involved with in front of the women's 11-year-old daughter and then turned the gun on himself.
The tragedy shook Ali to her core. She was academically ineligible in 2010 and did not compete.
Laws was the one who telephoned Ali to tell her about the tragedy. Laws said Ali's first reaction was concern for the 11-year-old girl. Johnson said Ali felt guilty because she had not spoken with her father in a while.
Ali's coaches at USC and her mother helped Nia emerge from her grief.
"Nia made a spiritual change in her life," Laws said. "She knew that was the only way she would be able to get through it. She had mentors and people there with her. Sometimes you have to lean on the village."
Ali was back on the track in 2011, winning the NCAA 100 hurdles championship.
"Everything that I've been through," Ali said, "good and bad, ups and downs, I've slowly taken in. That's life. The fact that I went through those things built character, it really made me who I am. I always reflect, but I always want to move forward, reach out and talk to people and share my journey. It's been a blessing to go through the trial and tribulations along the good parts of my experience."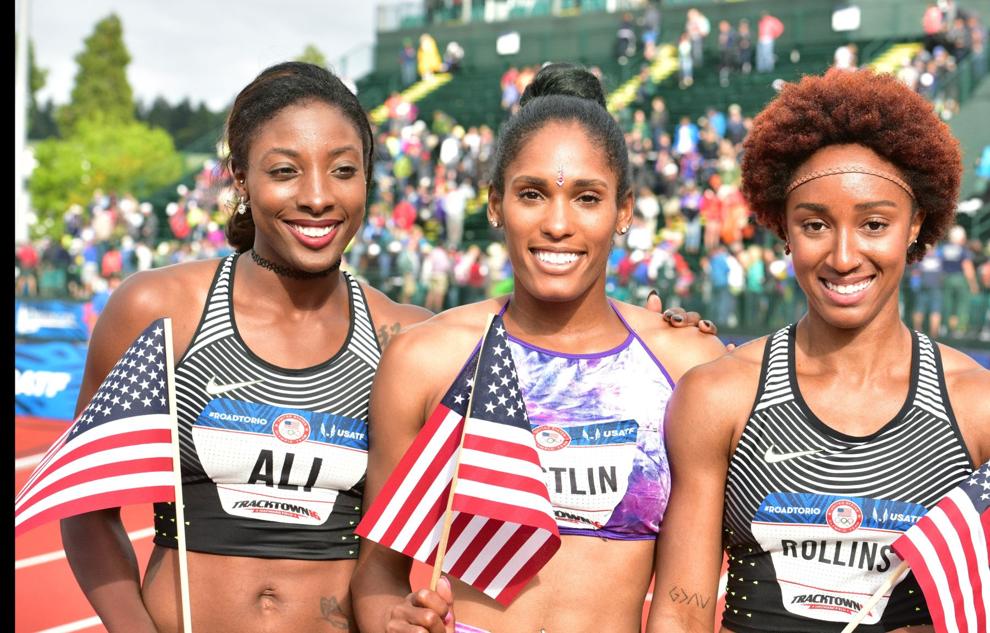 Ali prayed so hard in her hotel room the day of the Olympic Trials final that she started to cry. She knew she was in the best shape of her life and she needed to seize this opportunity.
Of all the track and field events, the women's 100 hurdles team might have been the toughest to make. The current world record holder Kendra Harrison didn't make the team.
Ali jumped with joy when she saw on the scoreboard of Oregon's Holman Field that she had finished third to grab the final qualifying spot.
Her mother sat in the stands and watched the race. When she saw Ali had made the team, she took off running.
"I don't know what I thought I was doing," Johnson said. "I was screaming."
A few days after making the team, Ali opened up her gym bag, looked at her red, white and blue uniform and got the chills.
Ali has a legitimate chance at an Olympic medal. The three U.S. 100 hurdles members - Ali, Brianna Rollins and Kristi Castlin - are the best in the world. Qualifying rounds for the 100 hurdles will begin Aug. 16. The final is slated for Aug. 17.
"All I'm thinking about is gold," Ali said. "I have two world indoor gold medals, but I don't think anything can compare to being an Olympic champion. Once you get this opportunity, you have to go for it."
Diaper changes and late-night feedings haven't slowed Nia Ali down.
But for Ali, her focus will be just as much on Titus as it is a gold medal. Ali did a victory lap holding Titus after winning the indoor world championship in March. She posed for pictures holding her son and the American flag after the Olympic Trials.
"He has no idea of what's going on," Ali said. "But he's a people person. It doesn't freak him out. He's just in the moment."
Michael Tinsley lives and trains in Texas but often visits Ali and Titus in Los Angeles. Tinsley, 32, won the silver medal in the 400 hurdles at the 2012 Olympic Games in London.
Titus loves the rhythmic clapping track and field fans do before a big event.
"Titus is a huge daddy fan," Ali said with a laugh. "Everything is daddy, daddy."
Ali said she and Tinsley have been focused on training for the games so they have yet to share a moment when they can appreciate what they have accomplished and the stories they will one day tell Titus about the time Mom and Dad represented their country.
Ali expects that moment to come during Friday's opening ceremonies. She said she's going to look at Tinsley with one thought as they parade with the U.S. team before a packed stadium.