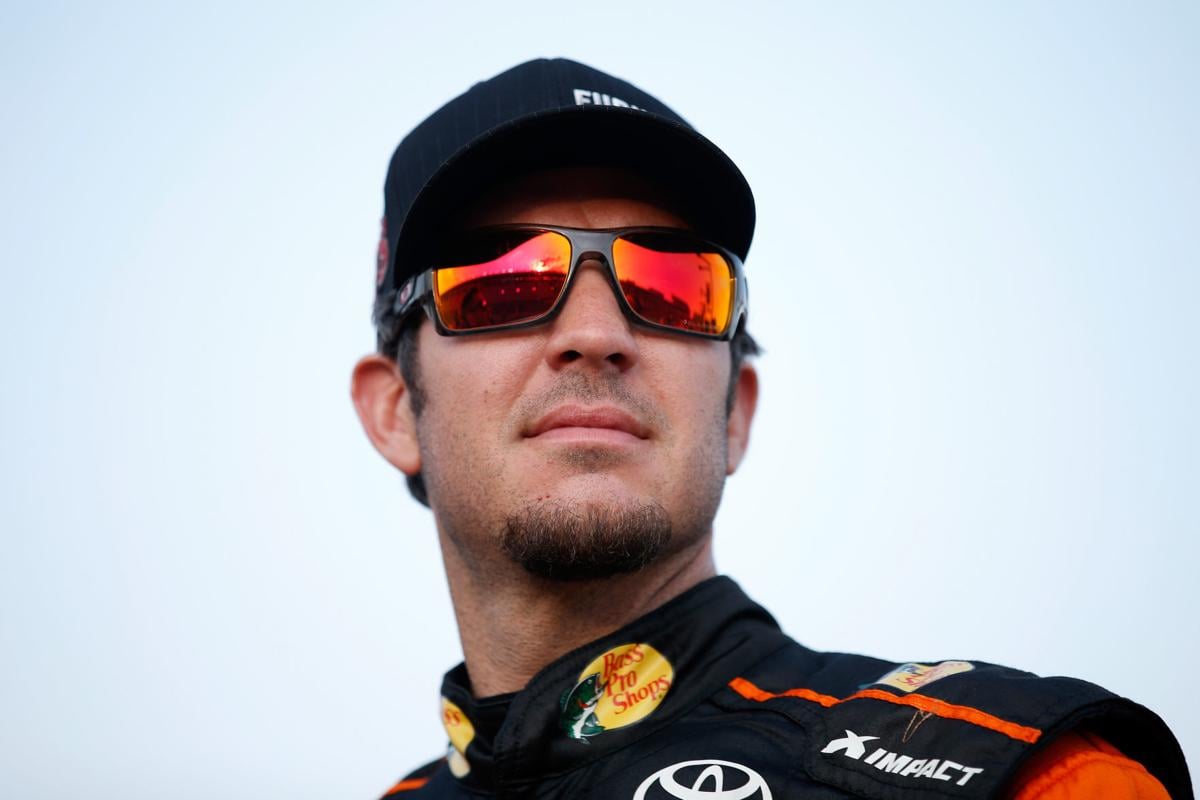 Martin Truex Jr. blew his competition out of the water this year.
He also had an outstanding albeit frustrating season on the NASCAR Sprint Cup circuit.
After the season's final race at Homestead International Speedway in Miami on Nov. 20, Truex headed to Huntsville, Alabama, to do a little more racing.
The 36-year-old Southern Regional High School graduate spent three days perched on the sandy bank of Brahan Spring Park Lake, guiding his custom-made, radio-controlled boat to victory in the International Model Power Boat Association (IMPBA) Record Trials.
"I've been racing R.C. boats for a few years now," Truex said in a phone interview this month. "I go down to Huntsville twice a year and race Nitro Outriggers that I built in my shop (in North Carolina). I set three world records this time. I got up to 125 miles an hour."
Truex, who grew up in the Mayetta section of Stafford Township, enjoyed the same level of success behind the wheel of his No. 78 Furniture Row Racing Toyota, at least until a series of mishaps ruined his bid to earn another berth among the four championship finalists in the season finale.
"It was still a successful season to some degree, for sure," Truex's crew chief, Cole Pearn, said this month. "But (The Chase) is like the NFL playoffs. One mistake and you're out. It's a tough pill to swallow, but that's the way the game is played."
Truex's season officially ended at Homestead, when a crash involving Carl Edwards and Joey Logano pushed Truex into the wall and caused his car to catch on fire.
But his dream of winning the championship went up in flames a few weeks earlier.
Truex emerged from the first round of the Chase as the favorite to win the Sprint Cup Championship. He won two of the three races, taking the checkered flag in races at Chicagoland Speedway on Sept. 18 and Dover International Speedway on Oct. 2.
He appeared to be in perfect position. Two of the three races in the second round were at Charlotte Motor Speedway and Kansas Speedway, where he had traditionally fared well. Truex won the Coca-Cola 600 at Charlotte on May 30 while leading a NASCAR-record 588 of 600 miles and 392 of 400 laps.
But he came up short in all three races.
At Charlotte on Oct. 9, he finished 13th after being involved in a collision with Austin Dillon and suffering a clutch problem on pit row. A week later at Kansas, a lug nut wedged in the hub of a wheel, forcing an unscheduled pit stop that left him down one lap en route to 11th place.
At Talladega, Truex won his fifth pole of the season. But that turned out to be the highlight. A blown engine on lap 41 ended his Chase.
There must be something in the local soil and salt water.
"It's frustrating because we won two of the three races in the first round, and it did nothing for us going forward," Truex said. "But that's the way things are set up. You've got to be perfect the whole way through, and we weren't.
"You just have to hope nothing bad happens, but sometimes it does. We didn't capitalize on our opportunities. That's the way it is. That's racing."
The early elimination ended what was otherwise a terrific season for Truex, who lives in North Carolina.
He earned a career-best four victories while leading a combined 1,809 laps. He also had five poles, eight top-five finishes and 17 top-10s.
After the season, Truex and his long-time girlfriend Sherry Pollex, spent some time with family and friends doing some fishing at his uncle Barney Truex's place in the Florida Keys before heading to Huntsville.
He also planned to take a hunting trip over the Christmas holidays.
DOVER, Del. -- Martin Truex Jr. dominated Sunday at Dover International Speedway for his sec…
"I've got a lot of hobbies," he said with a laugh.
New challenges await in 2017.
Furniture Row Racing, which is based in Denver, is expanding to two cars. Truex will be joined by Erik Jones, who was the Camping World Truck Series champion in 2015.
"There's a lot of work that has to be done," Pearn said. "We're adding 40 people to Furniture Row. But Martin's team, including myself, will stay intact. We want to build off what we accomplished this season. We're just going to keep plugging away and working hard."
There will be high expectations next season.
Because of the success this year, Truex and Furniture Row Racing are now considered among the top teams in the Sprint Cup Series. With that comes the increased pressure to live up to the hype.
"We put ourselves in that elite group, and to be a part of that means a lot," Truex said. "We missed an opportunity to cap off our season the way we wanted, but that gives us a lot of fuel to come back next year and do even better."