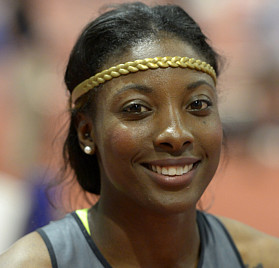 Diaper changes and late-night feedings haven't slowed Nia Ali down.
They've made her faster and more motivated than ever.
A little more than 10 months after giving birth to her son, Titus, the 2006 Pleasantville High School graduate won the 60-meter hurdles at the world indoor track and field championships in Oregon on March 18. Ali is a contender to make the U.S. Olympic team this summer .
"Before my son I wanted it for myself," Ali said. "But now I just want to be great and give my son something he can look back on. I just have a different mindset than I had before."
Ali took a victory lap around the Oregon Convention Center track after her win. The American flag was draped over her shoulders. She held Titus in her arms.
"It was one of those things, you hope for and train for," Ali said, "but when it actually happens you can't put it into words."
Ali, 27, lives in Los Angeles, where she trains at the University of Southern California with her coach Ryan Anderson, who is also world-class hurdler.
Ali grew up in Philadelphia. She moved to Pleasantville as a high school senior. Ali's family is close with Pleasantville coach Alan Laws. They come from the same Philadelphia neighborhood.
Ali won the 100 hurdles championship at the 2006 New Jersey outdoor track and field Meet of Champions. She still holds the Cape-Atlantic League 100 hurdles record with a time of 13.65 seconds.
Ali will occasionally drop by a Pleasantville practice when she's on the East Coast. She donates spikes to the program. If one of the Greyhounds needs motivation, Ali will give them a pep talk over the phone.
"She's like family to me," Laws said. "She's like a big sister to a lot of the girls. She's still a part of Pleasantville."
After graduating from Pleasantville, Ali became a national and international success.
She won the NCAA 100 hurdles championship while at the University of Southern California in 2011. She finished first in the 60 hurdles race at the 2014 world indoor championship.
But she has also dealt with her share of career adversity.
She missed the 2014 summer with a hamstring injury and got pregnant in the prime of her career in 2015. Titus was born on May 8. His father is 400 hurdler Michael Tinsley, who won the silver medal in that event at the 2012 Olympics. He trains in Texas but often visits Ali and Titus in Los Angeles.
Ali's pregnancy rattled her friends.
"The first question that came out of everybody's mouth was, 'Wait a minute, what about track?' " Ali said.
Ali, however, was positive about her pregnancy and her career from the start.
"I never once thought career suicide," Ali said. "It was a great thing. I want to have lots of kids. I never once thought I would not come back and run."
She returned to Philadelphia for the final five months of her pregnancy. She stayed active while pregnant, taking some dance and aerobic classes.
Ali returned to California last August and eased back into training. But training and caring for a baby is not easy. Sometimes Titus will wake up at 1 a.m. and not get back to sleep until 3 a.m. Ali has to start her day at 7 a.m.
"It's so hard," she said. "I don't get much sleep some days. I'm on his schedule. I accepted that. I just have to be mentally strong."
Ali wasn't considered one the favorites at the world indoor championships in March.
"I had pressure from myself," she said, "but I didn't have a lot of pressure from everybody else because they didn't really expect much. I wanted to take advantage of not having any outside pressure."
Ali edged teammate Brianna Williams to win the race. Ali ran 7.81 seconds and Williams crossed the finish line in 7.82 seconds.
Wilson wasn't surprised Ali won.
"Early on in training it was pretty clear to me that this was a woman who would not have a lot of rust," he said. "When you look at things in retrospect, you think 'Wow.' But as far as surprised? No."
Ali is now training to make the U.S. Olympic team in the 100 hurdles. The U.S. Olympic Trials will be held July 1-10 in Eugene, Oregon. The Summer Olympics are Aug. 5-21 in Rio de Janeiro.
Ali's personal best in the 100 hurdles is 12.48 seconds. The women's world record is 12.21 seconds set by Yordanka Donkova of Bulgaria of in 1988. Sally Pearson of Australia ran 12.35 to win the gold medal at the 2012 Olympics in London.
Wilson said Titus' birth has given Ali a sense of urgency. Wilson said Ali has the ability to not only make the Olympic team but also win a gold medal.
"Her commitment to her training is the best it's ever been," Wilson said. "It easily could be the worse it's ever been because of all the responsibility she has."
And Ali knows this summer will be about creating memories for two.
"I have an extra edge," she said. "Although Titus may not know what's going on now, it will be something good for him to look back on. I want to set the tone for him, other kids and other moms out there."