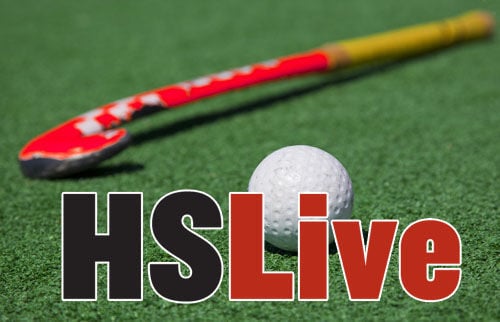 Maggie Cella scored twice to lead the Holy Spirit High School field hockey team to a 2-1 overtime victory over Middle Township in a Cape-Atlantic League National Division game Monday.
Cella scored the game's first goal in the first quarter. Middle's Jada Nagle tied the game in the second quarter. Piper Martin made nine saves for the Spartans (5-5).
The Panthers fell to 3-10-2.
Our Lady of Mercy 6, Pennsauken 0: Mina Lockhart scored four for the Villagers (6-8-2). Rylee Savage and Victoria Ravoni each scored once. Fiona Lockhart had an assist. Julia Tola made three saves. Pennsauken fell to 5-9.
Rancocas Valley Reg. 10, Mainland Reg. 0: Farley O'Brien made 18 saves for the Mustangs (9-8-1). Brooke Mohan scored four for Rancocas Valley (12-4). Rachel Kosowski scored three. Kendall Roberts had five assists.
Millville 4, Vineland 0: Sophia Kenelia scored three goals for the Thunderbolts (6-7-1), while Alexis Moler added a goal. Millville lead 1-0 at halftime. Lily Mahabir earned the shutout for Millville. Morgan Harrell-Alvarez had a save for Vineland (0-15-1).
No. 9 Egg Harbor Township 6, Atlantic City 1: Anna Smith had two goals and two assists for the Eagles, the No. 9 team in The Press Elite 11. Jenna Gray added a goal and two assists. Addison Jacobs, Jessie Alkins and Ava Fortucci also scored for Egg Harbor Township (15-2). Rebecca Macchia had four saves in goal.
Alex Siganos scored the lone goal for the Vikings (4-10-1) on an assist by Madeline Chapman. Mia D'Arco had 11 saves.
Southern Regional 3, Donovan Catholic 0: Joseph Abad, Landon Beirne and Aidan Antonio scored for the Rams (4-7-1). Kerem Satar and Aidan Donnelly had assists. Donovan Catholic fell to 1-12-1. No further information was available.
Holy Spirit 4, Oakcrest 0: Ella Petrosh and Hailey Mastro each scored twice for the Spartans (8-2). Maddie Abbott, Morgan Keil and Jordan Finnerty each had an assist. Morgan Keil made five saves. The Falcons fell to 2-9-1.
Westampton Tech 5, ACIT 0: Safiatu Kolliegbo and Rory O'Connor each had two goals and an assist for host Westampton Tech (10-3) in a New Jersey Technical School Athletic Conference quarterfinal game. Kahliyah Evans made three saves for the shutout. ACIT fell to 2-14.
Oakcrest 2, Hammonton 0: The Falcons (9-6) won 25-19, 25-20. For the Blue Devils (8-10), Tiffany Parettiled had 11 digs to go with seven service points, three assists and two aces. Mariah Valentin added 10 digs, seven service points, two kills and two aces. Alyssa Kelsey added seven digs.
No. 7 Pinelands Reg. 2, Manchester Twp. 0: The Wildcats (14-5) won 25-18, 25-23. Molly Quigley-Sanborn led with 20 assists to go with six digs. Emilia Savich added 11 kills. Samantha Poling had 10 service points and five digs. Arianna Loftus finished with eight service points and seven digs.
Our Lady of Mercy 2, Egg Harbor Twp. 0: OLMA (9-5) won 25-14, 25-13. Ava Barrasso led with nine assists to go with two kills, two service points and two aces. Riane Regucera added four service points and three aces. Madison Palek finished with five blocks and four kills. EHT fell to 5-11.
Cedar Creek 2, ACIT 0: Madison Mahieu led the Pirates (14-5) with five kills and seven service points, including three aces. Serena Patel had eight assists and seven service points. Gianna Cox had five service points and two aces. The set cores were 25-17 and 25-21. ACIT fell to 7-10.
Donovan Catholic 2, Lacey Township 0: Madelyn Oehem had eight kills and Dana Welch had five as Donovan improved to 17-3 with set scores of 25-14, 25-12. For the Lions (2-14), Lochlyn Martin had 12 digs, while Mackenzie Horahan had two kills, two assists and a dig. Hope DeWitt had five service points, including three aces.