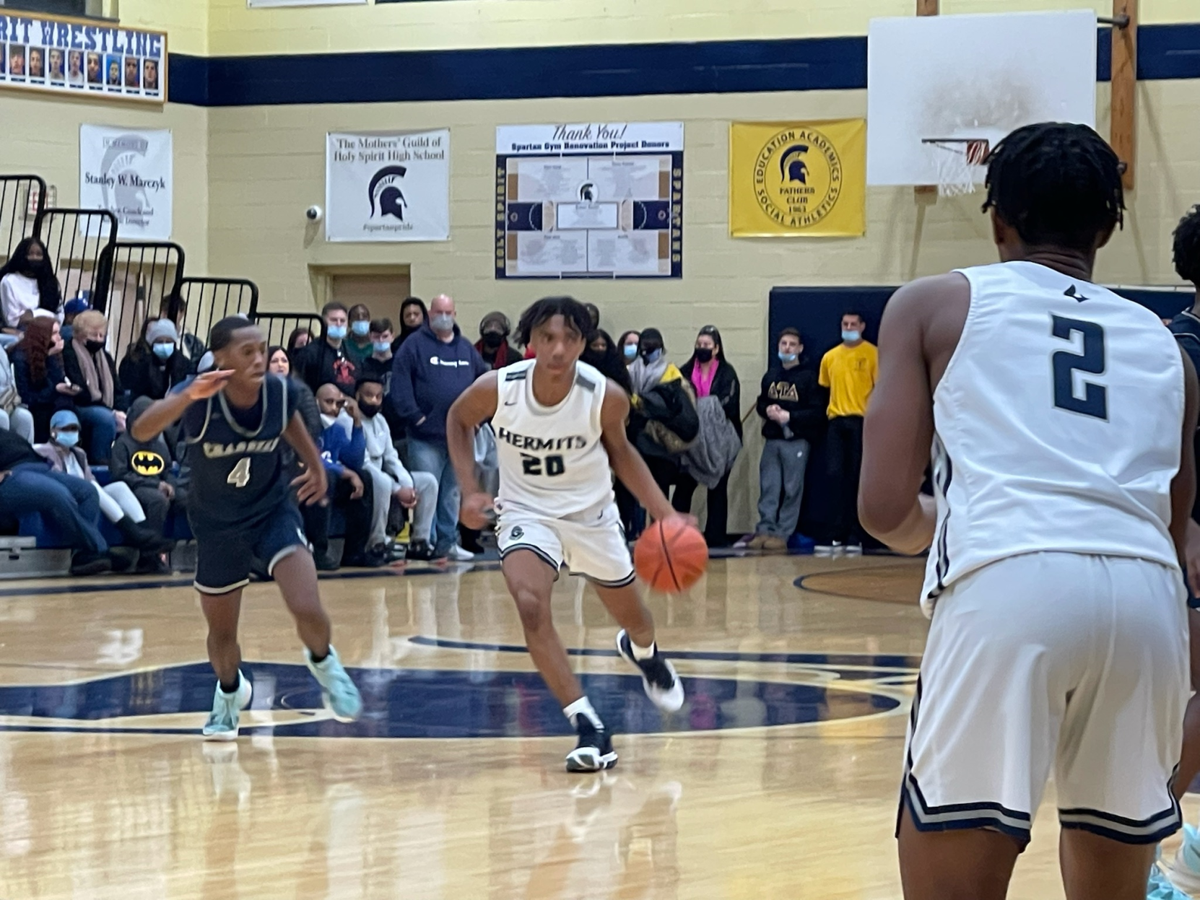 ABSECON — Elijah Brown looked in the mirror and gave himself a pep talk a few days ago.
The sophomore scored 16 points to lead the St. Augustine Prep basketball team to a 56-42 win over Timber Creek in a Seagull Classic game at Holy Spirit on Saturday night. St. Augustine (5-0) is ranked No. 4 in The Press' Elite 11.
"First few games, I was a little slow," Brown said. "I just had to calm down and play my game."
Brown, a 6-foot-4 sophomore from Atlantic City, was not satisfied with the way he played early in the season. He entered Saturday averaging 10.3 points.
"I didn't talk to anybody. I just had to look at myself in the mirror and said, 'I have to play,'" he said. "Forget about the coaches, forget the press. I just have to play my game."
Brown came off the bench as a freshman. The Hermits are asking him to play a much more prominent role this season.
"I feel like I'm taking on a leadership role this year," Brown said. "I'm taking the challenge, and I'm ready to go."
The Seagull is a showcase event that featured several of the state's top teams. The Hermits' win was not without some anxious moments.
St. Augustine jumped to a 14-2 lead with Brown scoring six.
But Timber Creek rallied behind Bryan Warren (19 points) and cut St. Augustine's lead to six at the end of the third quarter.
Brown then helped the Hermits reassert themselves.
His alley-oop dunk off a pass from point guard Semaj Bethea put the Hermits up 10. He followed that basket with a fast-break layup to push the lead to 12.
St. Augustine's lead never again dipped below double digits.
The Hermits also got a strong contribution from junior center Ife Okebiorun (eight points, 10 rebounds, three blocks). Bethea finished with 12 points.
"Elijah is a sophomore still learning the game," St. Augustine coach Paul Rodio said. "I think he's still trying to figure out what his game is. He's getting there. He works hard at it. I think he's going to be a complete type of player where he can shoot the ball, go to the hole and be a defender. I think he needs time. I think he needs some big games."
And maybe a few more pep talks.