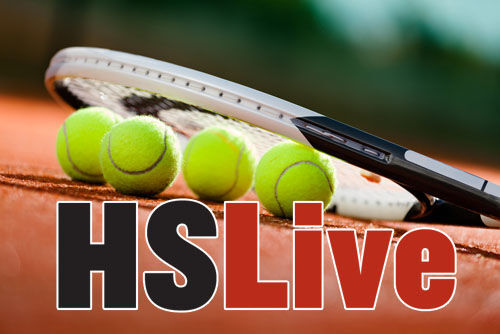 The Egg Harbor Township High School girls tennis team on Thursday beat Pleasantville 5-0 in a Cape-Atlantic League North match. With the win, the Eagles improved to 7-0.
In singles, Samantha Phung and Ah'lajzlah Gainer both managed 6-0, 6-0 wins. Both doubles teams did the same.
Pleasantville fell to 1-4.
Singles—Samantha Phung d. Diana St. Martin 6-0, 6-0; Jamie Theophall d. Keanni Dupont 6-0, 6-1; Ema Cadacio d. Ah'lajzlah Gainer 6-0, 6-0.
Doubles— E (Tiffany Tran-Lauren Theophall) d. P (Ke'Najia Jamison-Yaret Toscano) 6-0, 6-0; E (Emma Lynch-Payton Colbert) d. P (Anika Cooper-Helen Robledo) 6-0, 6-0.
Singles— Juliette Loftus A d. Sam Mancuso 7-6 (7-5), 3-6, 10-8; Mayla Burns A d. Vika Simonsen 6-2, 6-1; Delaney Brown L d. Serena Su 6-2, 6-1.
Doubles— L (Hope Sandhoff-Riley Sullivan) d. A (Hannah Frebowitz-Stella Smith) 6-3, 7-6 (7-0); L (Marley Kronemeyer-Sophia Levin) d. A (Rosie Miltenberger-Cecelia Marota) 6-4, 6-2.
McKenna Gregory scored for Middle Township (2-1-1). Brynn Bock made one save.
Wildwood Catholic fell to 2-2.
Olivia Fiocchi scored twice for OLMA (2-2). Shannon Kavanaugh added a goal and two assists. Isabella Burhanna provided three assists. Other scorers were Carley Volkmann (1), Giana Patitucci (1), Emma Hess (1), Summer Rusciano (1), Sophia Curcuru (1) and Isabella Infranco (1). Brooke Callan made two saves.
Kristian Marrero made 18 saves for Bridgeton (1-1).
Taylor Magill scored twice for Holy Spirit (3-1). Hailey Mastro, Vanessa Mason, Kat Patitucci, Addie Piola and Peyton Ballard each scored once.
Pleasantville fell to 0-4.
Peyton Gilmore had five goals and an assist for Delsea (3-1-1). Kourtney Ginyard had two goals and an assist. Riley Boucher (2) and Ava Szwed (1) also scored. Mikayla Giuliano made two saves.
1. Nina Ceccanecchi O (20:08); 2. Kylie Pfluger H (21:08); 3. Julianna Ruhf H (21:34); 4. Kirstin Reese H (22:07); 5. Annie Weisbecker O (23:25); 6. Siena Marsico O (25:00); 7. Ilianna DeJesus H (25:47); 8. Isabella Rivera H (26:03); 9. Ariadna Martinez-Lopez H (26:17); 10. Marie Pinque O (26:43).
Be the first to know
Get local news delivered to your inbox!