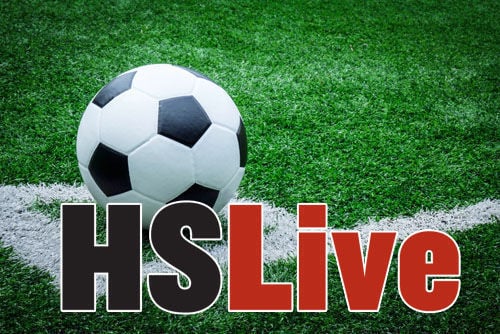 Camryn Dirkes scored in the final seconds of the second overtime to lead Mainland Regional High School to a 1-0 lead over previously undefeated Ocean City in a Cape-Atlantic League National Division game Tuesday.
With about three or four seconds remaining, Dirkes kicked the ball 30 yards from the left side from of the net. As the horn sounded, the ball hit the back of the net, said Mainland coach Chris Meade.
Ocean City (11-1) is ranked. No. 2 in The Press Elite 11. The Red Raiders beat the Mustangs 3-1 on Sept. 20. Ocean City has allowed just five goals this season. Mainland improved to 9-2-1.
"We felt like we had a decent game plan to counter their offensive performance because they've been putting up a lot of goals," Meade said. "I think we did a pretty good job of keeping them under wraps.
"Between that and defense and (goaltender) Genevieve Morrison, we were able to do that for much of the game. "
Ocean City outshot Mainland 17-9. Morrison made 14 saves for Mainland. Tori Vliet made five saves for Ocean City.
No. 5 Millville 6, ACIT 0: Olivia Giordano scored twice for the Thunderbolts (10-0), who are ranked fifth in The Elite 11. Aaniyah Street scored once and had an assist. Sadie Drozdowski, Jayme Sooy and Mary Greco each scored. San'aa Doss and Addison Godfrey each added an assist. Gabby Wheatly did not make a save for Millville.
Sydney Prince made 13 saves for ACIT (2-12).
Absegami 6, Pleasantville 0: Maka Wokocha scored twice for the Braves (7-5). Gianna Baldino, Shyna Kataria, Maddie Pratt and Kayleigh Lawlor each scored once. Rebecca Silipena did not make a save in the shutout.
Naomy Ibarra made eight saves for the Greyhounds (1-10).
Our Lady of Mercy 4, Cedar Creek 3: Gianna Patitucci scored three for the Villagers (4-4-1). Sophia Curcuru scored once. Elizabeth Giamboy made seven saves. For the Pirates (5-6), Corinne Morgan, Ashley Nicolichia and Alina Alcantara each scored. Gianna Thoms made 11 saves.
Jackson Memorial 4, Southern Reg. 1: Kate Bryant and Victoria Pungello each scored and had an assist for Jackson Memorial (6-6-1), which outshot the Rams 11-8. Gianna Simon scored off an assist from Shae Cassidy for Southern (4-4-3). Leah Morrin made seven saves.
Wildwood 5, Overbrook 0: Kaydence Oakley scored four for the Warriors (6-6). Juliet Morales scored once. Siara McGrath Concepcion and Imene Fathi each finished with an assist. Fathi made four saves. Wildwood outshot Overbrook (3-6) 11-4.
Vineland 4, Lower Cape May Reg. 0: Jenna DeTetta scored twice for Vineland (7-1-2). Angie Mainiero and Sophia Stockbridge each scored once. Stockbridge, Cami Cafiso and Ashlynn Newton each had an assist. Lower fell to 3-7.
Boys soccer
Hammonton 6, Atlantic City 1: Carter Bailey and Jaxon Miller each scored twice for the Blue Devils 12-3. Marco Schiano and Nick Iuliucci each scored once. Luke Griscom made five saves. Chris Volk made one. For the Vikings (0-10), Shady Hadad scored. Robert Fishbein made seven saves.
Middle Twp. 10, Wildwood Catholic 2: Steven Berrodin scored three goals and added two assists for the Panthers (11-1-1). Vincent Povio scored twice and had two assists. Colin Jastremski and Tommy Shagren each scored twice and had an assist. Cameron Odom scored once. Jack Macleod added an assist. Devon Bock made four saves.
For the Crusaders (1-8), Jimmy Kane scored twice. Jack Cavenas made 10 saves.
Egg Harbor Twp. 4, Bridgeton 1: Christian Martinez scored twice for the Eagles (9-3). Ryan Evenson and Gilmer Mendoza each scored and had an assist. Henry Calix and Andres Garces each finished with an assist. Nick Marin made one save. The game was tied 1-1 at halftime.
No. 7 Clearview Reg. 3, Cumberland Reg. 1: Carter Puckett scored twice for the Pioneers (10-1-2), who are ranked No. 7 in The Elite 11. Clearview outshot Cumberland 13-6. For the Colts (5-7-1), Jalen Ridgeway scored off an assist from Pace Justen in the first quarter. Noe Angel made 10 saves.
No. 9 Ocean City 7, Mainland Reg. 0: John Lindsay scored three for the Red Raiders (9-2), who are ranked No. 9 in The Elite 11. Ori Levy-Smith scored twice. Lambros Koutsfetsoulis and Aidan O'Kane each scored once. Jon Leap finished with two assists. Chris Catona and Kai Lindsay each added an assist.
Jeff Thomas made three saves for Mainland (2-5).
Vineland 2, Camden Tech 1 (OT): Eoghan Edgar scored in overtime off an assist from David Fanucci for Vineland (5-6). Yousef Azzam scored in the second half. Elijah Sarnoff assisted. Ahsan Johnson scored for Camden Tech (9-3). The Fighting Clan outscored Camden Tech 6-5.
Field hockey
No. 4 Ocean City 3, Millville 1: Tricia Nicoletti, Julia Neff and Carly Hanin each scored for the Red Raiders (13-1). Neff and Brooke Hanley each added an assist. Nora Bridgeford made two saves. Aliza Langlois scored off an assist from Sophia Kenelia in the first quarter for Millville (4-6-1). Lily Mahabir made 11 saves.
Ocean City is ranked No. 4 in The Elite 11.
No. 11 St. Joseph 4, Cedar Creek 0: Emily Nelson scored twice and added an assist for the Wildcats (12-0). Brogan Heilig and Brenan Daly each scored once. Macie Jacquet added an assist. Isabella Davis made seven saves. The Pirates fell to 7-5-1.
St. Joseph is ranked No. 11 in The Elite 11.
Barnegat 4, Lacey Twp. 3: Camryn White scored three for Barnegat (12-2). Patience Mares scored once. Julianna Cannizzaro finished with an assist. Madison Kubicz made six saves. Isabelle Merola had two assists and scored once for Lacey (9-6). Zoey Smith and Autumn Mangan each scored once. Maeve Meehan made eight saves.
Hammonton 3, Mainland Reg. 0: Anna Dankel, Olivia Osborne and Angelina Cortellessa each scored once for the Blue Devils (12-3). Abigail Goblirsch and Gracie Donio each finished with an assist. Angelina Catania made three saves. Sofia Grasso made two. Hammonton outshot Mainland (8-6-1) 16-5.
Lower Cape May Reg. 3, Our Lady of Mercy 0: Julia Tola made 10 saves for the Villagers (5-7-2). Lower improved to 11-2. No further information was available.
Girls volleyball
Absegami 2, Egg Harbor 1: The Braves (13-2) won 25-14, 23-25, 25-17. Deesha Chokshi led the Braves with 25 assists to go with two kills, two digs and two aces Ayana Crandell added 15 kills. Jackie Fortis finished with 10 kills, nine digs and three aces. EHT fell to 5-8.
Pleasantville 2, Lower Cape May Reg. 0: Pleasantville (6-3) won 25-20, 25-20. Audra Sockriter led Lower (2-13) with eight digs to go with three kills and two assists. Alyssa Ferrante added seven assists and five digs. Mariah Klinger finished with seven digs. Ariel Calfina had four service points.
Our Lady of Mercy 2, Oakcrest 0: OLMA (7-5) won 25-20, 25-16. For the Villagers, Ava Barrasso led with 13 assists to go with five kills. Lara Barrasso added eight assists and two kills. Madison Palek finished with seven kills and two blocks. Reagan Rambo had six kills. Oakcrest fell to 8-5.
Cedar Creek 2, Middle Twp. 0: The Pirates (11-5) won 25-17, 25-18. Maya Tort finished with seven assists and three digs. Tiernan James had six service points to go with three kills, three aces and three digs. Lily Mathis and Madison Mahieu each added six service points. Mathis also had four aces. Middle fell to 1-11.