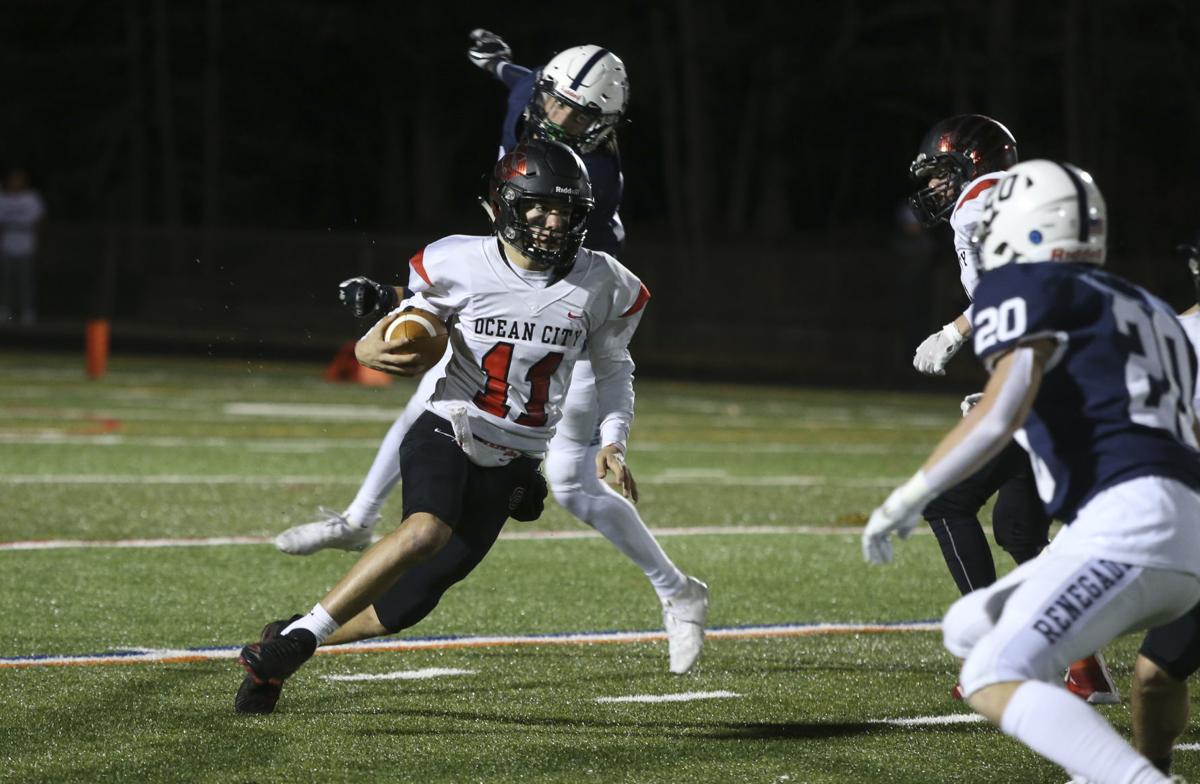 The Ocean City High School football team re-established itself as one of South Jersey's premier programs last season.
The Red Raiders are poised to build on that success this season with seven starters back on offense and nine on defense.
Ocean City finished 9-3 and lost to Shawnee in last year's South Jersey Group IV final. It was the first time the Red Raiders had played in a sectional final since 2000. Ocean City won three South Jersey championships from 1996-99.
"I think we feel we're capable (of winning a championship) and that's within our reach," Red Raiders coach Kevin Smith said.
This season Ocean City will feature a talented front seven on defense. Defensive ends Mike Rhodes (five sacks) and Will Drain (four sacks) return as do defensive tackles Matt Christy (6-foot-2, 230) and Mike Gray (6-3, 240).
"I feel like we're going to be tough to run the football on," Smith said.
Senior linebackers Jake Inserra (90 tackles) and Brad Jamison (77 tackles) led the team in tackles.
"They're fundamentally sound and instinctive," Smith said. "Inserra is like having another coach on the field. We let him call a lot of the defenses depending on how the offense lines up. Brad is 6-3, 215 pounds. He covers a lot of ground sideline to sideline."
Senior quarterback Joe Repetti, who threw for 1,427 yards and 20 touchdowns last season, leads the offense.
"He's a lot more decisive this season," Smith said. "That's the thing that jumps out right now. A this point last year, he hadn't started a varsity game. He was still kind of feeling his way through his reads and the speed of the game. Now, whatever we call he knows what to look for and where to go with the football."
Ocean City also returns top receiver Jake Schneider, who caught 46 passes for 691 yards and 10 touchdowns last season.
"We're going to do everything we can to get him the ball," Smith said. "We're going to move him around a little bit more than we have in the past to try to put him in some different spots."
The Red Raiders also have depth at running back with Inserra, Jacob Wilson and Sean Mazzitelli. C.J. Conti, Rhodes and Zach Mazzitelli return on the offensive line.
Ocean City's schedule includes some of the state's most talented skill position players, most notably running back Ja'Briel Mace of Mainland Regional, quarterback Ray Weed of Absegami, running back LaQuint Allen of Millville and wide receiver JoJo Bermudez of Cedar Creek.
"We have a tough schedule, so we're going to be in close games," Smith said. "To win close games, it's a lot of little things. You have to protect the football. You have to tackle well. We're going to see some explosive athletes. With the way we are upfront, if we can keep teams from hitting home runs, teams will have a hard time driving the field. That will be a point of emphasis all year long – tackle, tackle, tackle."
Be the first to know
Get local news delivered to your inbox!