EGG HARBOR CITY – The Denny's restaurant in Galloway Township should expect to whip up some extra Grand Slam breakfasts Sunday morning.
The Holy Spirit High School offensive linemen are ready to eat after what Spartans running back Patrick Smith achieved Saturday afternoon.
Smith carried 30 times for a Cape-Atlantic League single-game record 362 yards in a 41-0 win over Cedar Creek. Smith broke the record of 342 yards set by St. Augustine running back Lamont Harris in a win over Vineland in 2014.
"That sounds amazing," Smith said when told after the game how many yards he had gained. "We talked all week about running the ball, and we did it today."
Smith, who has committed to attend Colorado State, ran behind the offensive line of Justin McNulty, Javian Magee, Jadyn Crewe, Tyler Peterson and Jesse Bartlett and tight end JaShon Teller.
"We have one of the best running backs in the state behind a great offensive line," said Magee, a junior center. "The numbers showed it."
Smith takes his linemen to eat at Denny's after every big rushing game.
"We break his bank by blocking for him," Magee said, "and then break his bank by going out and eating breakfast. We're going to run up the tab on him."
Spirit (2-0) is ranked No. 7 in The Press Elite 11. The Spartans wanted to establish the run against Cedar Creek. Spirit wasn't happy with the way it ran the ball in its season-opening 18-6 win over St. Joseph on Oct. 2.
"We tried to simplify things for the offensive line and our backs," coach A.J. Russo said. "Against St. Joe, those guys stuffed us upfront. We wanted to try to get some continuity back in our running game."
Smith carried 30 times, 27 of them in the first half. He showed the power to run over defenders and the speed to run away from them, scoring touchdowns on runs of 22, 47, 48 and 6 yards. Russo called him "a difference maker."
"The offensive line opened a lot of holes," Smith said, "and the second level is one-on-one with the safety or the corner. That's on me. You have to make a play.'
Smith's backup, Devin Lee, also excelled with seven carries for 44 yards and two touchdowns.
The Spirit defense shut down Cedar Creek. Senior linebacker A'Johnnie Rembert made two tackles for losses and deflected two passes. Junior linebacker Michael Francisco made three tackles for losses.
But Smith was the story after the game. His performance will go down as one of the best performances ever by a South Jersey running back.
Philadelphia Eagles running back Corey Clement holds the South Jersey single-game rushing record with 478 yards for Glassboro against Gloucester in 2012.
That same night, Wesley Hills of Wildwood set the Press-area record with 452 yards against Maple Shade.
Smith said that in this pandemic-shortened season he wants to make the most of every game.
"Every time I touch the ball, I want to have the mindset that I have to score or have a good play," he said. "You never know. That next week we might not be able to have that game."
Holy Spirit 7 21 6 7 — 41
HS – Smith 22 run (Feliciano kick)
HS – Smith 47 run (Feliciano kick)
HS – Smith 48 run (Feliciano kick)
HS – Smith 6 run (Feliciano kick)
HS – Lee 2 run (kick missed)
HS – Lee 6 run (Feliciano kick)
Mainland Regional 13, Absegami 28 - FINAL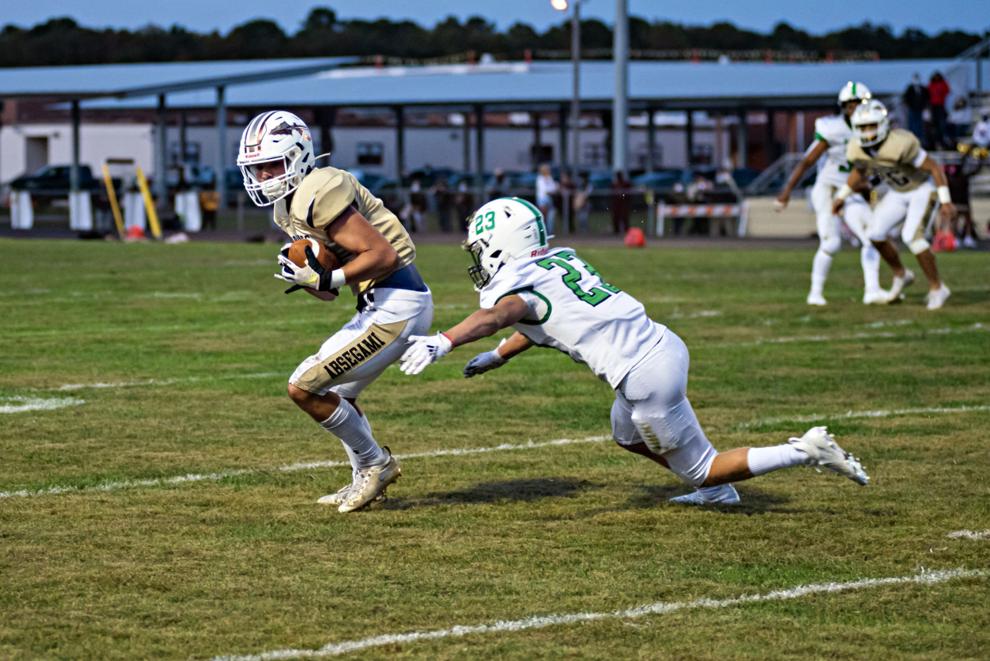 Egg Harbor Township 26, Atlantic City 12 - FINAL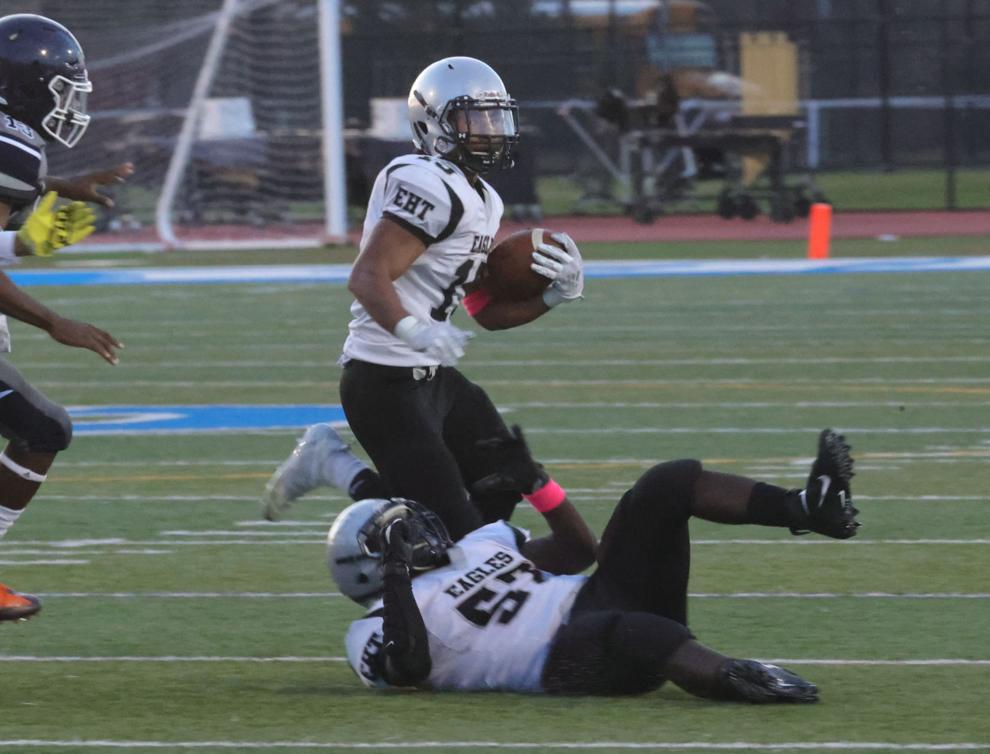 St. Augustine 21, Milliville 22 - FINAL
The Millville High School football team on Friday beat St. Augustine Prep 22-21 in a West Jersey Football League game in Millville.
The Thunderbolts improved to 1-1.
Trailing 21-14 in the fourth quarter, Millville scored on a 3-yard run by LaQuint Allen. Allen then passed to Davonte White for a successful two-point conversion to take a one-point lead.
Millville stopped St. Augustine on fourth-and-5 on the following drive to seal the win.
Allen rushed 16 times for 66 yards and had two catches for 35 yards.
The Hermits, ranked No. 1 in The Press Elite 11, fell to 0-1.
For St. Augustine, Franklin Simms and Kanye Udoh each scored on 10-yard runs. Trey McLeer caught a 27-yard passing touchdown from Austin Leyman. Udoh finished with 27 carries for 187 yards.
St. Augustine; 7 7 0 7—21
S— Simms 10 run (Bispo kick)
M— White 6 pass from Robbins (kick fail)
S— McLear 27 pass from Leyman (Bispo kick)
M— Cox-Patterson 1 run (Cephas pass from Robbins)
S— Udoh 10 run (Bispo kick)
M— Allen 3 run (White pass from Allen)
Ocean City 48, Oakcrest 0 - FINAL
Vineland 6, Hammonton 27 - FINAL
Jaiden Abrams had rushing touchdowns of 24, 15 and 5 yards for Hammonton. Brock Weissman scored the first touchdown of the game with a 1-yard run.
H— Weissman 1 run (kick fail)
H— Abrams 24 run (kick good)
H— Abrams 15 run (kick good)
V— touchdown (conversion fail)
H— Abrams 5 run (kick good)
St. Joseph Academy 30, Pleasantville 6 - FINAL
Cohl Mercado had rushing touchdowns of 11 and 20 yards for St. Joseph. Ahmad Ross ran 47 yards for a touchdown. The Wildcats' defense also forced a safety on a Pleasantville punt.
For Pleasantville, Ernest Howard scored on a 5-yard run.
S— Mercado 11 run (kick good)
P— Howard 5 run (kick fail)
S— Shertel 3 run (kick good)
S— Mercado 20 run (kick good)
S— Ross 47 run (kick good)
Woodstown 22, Buena Regional 18 - FINAL
Middle 49, Schalick 6 - FINAL
Barnegat 20, Shore Regional 13 - FINAL
Lacey Township 42, Pinelands Regional, 0 - FINAL
Southern Regional 28, Brick Memorial 13 - FINAL
Clayton 28 , Lower Cape May 0 - FINAL
Gloucester City 37, Wildwood 6 - THURSDAY FINAL
The Wildwood High School football team lost 37-6 to Gloucester City in a West Jersey Football League Freedom Division matchup in Wildwood on Thursday.
Wildwood's lone touchdown was a 51-yard pass from Ernie Troiano to Greg Mitchell. The Warriors (0-2), who only had 17 active players for the game, trailed 17-6 at the half.
Contact: 609-272-7209
Twitter @ACPressMcGarry