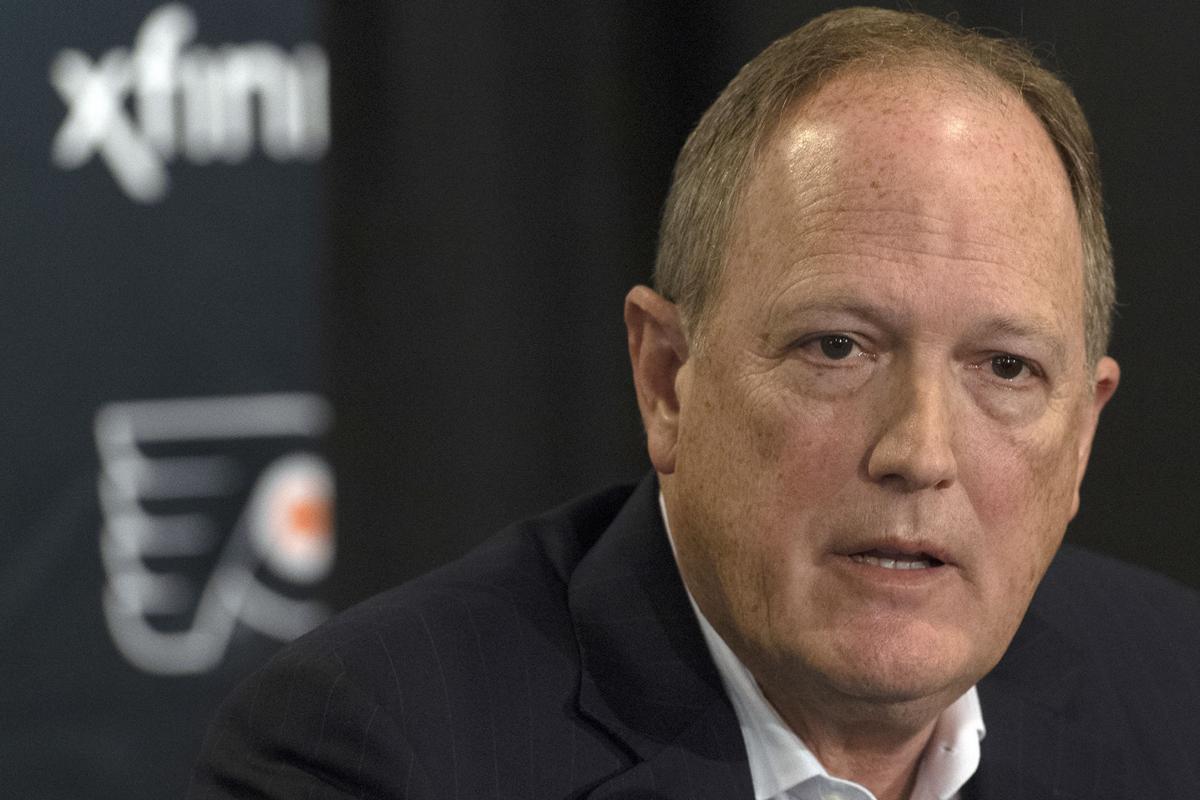 Dave Scott, the Philadelphia Flyers' chairman, understands the fans' grief over an underachieving season that has turned miserable.
He shares their frustration.
"I feel for our fans. I mean, it's a sad situation," he said in an interview Monday. "I'm angry. I'm frustrated. Everyone keeps saying they're disappointed, and it's beyond disappointment where we're sitting today."
"But I'm not discouraged, and I'm determined," he added.
Determined to turn things around after a two-month collapse — 12 wins in their last 35 games through Monday — that knocked the Flyers out of the NHL playoff picture. They will miss the playoffs for the fifth time in the last nine years.
A year ago, the Flyers went 41-21-7, finished second in the Metropolitan Division, and won their first playoff series since 2012.
That created high expectations, making this season's fall from contention even more head-scratching.
In a wide-ranging interview, Scott, who confers with general manager Chuck Fletcher every day and believes in his decision making, said he doesn't think the team needs radical changes. He says the Flyers need another scorer and top-pairing defenseman, and he strongly hinted that a backup goaltender is on the team's wish list.
"I think we're closer than our record shows," Scott said. "If you look at it, it's the same core group we had last season, and we took a big step under difficult circumstances, playing up in Toronto in the bubble."
The Flyers are 23-22-7 this season and sit in sixth place in the East Division.
"There's no excuses. We just didn't get it done," Scott said. "We took a big step back. And I can't stop thinking about our fan base."
He said he was walking around the Wells Fargo Center the other day "and looking at our past (championship) banners, and I know our fans are frustrated. All I can say is that Chuck and I talk every day, and we're really determined to turn this thing around and give these guys what they need to get the job done."
He believes Fletcher will have the salary-cap space to add some key pieces even if he doesn't trade an expensive player such as Jake Voracek or James van Riemsdyk, or lose one of them in the expansion draft.
Scott supports head coach Alain Vigneault and his assistants but wasn't exactly thrilled at the job they did this season.
Scott was asked who is the most accountable for the season: coaches, players, or management.
"You look at it, and it's the coaches' jobs to make sure the players are ready to play," he said. "We've been showing up not ready to play. I mean, the guys have gotten off to slow starts in, what, 19 of the last 21 games" and allowed the first goal.
"But I don't think there's just one thing that you can point to" for the poor season, he said. "All I can tell you is that we're going to have a busy summer. I'm determined to get his thing back on track, and that 's everything from spending to the cap and giving the resources to Chuck and A.V."
As far as making multiple changes to the roster, Scott said he doesn't believe it's necessary.
"I don't think we need a total rebuild," he said. "Last season wasn't that long ago" and the Flyers did well with a similar roster. "I think we're a lot better than what our record reflects right now. Clearly, it starts with goaltending."
The Flyers are last in the league is goals allowed per game (3.57).
"You get behind like we have, and then you chase the game and make mistakes," he said. "We all see it."
Scott said there were several players "who took a step back this year, but I still believe in those guys. The young corps we have" — he mentioned Travis Konecny, Travis Sanheim, Phil Myers, and Carter Hart — "I really think they're going to be OK. Carter has a heavy load, but he's a young kid, and I really believe he'll get it turned around and be everything we thought he would be and more."
Scott was asked what makes him think the Flyers are a better team than they showed when they repeatedly fell behind early, struggled mightily on special teams, and did not give a full 60-minute effort.
"There's no excuses for it, but everybody had their own issues with COVID," he said. "We actually started the season very well, and then we went through COVID. We had a lot of veterans sit. So did a few other teams, but it seemed like when we got everybody back, we could never get it back on track.
"I'm really looking forward to a normal season of 82 games. If you look at Chuck and A.V., they have not had an 82-game season with the Flyers, which is unreal. I think we're a team that needs a training camp. We got all new coaches two seasons ago, plus going through COVID, so it hasn't been easy for sure. But I think we're going to have a normal season (in 2021-22), and Chuck and A.V. will take us where we need to go."
Scott said he hasn't lost faith in Fletcher, who never replaced Matt Niskanen with a suitable defenseman and made some questionable moves in the last year.
"Last year, he got (Kevin) Hayes and Nisky, and just that little bit of tweaking seemed to help a lot," Scott said. "Kevin hasn't had the same type of year this year, but he's young and has potential. I think this will be the summer to make some things happen and make some tough decisions. Chuck has all my confidence … and so does A.V."
Last week, Vigneault said he had an idea why so many of his players had poor seasons, but he said he wouldn't talk about it until after the season. Was he referring to COVID-19?
Scott said he wasn't sure what the coach would reveal.
"I really don't know what he meant," Scott said. "All I know is we had the six veterans out, and it was hard. But again, other teams have gone through this, too."
If Ed Snider was alive, he would have erupted countless times over the last two months at the Flyers' passive play.
He would have said that his team was embarrassing the city and that changes would be made in the offseason because he couldn't stomach the listless play any longer.
He would have used colorful language — like you probably have while watching the team underachieve this season — and he probably would have said that no job was safe. Not the players, coaches, or management.
Snider was far from perfect as the team's chairman and cofounder. He sometimes interfered too much, and that led to some bad decisions (see Ilya Bryzgalov, wannabe cosmonaut).
But no one could match his passion for the team.
Scott, the Flyers' relatively new head honcho, is more reserved and hands-off when compared to Snider. But he cares deeply, works hard at his job, and, though he has other duties for Comcast Spectacor, says he is invested "24/7" in the hockey team.
His style is not to interfere. He trusts the people running the team on a daily basis and relies on their knowledge to build the Flyers' first Stanley Cup champion since 1975.
Scott knew Snider for 20 years and worked closely with him for 2½ years before Snider died in 2016.
"He was always about hiring the right people and letting them do their job," Scott said. "That's what I'm doing. That's what you have to do."
More South Jersey towns are banning recreational marijuana: A town-by-town guide
ABSECON
City Council President Keith Bennett, in a March 18 meeting, said the economic development committee would take up the issue and make a recommendation to council.
ATLANTIC CITY
With one medical marijuana dispensary on the Boardwalk and another expected to open, Atlantic City is expected to take part in the more open laws, including taking advantage of a 2% tax the city can collect on sales of cannabis products.
AVALON
Borough Council will hold a public hearing and final adoption on June 23 on an ordinance banning any cannabis-related businesses from operating in the borough. The meeting will take place 4:15 p.m. at the Municipal Building, 3100 Dune Drive. 
Also, the borough's Planning/Zoning board met on June 8 recommending an amendment to its borough codes reaffirming that marijuana is a prohibited use within the borough.
BARNEGAT
Township Committee will hold a public hearing and vote May 4 on an ordinance that would prohibit the operation of any cannabis businesses in the community.
BARNEGAT LIGHT
Officials here will vote May 12 on an ordinance banning any type of cannabis business in the municipality.
BRIDGETON
City Council has taken no recent action. Voters, in a 2018 non-binding referendum, narrowly opposed its legalization.
BRIGANTINE
City Council voted May 5 to prohibit the operation of any class of cannabis businesses within its geographical boundaries.
BUENA
The Borough Council in a March 8 agenda noted, "Marijuana legislation will need future discussion."
CAPE MAY CITY
City Council adopted an ordinance April 6 banning smoking of marijuana in public places.
CORBIN CITY
The Common Council held a special meeting May 5 to discuss regulations of cannabis businesses within Corbin City limits.
Then on June 3, the city held a special town hall meeting to discuss regulations of cannabis businesses. The meeting was to be held at at the Corbin City Railroad Park, with residents being advised to bring their own chair.
DENNIS TOWNSHIP
Township Committee will consider adopting two ordinances on May 25 regulating the consumption and sale of cannabis in the township.
One ordinance will ban marijuana smoking in public places. The intent is to "protect residents of and visitors to the Township of Dennis from the nuisance and health hazards of non-consensual exposure to secondhand marijuana smoke and limit marijuana-related litter and pollution."
A second ordinance, also up for vote May 25 will prohibit any cannabis businesses from opening in the township.
Public hearings will proceed both votes.
DOWNE TOWNSHIP
An ordinance prohibiting the operation of certain classes of cannabis businesses within its limits was introduced April 12.
EGG HARBOR CITY
Council began discussion of cannabis legislation at its April 20 meeting.
ESTELL MANOR
The city introduced an ordinance prohibiting the operation of any class of cannabis business in the city limits. 
A full text of the proposed Code is posted at City Hall and can be found on the City of Estell Manor website at http://www.estellmanor.org/.
A public hearing, final passage and adoption by City Council will take place 7 p.m. July 7 at City Hall, 148 Cumberland Avenue.
GALLOWAY TOWNSHIP
Township Council voted May 11 to prohibit smoking cannabis in township recreation areas.
A public hearing was held prior to the vote, but no public made comments.
The township has until Aug. 21 to decide whether it will allow retail recreational marijuana sales within its borders.
As a side note, one of its largest institutions, Stockton University, is rapidly expanding its educational offerings related to cannabis, including the creation of the Cannabis & Hemp Research Institute at the university.
HAMMONTON
The town is reviewing options and will have some legislation by the 180-day deadline, a town official has said.
HAMILTON TOWNSHIP
No legislation can be found, but Columbia Care New Jersey, LLC, is seeking planning board approval to build a state licensed medical marijuana dispensary with drive-thru window involving a currently vacant commercial property located at 4436 East Black Horse Pike, according a recent public notice.
HOPEWELL TOWNSHIP
No record of recent legislation, but at least as early as September 2019, town officials voiced opposition to locating a dispensary in town.
LACEY TOWNSHIP
The town's governing body will vote to adopt two ordinances on May 13; one ordinance will prohibit the establishment of any recreational cannabis business in the township; another will medical cannabis dispensaries in its M-1 business zone.
LITTLE EGG HARBOR TOWNSHIP
No action taken. In minutes of the township's senior advisory board, the township's police chief spoke against it in 2019.
LONGPORT
Borough commissioners were expected to approve an ordinance banning cannabis-related businesses at their June 2 meeting.
LOWER TOWNSHIP
Township officials were expected to vote May 3 on an ordinance that would prohibit smoking of marijuana in public places.
MIDDLE TOWNSHIP
Township Committee was expected to vote on May 3 on an ordinance that would prevent people from smoking or vaping cannabis in public. The township does support a proposal for a medical marijuana facility at the site of a former seafood processing plant.
MILLVILLE
The city's Planning Board will hold a public hearing June 7 seeking resident input on regulations for cannabis businesses.
For more information: The agenda will be published on the City of Millville website located at http://millvillenj.gov/310/planning prior to the meeting, as usual. Please join the meeting from your computer, tablet or smartphone using the following URL or access phone number: From your computer, tablet or smartphone. https://global.gotomeeting.com/join/645672285 Using your phone. United States: +1 (669) 224-3412 Access Code: 645-672-285 New to GoToMeeting? Get the app now and be ready when your first meeting starts: https://global.gotomeeting.com/install/645672285 The Board Secretary will be taking the names of those in attendance once callers enter the meeting.
MULLICA TOWNSHIP
Township Committee voted to introduce an ordinance prohibiting any cannabis-related businesses from opening in its boundaries. A public hearing and final vote will take place June 22.
NORTH WILDWOOD
City Council will hold a final vote May 18 on banning any type of recreational cannabis business in the city.
NORTHFIELD
City Council is discussing whether to prohibit the use and sale of marijuana after the plan was legalized for recreational use at the state level.
City Councilman Paul Utts has said allowing the sale of cannabis has the  potential to generate tax revenue and create jobs.
An ordinance on the matter is being drafted and will be introduced in June.
OCEAN CITY
On April 8, the city adopted ordinances aimed at keeping out dispensaries.
City council adopted an ordinance banning vaping, and smoking of cannabis, marijuana and hashish on the boardwalk, in parks and in recreational areas following a public hearing May 27.
PLEASANTVILLE
The city has previously approved a medical marijuana dispensary. No legislation regarding recreational marijuana has been brought up, according to a review of minutes.
PORT REPUBLIC
The City Council will hold a public hearing and vote on final adoption on June 15 on an ordinance banning the operation of any cannabis-related business in the city limits. The meeting will be held at 6:30 p.m. at City Hall, 143 Main St.
SEA ISLE CITY
The city will vote May 11 to adopt an ordinance prohibiting the sale or operation of any recreational marijuana manufacturing, cultivation, processing, distribution or dispensaries as well as the delivery of cannabis. The vote also will include prohibiting the public consumption or smoking of cannabis in public.
SOMERS POINT
A public hearing on an ordinance to amending zoning regulations to prohibit all manner of marijuana-related land use and development will be considered for final adoption following a public hearing 7 p.m. July 22 in City Council Chambers, 1 West New Jersey Ave.
STAFFORD TOWNSHIP
The Township Committee will hold a public hearing and final vote May 11 on an ordinance prohibiting "the consumption of cannabis items."
A previous township law, established in 2020, prohibited the operation of marijuana retail establishments, marijuana cultivation facilities and marijuana product manufacturing facilities.
STONE HARBOR
The borough voted May 4 to prohibit the sale of marijuana, as well as the operation of an marijuana-related business. Smoking and ingesting cannabis also will be prohibited.
UPPER TOWNSHIP
The township on May 10 adopted an ordinance aimed at keeping out recreational marijuana dispensaries.
UPPER PITTSGROVE
No information could be found regarding legislation. At a Jan 5, 2021, meeting, the board was asked for support for a marijuana growing operation application.
VENTNOR
The City Commission on May 13 introduced two separate ordinances that would prohibit the creation of any cannabis-related businesses and the smoking of marijuana on public property.
On June 10,the city will hold a public hearing and final vote on both ordinances. The meeting will be held 5:30 pm, in Commission Chambers City Hall, 6201 Atlantic Ave.
VINELAND
The city's Zoning Board took the issue up at a recent meeting. It's unclear what action was taken.
WEST WILDWOOD
The borough adopted an ordinance May 7 prohibiting the operation of "all classes of cannabis businesses" within its borders.
WILDWOOD CREST
Wildwood Crest will vote on May 12 on final adoption of an ordinance that would prohibit anyone under the age of 21 from consuming cannabis on private property.