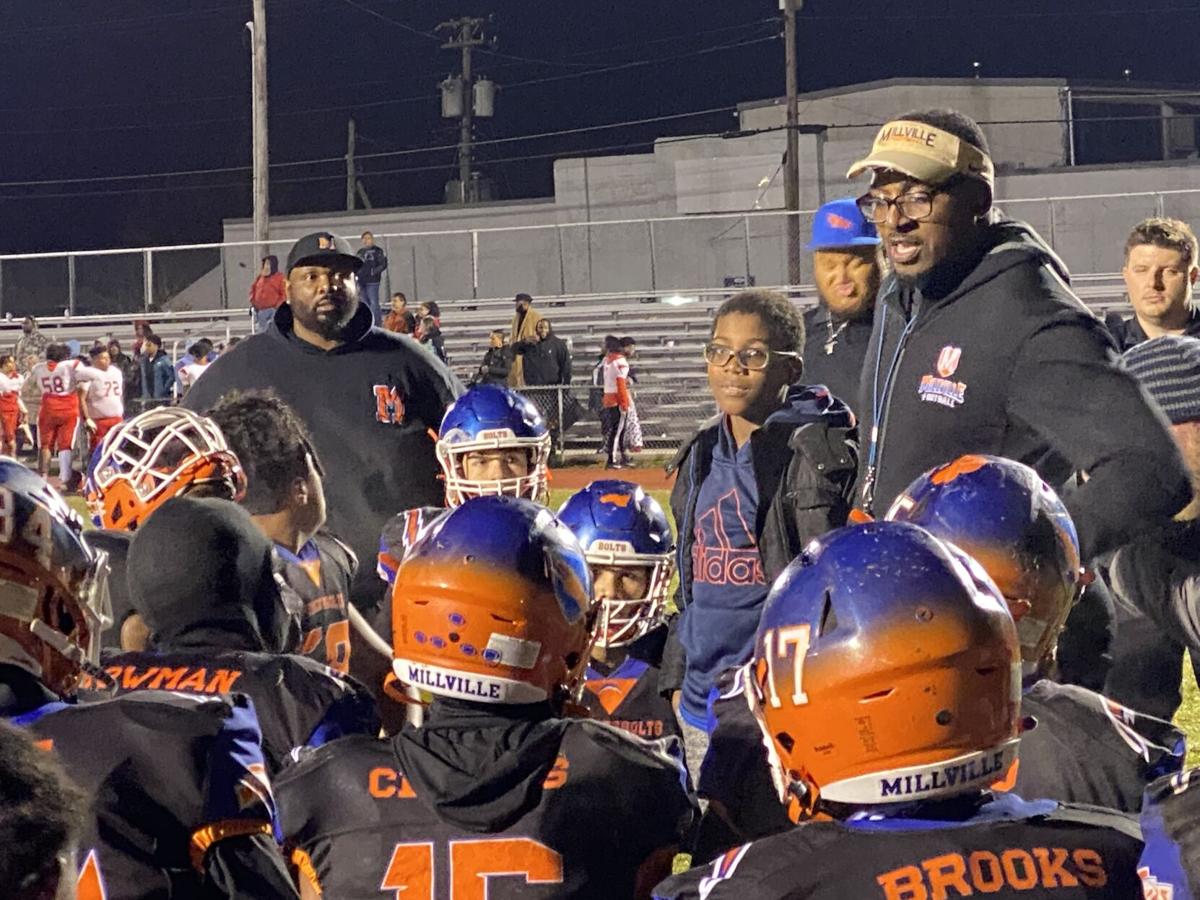 The chant is heard before and after every Millville High School football game.
"OBG," the Thunderbolts shout, "OBG."
Just about everything to Millville.
OBG means it's time for the Thunderbolts to go to work.
"Strap up that helmet," Millville standout running back LeQuint Allen said. "It becomes a brotherhood."
OBG also means the Thunderbolts belong to something bigger than themselves.
"It's identity," Millville coach Dennis Thomas said. "It's a culture thing. We focus on fostering a culture on the practice field that says, 'Hey, we are a family.'"
The OBG chant is louder than ever this season. Top-seeded Millville (9-1) will host second-seeded Ocean City (11-0) 6 p.m. Friday for the South Jersey Group IV title. The Thunderbolts are trying to win the third sectional title in the program's history and the second since Thomas took over as head coach in 2015.
Thomas came up with OBG four years ago. Orange and blue are the school's colors. Thomas' twitter handle is @OBGfootball. The players and coaches often use the hashtag #OBG in their social media posts.
"Millville has been orange and blue for a long time," Allen said. "Not just in high school but the younger kids coming up, they can be OBG too."
Millville can be a tough town. In May, the community held a meeting at Captain Buck Park to discuss gun violence after a shooting during a party in nearby Fairfield Township. It can be tempting for teens to go down the wrong path. OBG signals there's another way.
"It's about choosing the field over the streets," Thomas said. "If they do the right things on the field, if they do the right things in the classroom, those guys are going to have an opportunity to move on to college. We give them the option of being a part of our group, our gang, and not the street life."
With the pandemic and everything else that has gone on in the world the past two years, all high school athletes need something positive to latch on to.
"There's a lot of tough things going on," Thomas said. "I believe the reality is every kid wants to be a part of something. We try to make sure that we give them something to be a part of. That's what OBG is. Come and be a part of OBG."
Some of the state's most talented players are a part of OBG this season. Running back and Syracuse University recruit Allen has rushed for 1,441 yards. Senior quarterback Nate Robbins (2,102 passing yards) is the first player in school history to throw for more than 2,000 yards in a single season. Freshman wide receiver Lotzeir Brooks already has scholarship offers from eight schools, including SEC power Texas A&M, Rutgers and West Virginia. Pittsburgh and Temple are among the schools to offer sophomore wide receiver Ta'Ron Haile a scholarship.
Millville averages 45.3 points and has scored more than 50 in both of its playoff wins. The Thunderbolts traditionally play one of South Jersey's toughest schedules.
"I want our schedule as rigorous as possible," Thomas said. "What it does is prepare us for times like this."
The OBG chant also prepares the Thunderbolts for game day.
"When they hear that OBG," Thomas said, "everyone knows 'Oh man, here they come.' "
Thomas embodies the OBG mantra in his interactions with the Thunderbolts. He is a charismatic, enthusiastic, intense coach, who always seems to be upbeat and positive.
He's confident the Thunderbolts are prepared for Friday.
"They know what's on the line," Thomas said of the Millville players. "They know the ramifications of this game. I believe they're going to go after it and give it 100 percent."
Mike McGarry's Must Win column runs in Friday's Press of Atlantic City.