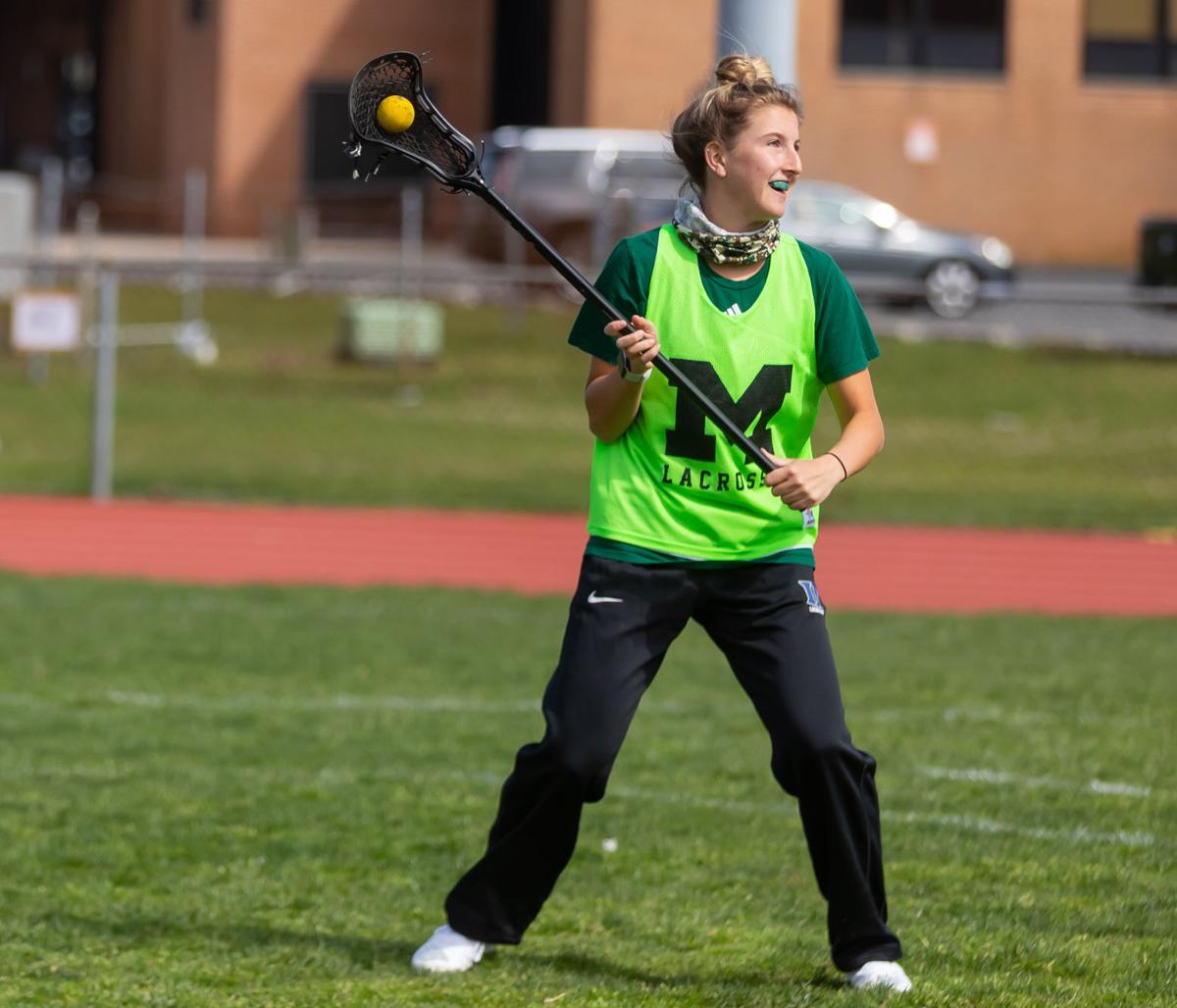 The local high school girls lacrosse season began Monday.
Here's a look at the Cape-Atlantic League teams and the Shore Conference teams from southern Ocean County.
Teams listed with 2019 records since the 2020 season was canceled due to the pandemic.
Coach: Anna Gordon (third season)
Outlook: The Braves have some talented players with experience, including senior midfielder Haleigh Schafer, who totaled 45 goals, 11 assists, 18 ground balls and 55 draw controls in 2019. Jayla McNamara is another senior midfielder and third-year star. Senior defender Jenna Richardson started in 2019, and junior defender Livia Pino played some as a freshman. Senior midfielder Amber Conway played varsity as a freshman and was injured two years ago. Freshman Sarah Glass, who could be an attack or mid, is a talented player.
"Right now, the girls are super excited to play," Gordon said. "It's my biggest roster. The numbers are up to about 30, and it's exciting to see. We don't have a feeder program; we have to start from scratch. But we have a lot of really athletic girls, and we'll see how they do against some tough opponents."
Coach: Melissa Williams (third season)
Outlook: The Eagles should have a good year with some strong returnees and some good young players. Senior defenders Cheyenne Avellino and Kylie Elwell had 44 and 39 ground balls, respectively, in 2019. Junior midfielder and 2019 first-team Press All-Star Emily Gargan scored 60 goals two years ago and had 54 ground balls and 34 draw controls. Laine Walterson, now a senior, added 43 goals and 34 ground balls. Senior attack Grace Carpenter was a varsity player in 2019 and had 20 goals, 12 assists and 21 ground balls. Sophomore midfielder Anna Smith should do well.
"We only lost two seniors last year and we had incoming talent," Williams said. "Our seniors had an extra year to prepare, if you want to put it in a good light. Our goal this season is to go and put out our best effort. We're ready to showcase ourselves with our best foot forward. I had these seniors as freshmen, and we want to win our first home playoff game. The seniors' motto is 'This is it.' Everything is the last for them."
Coach: JoAnn McLaughlin (fourth season)
Outlook: The Caper Tigers will be led by five juniors, including midfielder Sabrina Faulkner (56 goals, 30 assists in 2019), midfielder Maddie Schiffbauer (30 goals, 11 assists), attack Maggie Boyle (18 goals, 6 assists), attack Julie Gibson (27 goals, 12 assists) and defender Jenna O'Neill (30 ground balls, 25 draw controls). Faulkner was a first-team Press All-Star in 2019.
"Those five juniors have been our leaders since they were freshmen," McLaughlin said. "The girls do an amazing job building a positive team culture. We used our down time to come together as a team. I'm proud of their leadership on and off the field."
Coach: Maura Twiggs (first season)
Outlook: Twiggs, who would have been the coach last year, has several seniors who will play bigger roles this year than they did as sophomores. They include midfielders Paige Mlynarczyk, Skyler Mooney and Madison Connelly, attack-midfielders Jessica Perez and Lisandra Torres, goalie Nadia Bougioukas and attack Belinda Thoumma.
Twiggs was a cross country runner and girls lacrosse goalie at Ocean City High School. She was also a women's lacrosse goalie for Stockton University, graduating in 2019.
"Many JVs are now varsity," Twiggs said. "We have a younger team and a few new faces, which is good. Our goal is to increase the program's presence in the community and the school. The girls are excited to have a season."
Coach: Lesley Graham (first season)
Outlook: Graham takes over a program that was the CAL American Division champion in 2019. The Red Raiders graduated most of its top players from that year but still should do well. Alexis Smallwood, a senior captain and midfielder is the only returning varsity player from 2019. Two other seniors are defender Tess Grimley and attack and captain Chelsea Stack. Their juniors include captain and midfielder Racheli Levy-Smith and defender Carly Hanin.
Graham played field hockey and girls lacrosse and swam at Spring-Ford High School in Royersford, Pennsylvania, but spent every summer at Ocean City since she was four years old. She was on the Ocean City Beach Patrol for 14 years. She played women's lacrosse at Ithaca College, and has coached at the Division I, II and III levels. She's the former head coach of women's lacrosse at Chestnut Hill College, in Philadelphia, and Saint Leo University, near Tampa, Florida.
"We obviously lost last season, but we all moved forward, and we're grateful to play," Graham said. "We're inexperienced from a varsity standpoint, but we have a lot of talent. We don't have years of experience, like some varsity programs do. Last year (when Graham became the coach) was possibly a rebuilding year, and this year definitely is."
Coach: Jen Valore (fourth season)
Outlook: Two top players for the Villagers are senior midfielder Adrianna Dodge and junior goalie Lindsey Serafine. Dodge, who will play next year at Limestone University, had 45 goals in 2019. Serafine, a junior goalie, has committed to play for the U.S. Military Academy. Two key juniors are attack Anissa Serafine (Lindsey's twin, who had 48 goals in 2019) and midfielder Fiona Lockhart.
"Like everyone else, it's difficult to access things because we didn't play last year," Valore said. "We're led by five strong seniors, players who saw significant playing time two years ago. We're looking to continue the growth and strength we had in the program. Our school is built on sisterhood, and that has helped our program."
Coach: Samantha Sickler (first season)
Outlook: The Vikings hope to improve, led by senior attack-midfielder Megan Dougherty, senior attack Hailey Bloom and sophomore attack-midfielder Alex Dounilis. Bloom has committed to play at Gwynedd Mercy College next year.
Sickler was an ACHS assistant for three years.
"We're excited that the girls are actually having a season," Sickler said. "Some parents had issues with their children coming out to play, so our numbers are down. But I think it will help our mental health to have a season. Our only goal is to get through the season in a positive way."
Coach: Nicole Goodwin (first season)
Outlook: Midfielder Abby Winterbottom, a junior who played as a freshman, is the only returning varsity player. Freshman midfielder Mia McColl is a skilled player who is helping the other young girls. Bella Fox is a senior who will contribute.
"We're pretty much all freshmen and some sophomores," Goodwin said. "We have four seniors and two juniors. Mia McColl and Abby Winterbottom are my two most skilled players. Mia is a club player and a natural leader, and a nice kid. They're just learning how to play the game as freshmen and sophomores. Our goal is just to compete with teams. We're the underdogs, so we'll get in there and mix it up. But we'll play tough, and we're not going to quit."
Coach: Kylie Primeau (first season)
Outlook: The Spartans will be led by juniors, including Leah Corkhill (22 goals, 28 draw controls in 2019), Emma Watson, Sophie Sobocinski, Maggie Cella (16 goals in 2019) and Savannah Keaser. Primeau said the positions of the players was not final as the season neared.
"The girls are young and super eager," Primeau said. "It's been a blast so far. They're working hard but we want to make it fun for everybody. We're excited to learn in every game and see what we need to focus on. We have a lot of good talent. Next year we'll have pretty much everybody returning."
Coach: Kelly Klever (second season)
Outlook: The Mustangs were a young team in 2019, then having a lot of talented freshmen and sophomores. Despite missing last season, Mainland returns most of that standout core, including 2019 first-team Press All-Stars and midfielders Casey Murray and Julianna Medina. Murray scored 64 goals and had 17 assists, 31 ground balls and 70 draw controls in 2019. Medina totaled 51 goals, 27 assists, 18 ground balls and 36 draw controls.
Mainland also features freshman goalie Kylie Kurtz, whom Klever praised, senior attackers Charlotte Walcoff and Sam Rothman and sophomore attacker Eva Blanco, who are expected to make an impact.
"We have a lot of strong returners, but we also have spots to fill with a lot of good potential," Klever said.
Coach: Tina Prickett (third season)
Outlook: The Panthers were National Division champions at 10-0 in 2019, and Kate Herlihy, Brianna Robinson and goalie Mia Slick are returning starters. Robinson, a junior midfielder, had 27 goals and nine assists in 2019, and Herlihy, a senior defensive midfielder, added 15 goals and 13 assists. Slick, a junior, was in goal as a freshman.
Middle has talented young players, including sophomore midfielders Eliza Billingham and Maddyn McAnaney and freshman attack Abbie Teefy.
"We graduated 13 seniors last year, and five of them are playing in college right now," Prickett said. "I think we would have won state last year. I hate to say we're rebuilding because that sounds like low expectations. We lost a lot of people, but they shouldn't count us out. The new kids are learning the culture from the older ones, and once they do, we should pick up where we left off."
Coach: Corrine Veight (first season)
Outlook: Veight takes over the program following the retirement of her grandmother, Claudia McCarthy, from teaching and coaching. Veight was an assistant coach the last three years.
The Thunderbolts have talent and could improve. Seniors include attack Emily Thompson, Megan Hollenbeck, Angie Kenelia and midfielder Casey Etter, Veight's younger sister. Kenelia, a field hockey player who never played lacrosse, will be the goalie. Etter, who will play field hockey in the fall at Belmont Abbey College, scored 23 goals in 2019. Key juniors include defenders Mary Greco and Jayme Sooy, twins and midfielders Julianna Giordano and Olivia Giordano, and attack Karli Jones.
"I have big shoes to fill," Veight said. "Things look pretty good, and we're looking forward to the season. We have a lot of good athletes. They work hard, do as expected, and they're very coachable. They have heart and hustle.
"I think we'll be competitive. I see a good outcome to the season. It depends on how much we want it."
Coach: Lyndsey Torre (fourth season)
Outlook: The Bengals return midfielder Alexis Jackson, attack Ashley Pringle and defender Paige Menegus, three seniors who started in 2019. Jackson had 42 goals, 64 ground balls and 51 draw controls that year. Pringle totaled 20 goals, 10 assists and 21 ground balls. Menegus had nine ground balls. Junior Isabel Guiro played as a freshman and had seven ground balls. Sophomore midfielders Calli Dunn and Savia Singh are talented players.
"I think after losing out on the season last year, we're really looking forward to it," Torre said. "We have four returnees and great leadership. We look to be competitive in (Shore Conference) B South and outside the division."
Coach: Becky Buist (first season)
2019 record: 6-11 in 2019
Outlook: Buist, a Lacey assistant coach for five years, will be the head coach this season while Stephanie Law is on maternity leave.
The Lions should be competitive with senior midfielder Cayli Biele (24 goals, 13 ground balls in 2019) and junior midfielder Kayleigh Flanagan (20 goals, 10 ground balls). Madison MacGillivary is a talented sophomore. Vanessa Valiusyte is a senior defender, and junior attack Chyanne Nucifora saw some varsity time as a freshman. Goalies include senior Sydney Koch, who played some varsity in 2019 and freshman Maeve Meehan, a Lacey field hockey goalie.
"We're excited and happy to have a season," Buist said. "Some of our attack may come from our mids. We're trying to keep everyone happy and healthy. We want to keep them safe and let them enjoy the season. We're hoping to advance as far as we can."
Coach: Paul Millar (19th season)
Outlook: Senior attack-midfielders Karianna Eagle (35 goals, 41 ground balls, 89 draw controls in 2019) and Jamilyn Hawkins (38 goals, 40 ground balls) should help the Wildcats improve this season. Other key players include defender-midfielders Kennedy Heinrichs and Bridget Dudas, a senior and junior, respectively, and senior midfielder-attack Layla Frost (19 ground balls two years ago). Junior Kamryn Borden (10 goals and 15 balls) played some varsity as a freshman.
"We have some good people coming back," Millar said. "We have a lot of athletes this year, who play other sports, too. We're looking forward to a good season. They work hard, and they're competitive. They're athletes."
Coach: Lori Johnson (sixth season at Southern)
Outlook: The Rams return some key players from 2019, when they won the Shore Conference A South title for the first time. Senior midfielder Kacey Kubarewicz had 19 goals, 46 ground balls, and 52 draw controls two years ago. She'll play for Belmont Abbey College next year. Junior attack Rylee Johnson, the coach's daughter, had 42 goals, 16 assists, 46 ground balls and 52 draw controls as a freshman.
Junior defender-midfielder Casey McBride had 27 ground balls and 26 forced turnovers. She'll play for Duquesne University in two years. Other key players include senior defender Lauren Sauer, and juniors Shaelin Cassidy (a defender), Sophia Cooney (an attack) and Katie Braun (an attack-midfielder).
"We have a lot of holes to fill and cohesiveness of the team to work on," Johnson said. "We always want to be competitive in the state tournament, the Shore Conference Tournament and our division."
Contact Guy Gargan:
609-272-7210