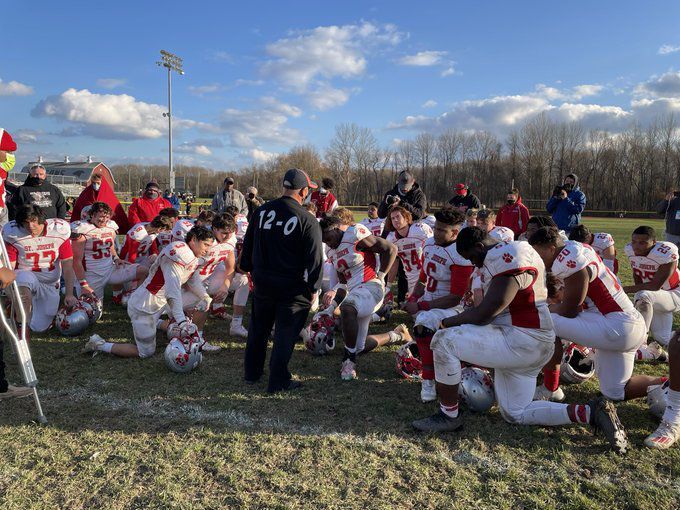 BURLINGTON TOWNSHIP — With tears in his eyes and attempting to hold back his emotions, Ahmad Ross stood with reporters after embracing teammates, coaches and relatives.
The St. Joseph Academy senior just finished his last high school game Saturday afternoon. And it was even harder to take in because it was possibly his last game as a running back.
But he capped his rushing career in dominant fashion.
Ross rushed for 143 yards with four touchdowns to lead the Wildcats to a 51-31 victory over previously undefeated Burlington Township in a West Jersey Football League nondivision game at Edward Steinmetz Stadium.
The Bridgeton resident eclipsed 1,000 rushing yards for the season. He had 971 entering the game. He finished this COVID-shortened-season with 1,114.
St. Joseph (7-2) is ranked No. 6 in The Press Elite 11. Burlington (6-1) is No. 10.
"I'm just glad to go out on top with this team," Ross said. "I'm just glad we got a great win. That is the most important thing. I'm glad everyone stayed safe (this season). It is just a real emotional day for me and the other seniors."
Ross will play linebacker next season at the United States Military Academy, an NCAA Division I program in West Point, New York.
Ross had admitted earlier this season his goal was to make the most of his final campaign as a running back and reach the 1,000-yard plateau.
"It was a goal I wanted, but (Saturday) I threw that goal out the window," Ross said. "I just wanted to get the win. It didn't matter if I had to carry the ball three times or 30 times, just whatever I had to do for us to get the win. I love my coaches. I love my teammates."
Burlington Township led 31-30 at halftime. St. Joseph coach Paul Sacco said he couldn't remember the last time his team gave up that many points and had to pinch himself at halftime. But that changed in the second half.
Ross capped a seven-play, 68-yard drive with a 5-yard score to start the third quarter. He also ran in the two-point conversion that gave the Wildcats a 38-31 lead.
On the ensuing drive, St. Joseph junior running back and cornerback Cohl Mercado had an interception that swung momentum to the Wildcats and later changed the complexion of the game.
Five plays later, Mercado ran for a 2-yard score to give St. Joseph a 44-31 lead. Mercado finished with 142 rushing yards.
Burlington did not score in the second half.
"I think the interception gave our guys confidence to come out and play in the second half," said Mercado, 17, of Upper Township. "At halftime, (Sacco) just told us to get motivated and that it was our game to lose. We just came out there with fire. (Defensive) Coach Kaiwan (Lewis) asked us how we are going to face adversity.
"We came out and did a pretty good job (of answering that), I thought."
St. Joseph junior Ja'son Prevard had a one-handed interception in the second half. Prevard, who usually plays safety, was the quarterback Saturday, connecting with Jahqir Haley for a 27-yard touchdown early in the first quarter that tied the game 7-7.
St. Joseph also recovered fumbles on special teams and defense, forced the Falcons to punt twice and had two interceptions in the second half.
"Our coaches had us in position to make plays all game," Ross said. "We just had to go out there and execute."
Sacco praised Burlington Township quarterback Gage Miller and wide receiver Anthony Johnson, a duo that connected for three first-half scores.
"I've never seen a first half like this one," Sacco said. "At halftime I said we are going back to our basic stuff. … Hold on to the ball for long St. Joe drives because the less they have the ball, the less chance they have to score.
"And it proved to work out perfectly."
Chase Lomax, who recently committed to Long Island University, stood up in the postgame huddle and walked next to Sacco.
The senior defender started to tear up and thanked all his coaches and teammates for an amazing high school career.
"That's a big win," Sacco said. "To beat a team that was 6-0 and with the type of athlete that they have and to just turn it around and shut them down on the second half, it was a big win."
St. Joseph;14 16 14 7— 51
Burlington Twp.;19 12 0 0 — 31
BT— Johnson 46 pass from Miller (Xenakis kick)
SJ— Haley 27 pass from Prevard (DelGozzo kick)
BT— Johnson 25 pass from Miller (kick failed)
SJ— Ross 12 run (DelGozzo kick)
BT— Lee 63 run (kick failed)
SJ— Ross 15 run (Ross run)
BT— Johnson 38 pass from Miller (kick failed)
SJ— Ross 9 run (Ross run)
BT— Salay pass from Miller (two-point failed)
SJ— Ross 5 run (Ross run)
SJ— Mercado 2 run (kick blocked)
SJ— Mayfield 6 run (DelGozzo kick)
Records— St. Joseph 7-2; Burlington Twp. 6-0.
Contact: 609-272-7210
Twitter @ACPressMulranen