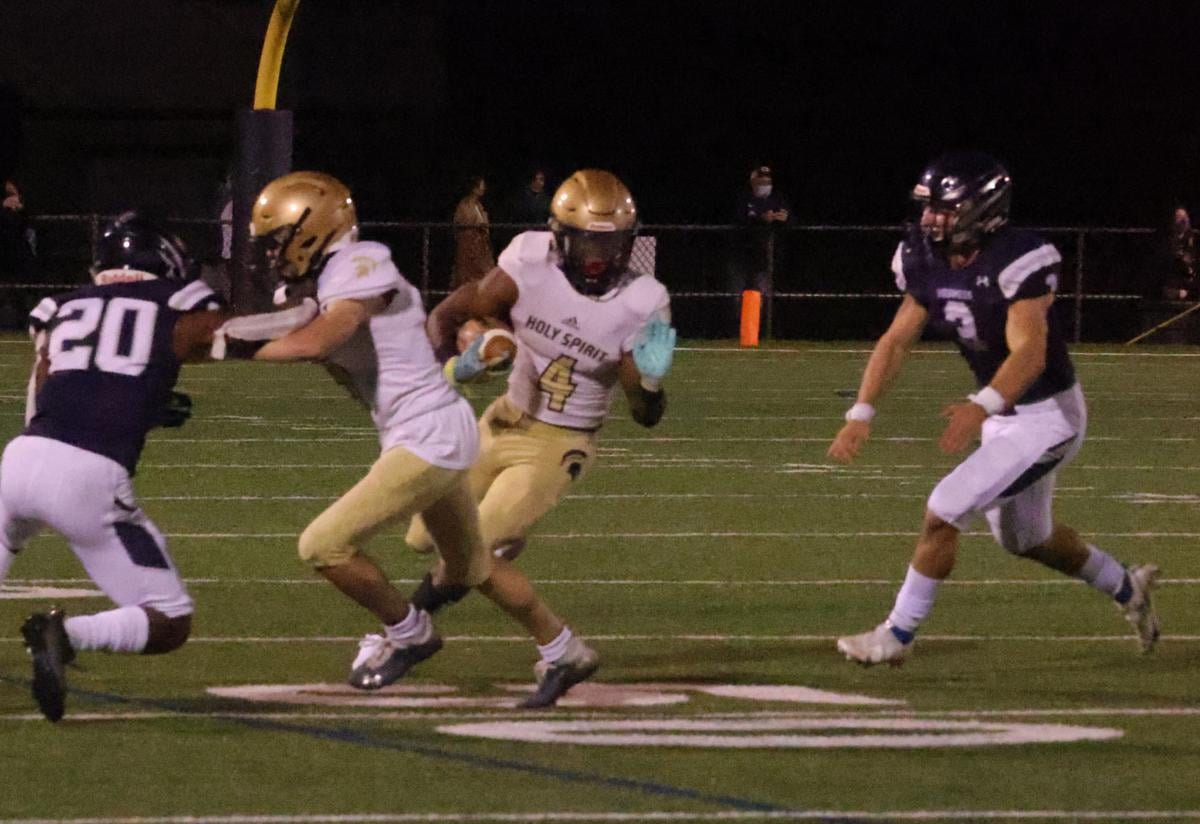 Angelo Vokolos has always dreamed of playing football at the highest levels.
The St. Augustine Prep senior linebacker took another step in that direction recently when he verbally committed to play at Marist College on a partial academic scholarship. Marist competes in the NCAA Division I Football Championship Subdivision.
"It's great, because I always wanted to play at the next level," Vokolos said. "When I was younger, I always thought I would be playing football for a living. Now playing football in the FCS, I think I can make a name for myself and make a splash."
Vokolos was team captain and a first-team Press All-Star during an injury-shortened senior season. The 18-year-old Washington Township resident had 39 tackles in five games with a sack, five quarterback hurries and two pass deflections. The Prep finished 4-3 this season. Vokolos was injured during the team's 12-7 loss to Holy Spirit on Nov. 6. He missed the final two games of the season.
At 6-foot, 210 pounds, Vokolos isn't the biggest linebacker on the field, but he is typically one of the toughest and most athletic.
"It's a great school, so to get a great education while also chasing my football dreams at the same time is great," Vokolos said. "I may not have the measurables, but there is always a shot, so I'm going to keep working."
St. Augustine coach Pete Lancetta said Vokolos can compete at any level.
"I would put him up against anybody," Lancetta said. "That's how much grit and determination he has. He has great feet and tackles unbelievably well. Cover, fill the hole, blitz — whatever we asked him to do he did."
Vokolos spent his freshman and sophomore seasons at St. Joseph High School (now Academy) before transferring to the Prep.
"He did a great job in the classroom and the school community as a whole," Lancetta said. "From a football standpoint he is one of the most intense players I have ever coached. There is a fine line sometimes with guys like that but in the end, he was more of a leader by example his senior year.
"The way he played and the way he carried himself in every which way — he was a true student athlete when all was said and done."
Marist competes in the Pioneer Football League. The PFL canceled all competition this fall due to COVID-19. Vokolos was also recruited by St. Francis College. He plans on majoring in either business or physical therapy/athletic training.
Vokolos said Marist was a perfect fit.
"I loved the location of it — it's right on the Hudson River," Vokolos said. "And their defense, it's a lot of blitzing, a lot of moving around and playing all over and that kind of made me fall in love with it."
Vokolos can't wait to compete at the Division-I level.
"I have been thinking about that since the day I committed," Vokolos said. "I can't wait to see the competition. I love playing against the best competition. Being there and seeing the upperclassmen will motivate me to get in the weight room even more. That's why I chose Marist, to be able to push myself."