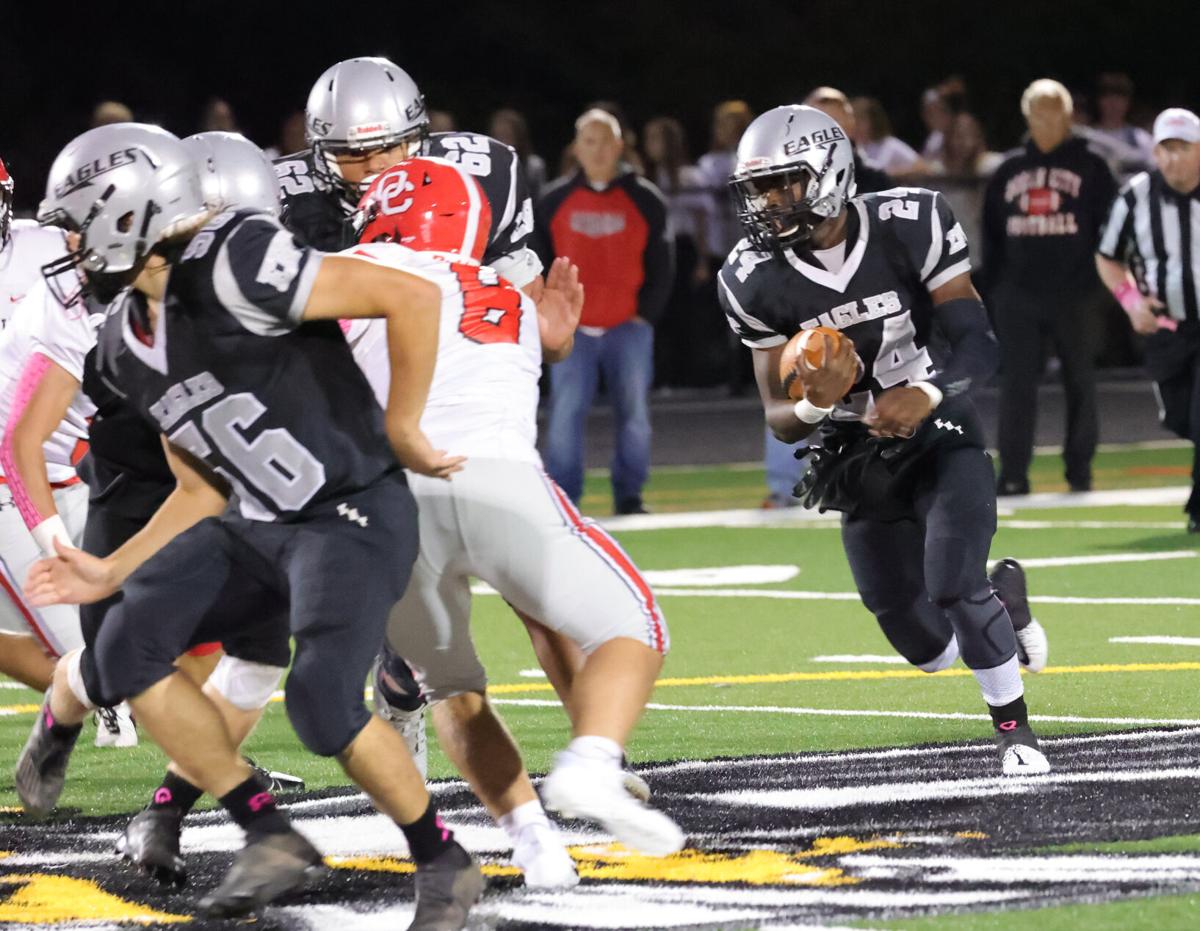 The Atlantic City High School football team practices just feel different this year.
The Vikings (3-1) have their most wins since 2017.
"There's definitely a positive aura around the team," Vikings coach Keenan Wright said. "Especially for the seniors, they've never been on the other side of .500 before. They're really excited about the direction we're headed in."
A few miles west on the Black Horse Pike, Egg Harbor Township is experiencing the same vibe. The Eagles (3-3) won three in a row this season for the first time since 2015 and are chasing their first winning season since 2010.
These revitalized programs will meet 1 p.m. Saturday at Egg Harbor Township in one of the weekend's most anticipated games.
Atlantic City and Egg Harbor Township find themselves on the fringes of the South Jersey Group V playoff race.
"It's a huge game," EHT coach Kevin Stetser said. "It's always big against Atlantic City. Our goal is to be a Group V playoff team this year. We think we have the guys to do it. Now we have to go out and do it. The winner of this game is going to put themselves in position to finish the year out strong."
Atlantic City has won three straight. The Vikings rely on the running of La'Sean Trussell and the passing of quarterback Eric Strecker. Defensive end Dylan Culmone is quick and hard for opposing offenses to block.
"They're having a great year," Stetser said. "We're impressed with the improvement of their running game. You can see they're headed in the right direction."
Egg Harbor had its three-game wining streak end with a 24-7 loss to undefeated Ocean City last Friday.
"We felt like we played a strong game against Ocean City," Stetser said. "The way we look at it is we let an opportunity get away from us. If we played a cleaner game, we possibly could have gotten a different result."
Egg Harbor running back Rondell Vaughan Jr. has rushed for 552 yards. Wide receiver Xavier Bullock averages 21.1 yards per catch. Defensive linemen Mike Simeon (7.5 tackles for losses) and James Mahana (28 tackles) lead the defense.
"They are well-coached," Wright said of the Eagles. "They have strong offensive and defensive lines. Rondell Vaughan can run the football. They're solid in a lot of areas. They've hit their stride. They've figured out who they are."
The biggest issue rebuilding programs face is enthusiasm. Football is a tough game to play. It can be difficult to convince high school athletes to play for a team struggling for success.
Just the fact that EHT vs. Atlantic City is one of this weekend's biggest games should help both teams continue to build interest and excitement.
The two schools have a rivalry. EHT beat Atlantic City twice last season.
"It's going to be an exciting, emotional game," Stetser said.
That's good not only for Atlantic City and Egg Harbor Township but Press-area football as well.
The local football scene is a lot more vibrant when Atlantic City and Egg Harbor Township are competitive.