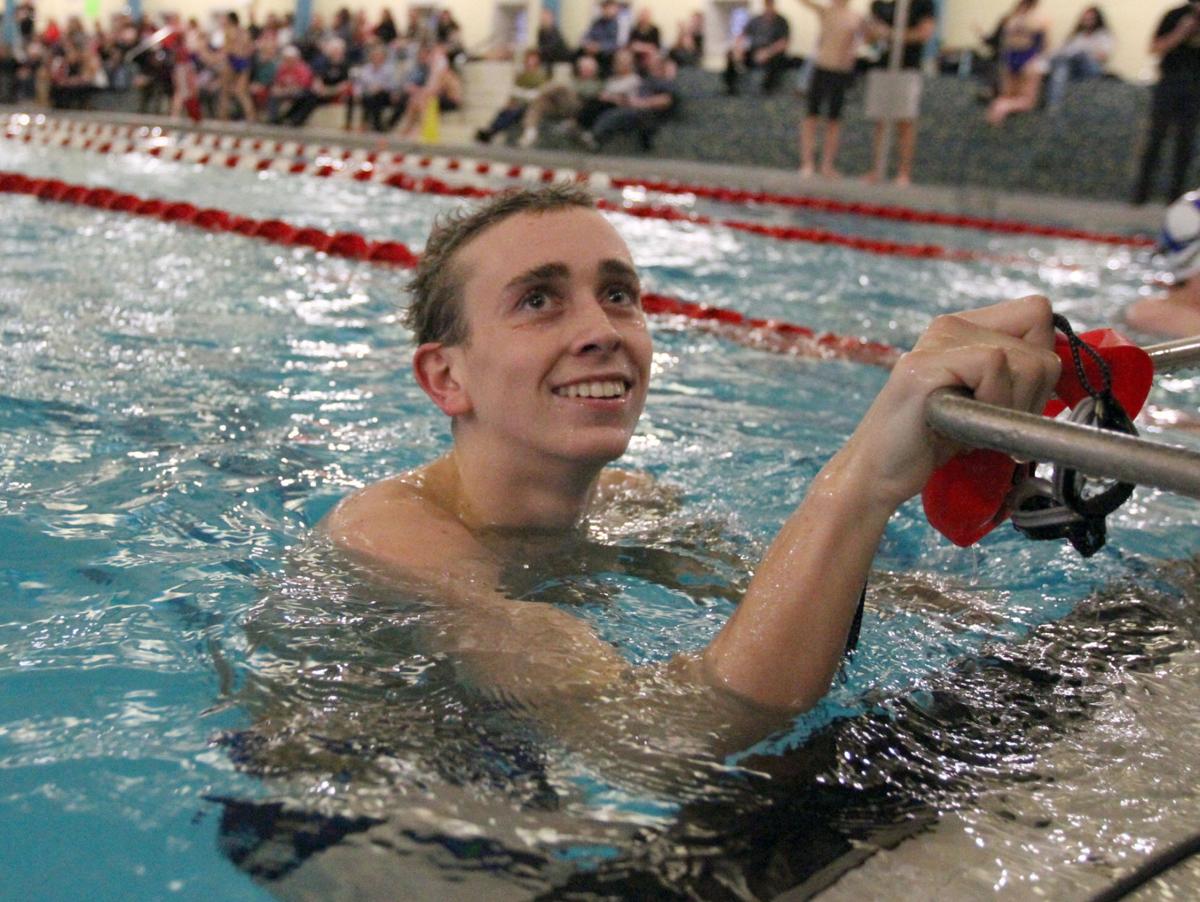 Ocean City High School swimmer Dolan Grisbaum led the Red Raiders boys team to a successful but short season over this year.
The senior was the key scorer for the Red Raiders, who finished 6-1 and ranked No. 3 in The Press Elite 11.
Grisbaum broke his own school record by six seconds in the 400-meter freestyle and helped O.C. to a pair of wins over rival Mainland Regional, a team the Red Raiders hadn't beaten since 1993. The Red Raiders' one loss came against Egg Harbor Township, which finished at No. 1 in the Elite 11, though Grisbaum had two individual wins in that meet.
In his four years, Ocean City had a combined dual-meet record of 33-13. He'll swim for Boston University next season.
Grisbaum is The Press Boys Swimmer of the Year.
"I feel pretty good about that, and I'm a little surprised, because there's a lot of competition in the (Cape-Atlantic League)," said Grisbaum, a 17-year-old Ocean City resident, of his selection. "It's humbling. It feels good that my hard work paid off."
Grisbaum, a distance freestyle and individual medley specialist, won the 200 IM and had two relay wins on Feb. 16 as the Red Raiders beat Mainland 112-57, their first win over the Mustangs in 28 years.
He won the 400-meter freestyle in a school-record 4 minutes, 3.14 seconds in a 122-48 win over Atlantic City on Feb. 23. He won the 200-meter IM by more than 15 seconds in 2:10.54 on March 9 in a 93-77 win over Mainland Regional in the two teams' return match. He also won the 400 freestyle and was on the winning 400 freestyle relay team.
Against EHT in a 118-52 loss, Grisbaum won the 200 IM by more than eight seconds in 2:13.12. He returned to win the 400 freestyle.
"We lost only one meet, and we had one of our best seasons ever," Grisbaum said. "I'm pretty happy with it. We have a lot of freestylers, so I don't mind swimming in events I'm not as good at. We had some really good sophomores.
"It's pretty cool that we beat Mainland twice. That was pretty awesome to beat them after 28 years. We probably swam them over 50 times during that time (often meeting in the state tournament as well as the regular season). Maybe we can start a new streak."
This winter's season was reduced to local dual meets, due to the COVID-19 pandemic. There were no big invitational meets, no state team tournaments and no Meet of Champions. Grisbaum 's performances left people wondering how much more he and the Red Raiders might done if the big meets had been held.
Mainland beat Ocean City the previous two years in the South Jersey Public B championship meet. Grisbaum finished last year by placing seventh in the 500-yard freestyle at the state Meet of Champions and was 14th in the 200 IM.
"It's sad that there was no state tournament. I think we had a chance to win a state title," Grisbaum said. "I might have been top-three in the 500 at the Meet of Champions, and I think our 4x100 (400 freestyle relay) would have done well."
Grisbaum has been a club swimmer since he was 3. He's currently a member of the South Jersey Aquatic Club in Voorhees.
"Dolan has dedicated his young life to the sport of swimming," Ocean City coach Shane McGrath said. "He's given an unbelievable effort the last four or five years with his club swimming and high school. His training and dedication to the sport is second to none as far as the work he's put in. Mainland had their full squad the second time we met them, and Dolan delivered. He's been MVP-caliber for us all four years.
"He's definitely one of the top 20 swimmers in the state, if not the top 10."
Team of the Year
Egg Harbor Township is The Press Boys Team of the Year. The Eagles lost to the visiting St. Augustine Prep 113-57 in the first meet of the season, and EHT won its next nine meets. The Eagles closed out the season by beating host St. Augustine 105-65 on March 22.
Both EHT-Prep meets likely would have been closer, but the Eagles were missing key swimmers in the first meet and St. Augustine was without some of its top swimmers in the rematch.
"I think anytime you can be at the top of the CAL, it's an honor," said Mark Jamieson, the Egg Harbor Township coach. "It shows how hard our kids fought. All the teams were facing adversity, and most were restricted from the pool during the summer. If ever there was a time you weren't going to give a good effort, this was the year. But they all stayed. Many went from the worst shape ever to best times. They kept a positive attitude. They did a good job getting back on the map after a bad start.
"It's too bad the two teams didn't meet at full strength. St. Augustine might have done something on a state level. It was a strange season with no tapering (for big meets). There were no championships, just the integrity of knowing you gave it your all. Our guys put in the effort like they were fighting for a championship."
Coach of the Year
Patrick Craig guided Southern Regional to a 6-0 mark, and the Rams won their second straight Shore Conference A South championship. Southern's key wins were home victories against Toms River North (109-58) and Jackson Memorial (102-68) and the clinching win on the road against Toms River South (100-70) on Feb. 27.
"I've had a good last week because my second child (Grady) was born two days ago, and we brought him home today," said Craig on Friday. "It's humbling. It's fantastic to be named, but I owe it all to the boys. They take what I say and ran with it from day one. We were 11-0 in the regular season last year and won two playoff meets before losing. This year, they continued right where they left off.
"This year we only lose one senior. Twenty two out of 23 guys will be back."
The Elite 11
Contact Guy Gargan: 609-272-7210