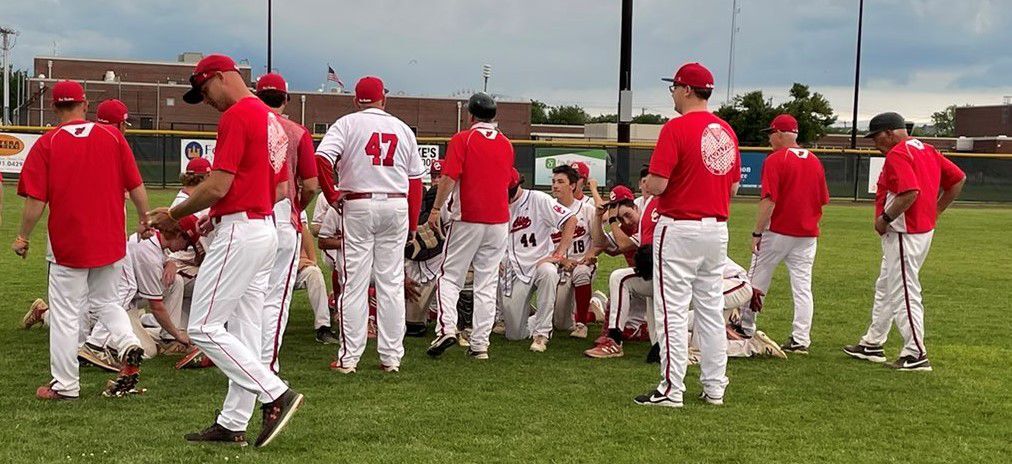 OCEAN CITY — It all happened with two outs.
Gannon Brady hit a walk-off double in the bottom of the 11th inning to lead the second-seeded Ocean City High School baseball team to a 3-2 victory over third-seeded Central Regional in a South Jersey Group III semifinal Tuesday.
Ben Liebrand, who singled prior to Gannon's at-bat, scored the winning run. Ocean City is ranked No. 6 in The Press Elite 11.
Central, which trailed 2-0 for most of the game, tied the game in the seventh inning. Both teams batted for four extra innings.
"I think we are all exhausted. That was probably the most mentally exhausting game I've ever played in, like, in my life," said Brady, 19, of Ocean City. "Tommy (Finnegan) and Duke (McCarron) pitched great games. They put their butts on the line, and I just had to pick them up there."
Finnegan, a Vanderbilt University commit, started the game. He pitched seven innings, allowing one run and striking out 10.
McCarron, the winning pitcher and a University of Maryland recruit, struck out nine in four innings and allowed just two hits. The sophomore was dominant, throwing two three-strikeout innings.
"We wouldn't have been in this game if Tommy and Duke didn't pitch the way they did," Brady said.
McCarron just was doing his job, he said.
"I just came out and wanted to throw strikes and get the ball over the plate and get outs," McCarron said. "That's all I was trying to do."
McCarron was practically unhittable, but the Red Raiders were not scoring either.
Then, Liebrand singled and Brady, a Fordham commit, hit the game-winning double.
"I had confidence we would eventually scratch across a run and win the game," said McCarron, 16, of Ventnor. "I just wanted to do my part and get outs and keep us in the game."
Ocean City coach Andrew Bristol said McCarron pitched like a senior Tuesday.
"He kept us in the game until we got an opportunity to win the game," Bristol said. "And that was huge."
Ocean City lost several close games in the beginning of the season. The Red Raiders lost back-to-back games to Egg Harbor Township and Mainland Regional on May 6 and 8, respectively.
After the loss to the Mustangs, Bristol talked to his team about fighting through adversity and worked on closing out tight games against quality opponents.
The Red Raiders committed four errors Tuesday, including two in the sixth that helped Central get on the board.
"We had this game won, and we blew it. We had to face adversity after that," Bristol said. "We could've just rolled over and died, but we handled adversity. We created it, but we handled it. And they battled, and they battled and they picked each other up.
"We preach picking each other up. I'm so proud of them."
Matt Nunan singled in Ben Hoag in the first. James Mancini, who had three hits, doubled and scored in the second to make it 2-0.
That lasted until the sixth.
Brady and his teammates ran around the field in excitement after Liebrand crossed the plate for the winning run.
"The whole year we've been trying to rally with two outs. Right there, we just did it," Brady said. "At the beginning of the season, we were losing these types of genes. Now we are hitting our stride and starting to win these. So it feels great."
Ocean City will travel to top-seeded Mainland for the championship at 4 p.m. Friday. The schools are rivals in all sports.
"This is the best thing for South Jersey. This is the best thing for the Cape-Atlantic League," Bristol said. "(Mainland coach) Billy (Kern) is one of my really good friends. I'm proud of my team to be able to represent us against them. It's going to be a great atmosphere. They are well-coached and are a great team.
"It's what we wanted, and something we are looking forward to. We will be ready."
McCarron and Brady are both excited.
"We are just going to enjoy (Tuesday night). We know we've got a big game Friday," Brady said. "We will get there when we cross that bridge, but we will be ready to play Friday."
Contact Patrick Mulranen: 609-272-7217
Twitter @ACPressMulranen