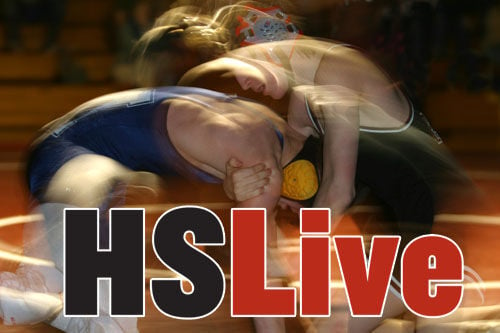 The Lower Cape May Regional High School wrestling team earned pins in four of the final six bouts to win 42-33 over Egg Harbor Township in a Cape-Atlantic League East Division meet Thursday.
The Caper Tigers trailed 24-0.
Christian Campanaro earned a pin at 160 pounds in 5 minutes, 46 seconds, cutting Lower's deficit to 33-15. Sean Connelly (182), Marcus Hebron (195) and Shane Whitney (220) also pinned their opponents. Lower improved to 5-1.
For the Eagles, Sean Dever pinned Allen Lemmon at 126 in 2:00. Vincent Faldetta earned an 8-7 decision at 152. EHT fell to 3-2.
106—Matthew Dugan EHT p. Joseph DeLong, 2:10
113—Peter Steed EHT by forfeit
120—Xavier Meneses-Fedeli EHT by forfeit
126—Sean Dever EHT p. Allen Lemmon, 2:00
132—Wesley Tosto LCM p. Michael Brito, 1:04
138—Hector Reyes EHT p. David Tosto, 3:30
145—Devon Bohn LCM d. Nicholas Faldetta, 4-3
152—Vincent Faldetta EHT d. Michael Castellano, 8-7
160—Christian Campanaro LCM p. Micah Bird , 5:46
170—Connor Eckel LCM by forfeit
182—Sean Connelly LCM p. Calvin Johnson, 1:49
195—Marcus Hebron LCM p. Eric Russ, 1:52
220—Shane Whitney LCM p. Matthew Marshall, 0:30
285—Matthew Craig LCM by forfeit.
Records—Lower 5-1; EHT 3-2.
106—Max Elton HS by forfeit
113—Alex Graffius HS by forfeit
126—Gavin Paolone HS d. Chase Calhoun, 7-6
132— Sal Palmeri HS p. Jadah Butler, 3:30
138—Ken Sherman HS p. over Daniel Cohen, 4:00
145— Antonio Patsaros HS by forfeit
152—Johnny Flammer HS by forfeit
160—Kolin Driscoll HS p. Aryon Darji, 1:20
182—Lorenzo D'Angelo HS by forfeit
195—Robert McDevitt HS by forfeit
220—Robert Lee HS by forfeit
285—Philip Docteur HS by forfeit
106—Alex Faccone MT by forfeit
113—Aidan Ott LT md. Andrew Perez, 12-1
120—Vinnie Fantasia LT p. Landon Krumich, 0:34
126—Thomas Bodei MT Hunter Schmidt, 2:23
132— Andre Ferrauiolo LT p. Maxwell Anderson, 1:10
138—Collin Rolak LT p. Raymond Sinton, 0:26
145—Evan Ren LT p. Nicholas Brucato, 1:57
152—Kevin Fazio LT d. Trevor Juralewicz, 7-0
160— Raiden Sciamanna LT d. Calvin Spicer, 5-2
170—James Circle LT d. Reece Rizzolo, 5:01
182—Matt Coon LT p. Matthew Bryant, 5:28
195—Vincent Ceglie LT p. Christopher Meyers, 1:42
220—Mark Aguirre LT p. Justice Wilson, 1:50
285—John Dodaro LT d. Alejandro Velasco, 1-0.
Records—Lacey 6-1; Manchester 1-4.
The visiting Rams (10-0) won with sets of 25-22 and 25-18. Rachael Pharo led with 11 kills and 10 digs, and had seven service points and two aces. Stephanie Soares had a team-high 23 assists, four digs and two aces. Hailea Krause added eight kills and Regina Ingling had five digs and eight service points. For T.R. South (6-3), Kelle Anwander had nine kills and seven digs, and Amber Gallo contributed three kills and eight digs.
Central won 25-22, 25-13.
For Lacey, Kaitlyn Sabat had nine digs, three kills, two service points and two aces. Lacey McKim had nine assists and five service points. Lochlyn Martin had eight digs. Rebecca Lorton had seven service points, two kills and two aces. Hope DeWitt had four kills and two service points.