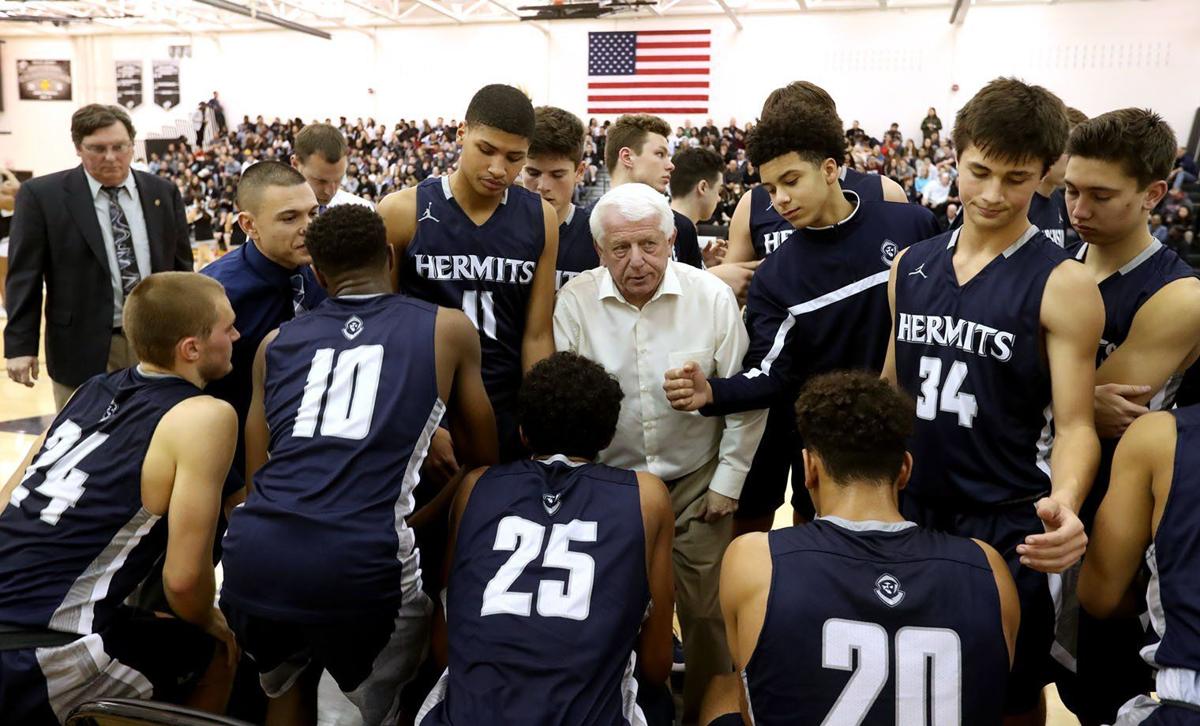 The word Paul Rodio keeps coming back to is "lucky."
Two weeks ago, the St. Augustine Prep basketball coach had people worried. Word spread quickly in the local basketball community.
"Did you hear what happened to Coach?" read many a phone text.
Rodio, 69, developed blood clots in his chest. One of them broke off and traveled to his right leg. He underwent emergency surgery.
"The surgeon told me that when a clot breaks off 95% of clots go up," Rodio said Wednesday via the phone from Magee Rehabilitation Hospital in Philadelphia. "That's a stroke. That's death — no chance. Mine went to my leg. I got lucky."
Rodio is one of the most accomplished high school basketball coaches in the nation. The Hammonton resident took over the Hermits' basketball program in the 1977-78 season. Rodio has a South Jersey-best 968 career wins in his 44 seasons, and he's led the Hermits to five state titles (1982, 1999, 2004, 2011 and 2016).
He coaches with an energy and flair, often taking off his tie in big games and tossing it to a student manager at the first questionable official's call.
Rodio's health ordeal began early in the morning of Oct. 1. He woke up with pain in his leg, and he rushed to Virtua Marlton Hospital. Later that morning, he was in the operating room.
"When I went into surgery, it was 50/50 whether I was going to keep my leg," he said. "As soon as I came out of surgery, the doctor was there and said the blood flow was tremendous, much better than he thought. He was going to save my leg."
Still, his recovery wasn't easy or worry-free.
The day after the surgery, St. Augustine Prep asked for prayers for Rodio.
"St. Augustine Prep Family and Friends," a tweet from the school's social media account said. "We need each and every one of you to say a prayer for Coach Rodio.
"In honor of the man who has done so much for the Hermits Brotherhood, please keep him in your thoughts and prayers for a quick and full recovery."
Few people are more identified with St. Augustine than Rodio. Simply put, the school wouldn't exist in its current incarnation without him. He's a St. Augustine graduate. The basketball team's success has made the school known throughout the state and helped spark its growth.
Rodio has made steady progress since the surgery. He and his wife, Bonnie, "celebrated" their 47th anniversary while he was in the hospital.
Rodio wanted to thank his doctors, family and everyone who's reached out to him the past two weeks.
"It's a miracle," he said. "To be where I was 10 days ago to where I am today. But that's because of a lot of people who have been pushing for me. I got lucky, whatever word you want to use. The strength of the people at the Prep, the whole Atlantic County community, the (doctors) are incredible."
Rodio sounded like himself Wednesday. His voice was strong. He was emotional. He wanted to know how my family was doing.
It's that emotion and empathy that are his strengths as a coach. He gets players to come together, sacrifice and play for a cause bigger than themselves.
When you win as much as Rodio has, it's tough to be popular. But over the years, any resentment toward the St. Augustine basketball program has been replaced by respect and admiration. Rodio is a fan of coaches. He views coaching as more of a vocation than an occupation. He's done a lot of nice things for a lot of people without asking for anything in return.
A few months ago, I was a guest on a Philadelphia sports talk morning radio show.
As soon as I got off the air, my phone rang. It was Rodio calling to tell me I had done a good job. Countless others have received similar calls from him.
Maybe the only positive of this crisis is Rodio got to see what he meant to people at St. Augustine and in the Cape-Atlantic League, South Jersey and New Jersey sports communities.
"I'm just very, very lucky that I have this kind of following," he said. "I've been lucky that I've been able to touch this many people."
Rodio will probably spend the next two weeks at Magee getting his leg stronger.
As for the future, he doesn't hesitate when asked the question on everybody's mind. Will he return to the sidelines?
"I definitely want to coach," Rodio said. "I'm going to be there."