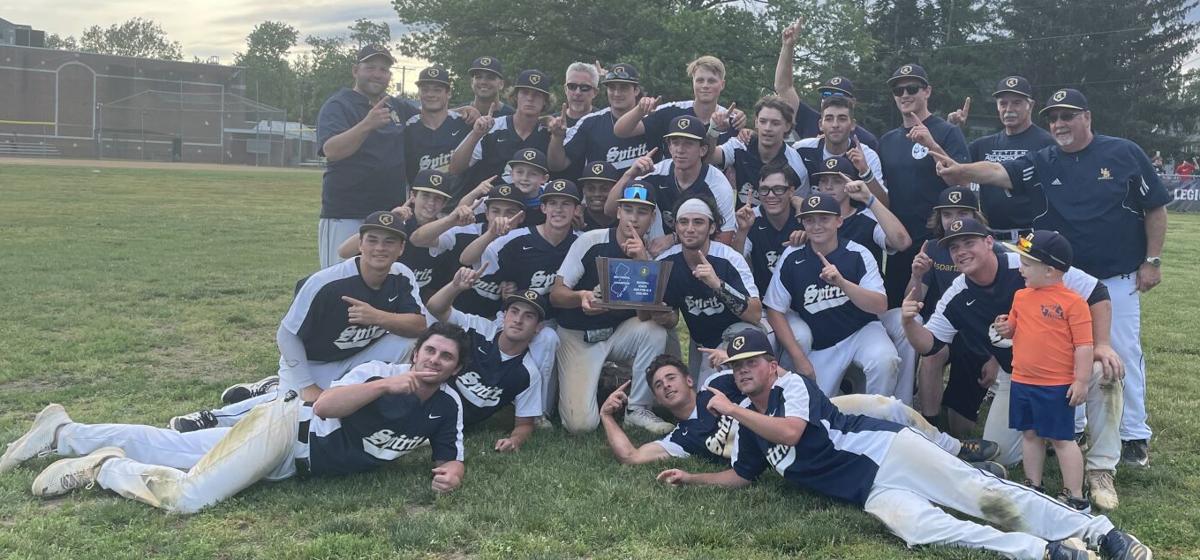 BROOKLAWN — Jayden Shertel transferred in the middle of his senior year and joined the Holy Spirit High School baseball team.
Shertel pitched five-plus innings with five strikeouts and allowed just four hits as the third-seeded Spartans won 9-7 over top-seeded Gloucester Catholic to capture the South Jersey Non-Public B title at Joe Barth Field on Thursday.
The Spartans (18-9) are ranked No. 9 in The Press Elite 11. The Rams (22-4) are ranked No. 4. Gloucester Catholic has won 19 state titles since the tournament was created in 1971, more than twice as many as any other team in the state.
The Spartans will next play for the state Non-Public B title. The game Thursday was a thriller.
"Gloucester Catholic historically is a great baseball program. We knew that coming in here," said Shertel, 18, of Hammonton. "But this is just like any other day for me and for Holy Spirit. I have played in big baseball games and big football games before. So, I just came in here (Thursday) with one goal— to dominate and win the game."
Shertel, the winning pitcher, transferred from St. Joseph Academy, where he was a standout on the baseball diamond and the football field, leading the Wildcats to some sectional titles.
Spartans pitcher David Hagaman also transferred this year to Holy Spirit from Cedar Creek. Seniors Shertel (Maryland, Baltimore County) and Hagaman (West Virginia) are committed to NCAA Division I programs.
"It's amazing to come in with these group of guys. I love every one of these guys," Shertel said. "This is my first title in baseball, so this is really special to me.
"This is the first time I've been here. I've always heard about how good Gloucester Catholic is. They have a great program. But we came in here, and losing wasn't an option."
Holy Spirit scored its first two runs in the first and second innings. CJ Egrie tripled to lead off the game, and later scored after Shertel laid down a sacrifice bunt. Gavin MacNatt walked and scored on an error in the second, giving the Spartans a 2-0 lead.
Shertel said his bunt was a missed sign, but regardless he executed it to perfection.
Shertel also doubled in Egrie with two outs in the top of the fourth inning. Two batters later, Shane Solari hit a two-run double, sending home Shertel and Ryan Spina.
The Spartans took a 5-0 lead.
"I couldn't be more happy," Holy Spirit coach Steve Normane said. "This was the game we had circled before it was even set up. We knew we had to come out and play the entire season with this game on our mind.
"We wanted to come out and come to this field and win a South Jersey championship. And it all worked out the way we planned it. I couldn't be prouder of our kids. That team gave us everything they had, and we gave it right back. Every punch we took, we gave one back. What a dogfight this was. They are an awesome team, and an awesome program. To get this win is huge."
Gloucester Catholic sophomore RJ Mustaro hit a two-run single in the fourth inning. Jeremy Wolf, a junior shortstop, hit a solo homer in the fifth, which cut the Rams' deficit to 5-3.
But Holy Spirit extended its lead to 9-3 in the top of the sixth inning. Trevor Cohen, who was hit by a pitch, scored on an error. Steven Petrosh singled in Shertel. David Hagaman then hit a two run-single, scoring Spina and Petrosh.
Shertel was taken out in the sixth inning, and Gloucester Catholic added four runs.
The Spartans went through a few pitchers. Donovan Patten came in to earn the save, including striking out the final Rams, which immediately was followed by his teammates storming the infield.
"We didn't let that lead up, which was huge," Normane said. "Our pitchers got themselves into some trouble, but they worked their way out of it, and we never relinquished that early lead.
"Just the fact we were able to keep fighting when they punched us in the mouth, it was a huge testament to these guys. They worked all season for this."
Normane called Shertel "the toughest kid in South Jersey," which showed with his two RBIs, two runs scored and pitching performance Thursday.
Shertel feels the same way about all his coaches and teammates.
"I love that kid," Normane said. "I'm so glad he came."
Holy Spirit;110 304 0 — 9 8 3
Records: Holy Spirit 18-9; Gloucester Catholic 22-4
Contact Patrick Mulranen: 609-272-7217
Twitter @ACPressMulranen