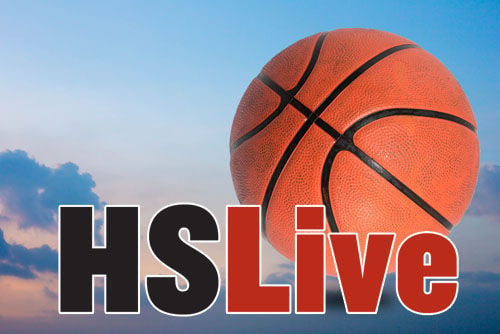 BUENA VISTA TOWNSHIP — John Horner threw a line drive at the basket just before the third-quarter buzzer sounded Friday night.
The ball hit the backboard and went in.
That's the type of game it was for Horner and his St. Augustine Prep boys basketball teammates.
Horner scored 16, and Matt Delaney scored 16 and grabbed 16 rebounds to lead the Hermits to a 67-56 win over St. Joseph Academy in a game that will go a long way toward determining the mythical Cape-Atlantic League champion this season.
"This was a huge win," said Horner, a Ventnor resident. "We needed this as a team win to bring everyone together and bring the confidence back up for the rest of the season."
St. Augustine took control with a 21-0 first half run. Freshman guard Elijah Brown scored eight of his 12 points during that stretch.
"It felt like we were unstoppable," Horner said. "It felt like we could do anything."
Meanwhile, St. Joe standout guard Marcus Pierce finished with a team-high 14 but sat most of the second and third quarters in foul trouble.
"Marcus is a great player," Delaney said. "He handles the ball really well. We were lucky enough to get him in foul trouble and change the pace of the game."
Friday was the second time these teams met. St. Joe beat St. Augustine 57-51 on Feb. 3. St. Joe (8-1) is ranked No. 1 in The Press Elite 11, the Hermits (7-1) No. 2. With no state or CAL tournaments this season because of COVID-19, these regular-season matchups take on added importance.
Games between the Wildcats and St. Augustine are always intriguing because Paul Rodio coaches the Hermits and his son, also named Paul, coaches St. Joe.
"This was like the Cape final in our eyes," Delaney said.
Delaney and Horner, both 6-foot-7 seniors, controlled the inside.
"If I'm getting covered, I just look to rebound and look for my teammates because I know they can handle the scoring job," Delaney said. "If I can rebound and the get the ball out to them, that's enough for me. I just wanted to come out on top."
St. Augustine's 21-0 run began with the scored tied at nine and 1 minute, 42 seconds left in the first quarter.
It ended with the Hermits up 30-9 and 4:02 left in the first half. Brown followed a dunk with a 3-pointer during that stretch. Horner twice scored in the lane.
St. Augustine coach Rodio credited the Hermits' defense for the run.
"We made them force a little bit and take some shots they didn't want," he said. "We got a break going and got some easy baskets."
The Wildcats made several runs of their own in the second half but never got closer than nine points. Horner scored eight in the third quarter to help the Hermits keep the lead. His buzzer-beater put St. Augustine up 52-38.
"That was a lucky shot," Horner said with a laugh. "But it felt really good to see it go in, and it really propelled us into the fourth and gave us some motivation to keep it going."
This is anything but a typical season, but it appears to be a typical St. Augustine team that is keeping with the program's tradition of improving as the season goes on. The pandemic-shortened season ends March 6, and the Hermits seem determined to make the most of it.
"We're coming together little by little," Rodio said. "I wish we had a little more time."
St. Joseph 9 10 19 18 — 56
St. Augustine 13 21 18 15 – 67
SJ: Pierce 14, Stafford 12, Thomas 9, McGraw 2, Syndor7, Rodriguez 6, Abdur-Rahim 6
SA: Fox 9, Horner 16, Palek 3, Delaney 16, Schleicher 6, Brown 12, Selby 4, Barretta 1
Contact Michael McGarry:
609-272-7209
Twitter @ACPressMcGarry