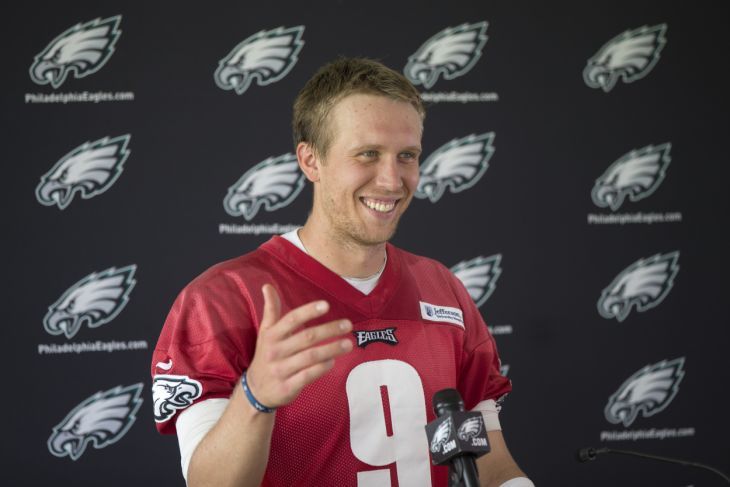 PHILADELPHIA - Nick Foles sprinted down the track at Westlake High School in Austin, Texas, trying desperately to avoid being caught from behind.
Then a 17-year-old senior, he would do 40-yard dashes in the middle of steamy summer nights, dashing through the darkness until his lungs started to burn and his Westlake Chaparrals T-shirt was drenched in sweat.
Even though he was alone, he always had the feeling he was being chased.
"Sometimes when it was late at night, I'd go to the high school stadium and run sprints when it's pitch black," Foles said. "You really feel like you're running fast when it's pitch black, you know? You feel like someone's behind you, so you run fast."
Mainly, he ran those sprints because he didn't want to let his family down.
He knew how hard his parents had worked to give him the opportunity to succeed, and Foles wanted to make sure he made them proud.
Like Cleveland rookie quarterback Johnny Man-ziel, Foles grew up wealthy. His father, Larry, was an extremely successful restaurateur who formed an American restaurant chain called Eddie V's in the Austin area. In 2011, Larry Foles and his partner sold the restaurants for $59 million in cash to Darden Restaurants, Inc., a company that also owns chains such as Capital Grille, Olive Garden and Red Lobster.
But before the money, there were hard times.
"My parents (Larry and Melissa Foles) are very hard-working people who didn't have anything when they grew up," Nick Foles said. "My dad had to provide for his brother and sisters. He grew up in Mississippi, had a kid when he was 18, and had to provide. He really is my hero. Both of my parents are my heroes.
"My mom's mom died in a car crash when (his mother) was 11. Just to know where they came from and how their outlook on life is is amazing. My parents always instilled the qualities of knowing where you came from, being grounded. ... I'm thankful for them."
The values helped carry Foles through a difficult college football career.
He originally committed to Arizona State University while at Westlake, but a coaching change at ASU and a shoulder injury during his senior season in high school prompted him to look elsewhere. He spent a year at Michigan State - he was roommates with Eagles tight end Brent Celek's younger brother Garrett - but fell behind current Washington Redskins quarterback Kirk Cousins on the depth chart.
A lack of playing time, combined with some homesickness, prompted him to inquire about transferring. The University of Arizona was interested in him but only as a preferred walk-on.
"I really think that you have moments in your life where you can go one way or you can go another," Foles said. "And that year at Michigan State was one of my favorite years in my life because I really found out a lot about myself. I went through a lot personally that year. It was just a tough year. That was also the first year I really opened up the Bible for myself.
"There was a moment there where I really didn't know what to do, what direction to go. I was 18, from Texas, up there. I had tears in my eyes because I had no clue what to do and finally decided it was best to go elsewhere. It was tough leaving the guys I developed friendships with, but I just knew in my heart that (going to Arizona) was the right thing to do. I'm very, very thankful for that year. If I didn't have that year, I would not be sitting here right now."
And he wouldn't have met his wife.
When Foles reflects on his time at Arizona, there is very little mention of the touchdown passes he threw or the games the Wildcats managed to win. His most vivid memory was the day he first saw an Arizona women's volleyball player named Tori Moore, whom he married during this offseason.
"She was the first person I actually ever saw at the University of Arizona," he said. "I was going to my (football) physical. I remember walking down the stairs and thinking, 'Wow, this might be the most gorgeous person I've ever seen.' But when you're at the University of Arizona, everybody's always talking about the women there.
"We didn't date in college, but we were in the same group of friends and we became really good friends. It was one of those things where at some point the good Lord took the shades off both our eyes, and we just started talking and it grew into something that was always there, but we never knew it. It's crazy. I couldn't be more happy. It was perfect timing. She's honestly my best friend and always very supportive of everything I do."
That support helped him through more adversity in the NFL.
Former Eagles coach Andy Reid drafted Foles in the third round in 2012. Foles started the season as Michael Vick's backup before taking over the starting job for six games during a year in which the Eagles finished 4-12 and Reid was fired.
Last summer, Foles lost a quarterback duel during training camp and the preseason to Vick. When Vick suffered a pulled hamstring, however, Foles took over and enjoyed an outstanding season in which he set the NFL record for touchdown pass/interception ratio by tossing 27 TD passes against just two interceptions. He was also named the Offensive Most Valuable Player of the Pro Bowl.
There is no quarterback controversy this summer, but Foles, 25, is still acting like he has something to prove.
"I think all the great ones feel the same way, that there's some aspect of their game that they can improve," Kelly said last month. "I think that's what makes Nick really special. He's never really content with where he is. He's always trying to improve, and that's what why he's such a fun guy to coach."
It's why he ran those sprints in the dark.
And why he still tries not to get caught.
@PressACWeinberg on Twitter