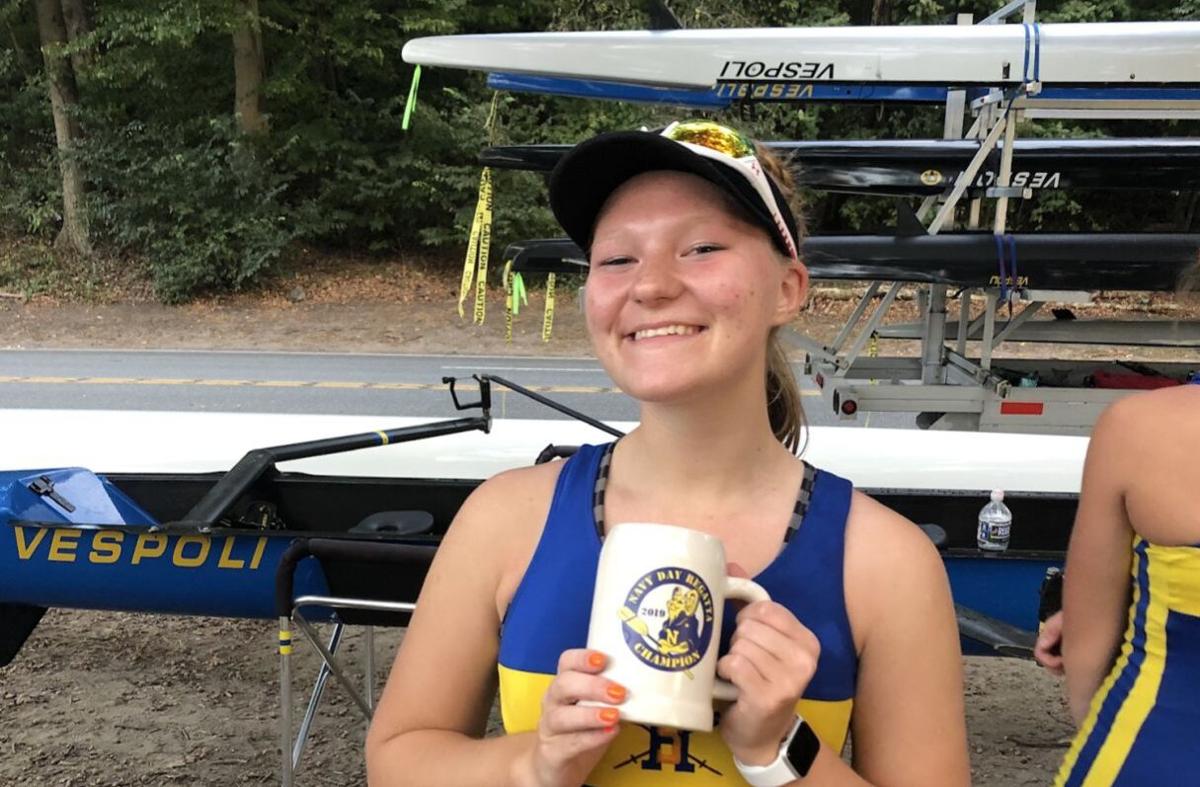 The date was March 19, 2020, barely a week after sports across the country had shut down because of the coronavirus pandemic. Despite their best efforts to conduct the annual Jefferson Dad Vail Regatta with proper health and safety procedures in place, officials deemed the risk to be too great and canceled the popular event.
The collective heartbreak and disappointment from the collegiate rowing community, particularly the seniors representing Drexel and Temple, flowed like a swift current during nasty weather on the Schuylkill.
"I didn't know who to talk to when I heard," Fiona Mauer of Drexel recalled this week. "I was sort of hoping that it wasn't true. Then each class on the crew team had a meeting with our coaches, and that was when it sort of sunk in. It was pretty final. Everyone was pretty emotional about it."
"They didn't cancel for a while compared to some of the other regattas that were canceled right off the bat," Temple's William Hooper said. "But I think when we were sent home, that's kind of when it dawned on me that the chances of the Dad Vail happening were slim to none."
The cancellation appeared to be the end of a rowing career for Mauer, Hooper and about three dozen other seniors for the Dragons and the Owls, two local schools that have won their share of medals and trophies at the 82-year-old regatta.
But then it wasn't. A total of 19 rowers who were seniors in 2020 — 10 from Drexel, nine from Temple — returned for a fifth year of eligibility allowed by the NCAA and now have their sights set on Saturday's resumption of the Dad Vail. One of those seniors is Drexel's Kylee Magee, a 2016 Holy Spirit High School graduate from Brigantine who is on the varsity eight.
The regatta will consist of one day of competition instead of the customary two, but the participants couldn't be more excited.
"We came to practice [Monday] and they had put in the buoys for the lanes," said Megan Cook of Temple. "Once we got on the water, you could just feel the energy of the boat change from last week's practices, just because now you can really picture yourself going down the course. The buoys are up. You can see each shift in the race course, and you can almost picture it happen."
For crews at Drexel and Temple, the Dad Vail Regatta is the focal point of the season, and the seniors on the teams are grateful to be able to return and finish their careers on a high note.
Mauer is part of a five-year program as an environmental studies and sustainability major. Cook, who majors in tourism and hospitality management, returned to school after a 2020 internship did not happen because of COVID-19. Hooper, an economics major, delayed a professional opportunity in finance and took courses in that field.
For Drexel's Anthony Williams, a psychology major, there was school with the goal at the end of the academic year being one more chance at the Dad Vail Regatta, which he described as "like the Oscars of rowing."
"I felt as though my role on Drexel's crew team wasn't over yet," Williams said. "I love competing. I've done this for 10 years now, and I wanted to end it on my note.
"I just love competing at Dad Vails. I've thought about Dad Vails since I was in middle school, since seeing the Schuylkill drives shut down and seeing it on the news, not what rowing was but seeing how much energy people got from it. Just that energy is something that makes me keep coming back to the sport."
Williams, who rowed for Friends Select, and Cook, an Archbishop Wood graduate who has rowers in her family but did not pick up oars until entering Temple, know what the regatta means to the tightly knit Philadelphia rowing community.
Hooper, who hails from Boston, also has gotten swept up in the culture in his time with the Owls, especially being part of the 2019 team that won the overall points title.
"It's really special," he said. "All of our coaches are Temple alums, seeing how they stick around the sport after their rowing careers ended. But just being out on the water with all the other Philadelphia area schools is special within itself. You get to see firsthand other schools in your competition training early, early spring, late winter.
"Being able to row down the Schuylkill and see the city lit up in the morning is ... You don't get the opportunity to do that in many other places where the river kind of flows through the city. It's really a special place to row."
Jim Hanna, president of the Dad Vail Regatta Organizing Committee, said the volunteers for the regatta are just as committed and excited to be returning as the contestants.
"The energy level is palpable at the event," he said. "The kids are so excited. That's what brings the volunteers back. They are so enthused and positive about the event. It's a rite of passage for Philadelphia. This event, we say it's a jewel in the crown of Philadelphia. Philadelphia's been very good to Jefferson Dad Vail Regatta, too."
Retired Temple and La Salle athletic director Bill Bradshaw, a member of the DVROC board, said he is impressed by the devotion and the passion of the officials, volunteers, rowers and alumni to the regatta.
"It's just remarkable how the loss of the Dad Vail impacted everybody last year," he said. "Now that it's coming back, the excitement is doubled or tripled from every other year. I know we're restricting the crowds that'll be able to go down there, but just having the event is so special."
A no-spectators policy will be strictly enforced for the regatta, a guideline that was set in March by the City of Philadelphia as one of the COVID-19 safety measures for three spring regattas — the Dad Vail, the Philadelphia Scholastic Rowing Association City Championships, and the Stotesbury Cup.
Hanna said the Dad Vail will be live-streamed on its website — www.dadvail.org — for those who want to watch. If a team has spectators watching at the river, "that program will be immediately disqualified," he said.
Cook, a member of the Owls' team that won the 2019 women's points trophy, said plenty of energy will exist without spectators, and she knows Temple boats will get a boost when they pass by the Owls' boathouse along the course.
"That's always a great boost of confidence going down the course, especially coming out of Strawberry Mansion Bridge," she said.
"Even though there's not going to be a big group of fans in the grandstands, you still have that excited energy the last 250 [meters]. You can see the grandstands in the corner of your eye. You know it's almost done and what stage you're on. I think we'll be prepared to get ourselves ready even though we don't have fans screaming for us at the end."
Spectators or not, everyone is ready for the Dad Vail Regatta to resume. It's like a new dawn for the rowing community, which has reached out during the pandemic to help high schools and college programs that were in danger of having their programs terminated.
For the seniors from Drexel, Temple, and other schools who returned, the goal is in sight.
"Even though we had this dilemma of COVID last year, we still wanted to perform at our best when this is over because we love the sport, and we love to compete, and we love to win," Williams said. "The Dad Vails is always the end-all goal until you graduate. So what drives us is wanting that Dad Vail gold [medal] in our hands."
Said Mauer, his teammate, "I always say, 'It's a holiday. It's Dad Vails,' because that's always how it feels leading up to it."
Note: Several Press-area rowers compete for Drexel and Temple. Drexel's men's and women's head coach and director of rowing is Paul Savell, a Holy Spirit graduate. The Dragons' associate head coach, Asiya Mahmud, is an Oakcrest graduate.
Drexel women: Freshman Haley Bramante (Holy Spirit), junior Abby Citta (Holy Spirit), senior Mackenzie Dorsett (Absegami), freshman Kayla Driscoll (Holy Spirit), freshman Mollie Knoff (Holy Spirit), senior Kylie Magee (Holy Spirit), sophomore Kayley McKeever (Holy Spirit), freshman Kira Tracy (Ocean City).
Drexel men: Freshman Sean Blair (Absegami), freshman Josh Diggons (St. Augustine Prep), freshman Alex Dragovits (St. Augustine), sophomore Anthony Fama (St. Augustine), freshman Joe Glenn (Holy Spirit), junior Brandon Kintish (Mainland Regional), sophomore Tyler Parnell (St. Augustine), senior Hunter Reed (St. Augustine), junior Kyle Rutherford (Cape May Tech).