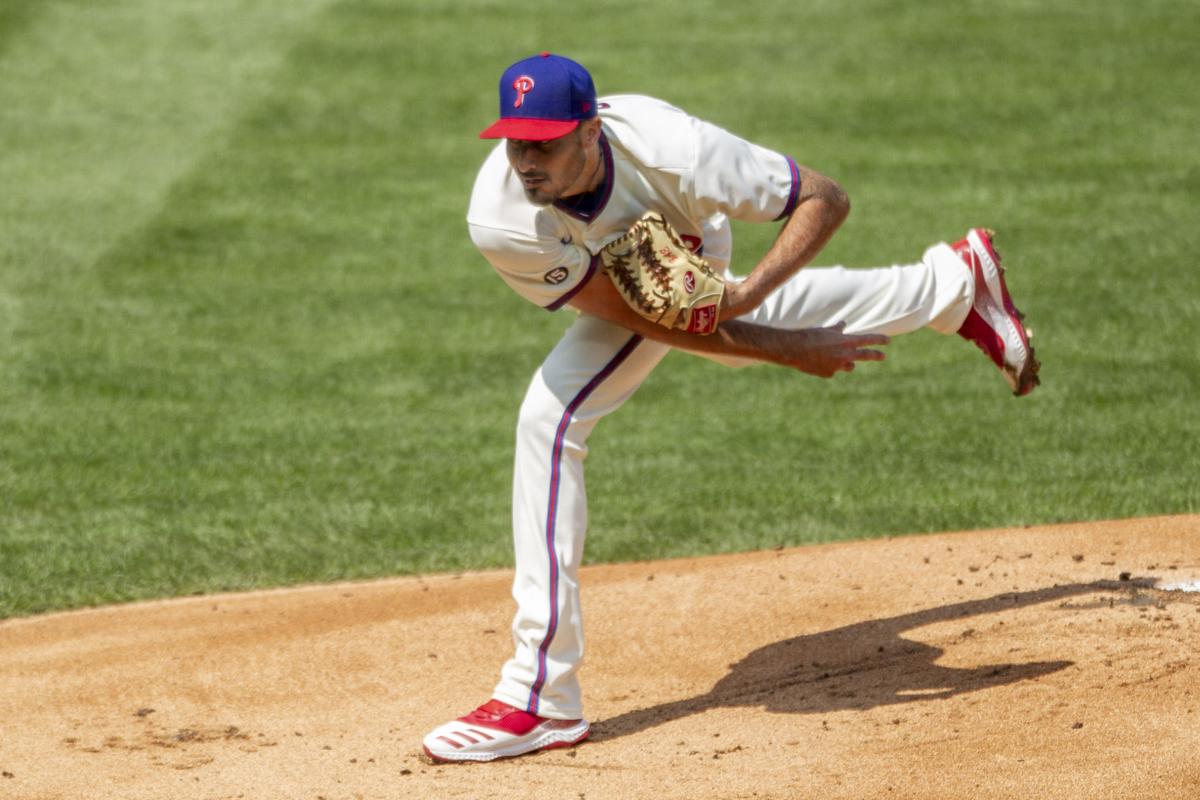 PHILADELPHIA — Zach Eflin says he's ready to get back on the mound for the Phillies.
It's not a moment too soon.
Eflin, who has been out since July 16, with right knee tendinitis, is scheduled to start Thursday against the Arizona Diamondbacks.
"I feel mentally ready to come back," Eflin said Wednesday afternoon. "I feel prepared and ready to go."
Philadelphia (63-62) hosted the Tampa Bay Rays (78-48) on Wednesday night. The Phillies have not made the postseason since 2011. They are in a precarious position.
Philadelphia began Wednesday 4.5 games back of the first-place Atlanta Braves in the National League East. The Phillies could be a couple of losses away from having their playoff chances disappear.
Eflin is 4-7 with a 4.17 ERA this season. But he's a better pitcher than those numbers indicate. He gave up six runs in 3 2/3 innings in his final start before being placed on the injured list. Eflin entered that start with a 3.88 ERA.
Eflin's durability will be a question Thursday. He threw 31 pitches in a rehab game for the double-A Reading Fightin Phillies on Saturday. Eflin struck out three in 2 1/3 scoreless innings.
On Wednesday, manager Joe Girardi didn't speculate on how many pitches Eflin would throw Thursday. Eflin said he would throw 50 pitches and see how he felt from there.
"We'll just watch carefully," Girardi said. "I won't put a limit on it, but obviously it's not 100 (pitches)."
The Phillies decided to have Eflin pitch Thursday in the big leagues instead of throwing a second rehab outing. Eflin said he preferred to return to the big leagues without even the first rehab outing.
"We just felt that (Eflin) can help us here," Girardi said. "I saw his last start. I thought his stuff was good."
Eflin's return gives the Phillies five reliable starting pitchers as he rejoins a rotation that already features Zack Wheeler, Aaron Nola, Kyle Gibson and Ranger Suarez.
The Phillies most recent trouble has been an anemic lineup. Eflin won't add to Philadelphia's offense, but the Phillies currently need every quality player they can get.
"It will be fun ... to bring the energy every single day and not just sit on the bench and watch and cheerlead," Eflin said. "It (stinks) being hurt. It's really is a horrible feeling, and I'm happy I'm back."