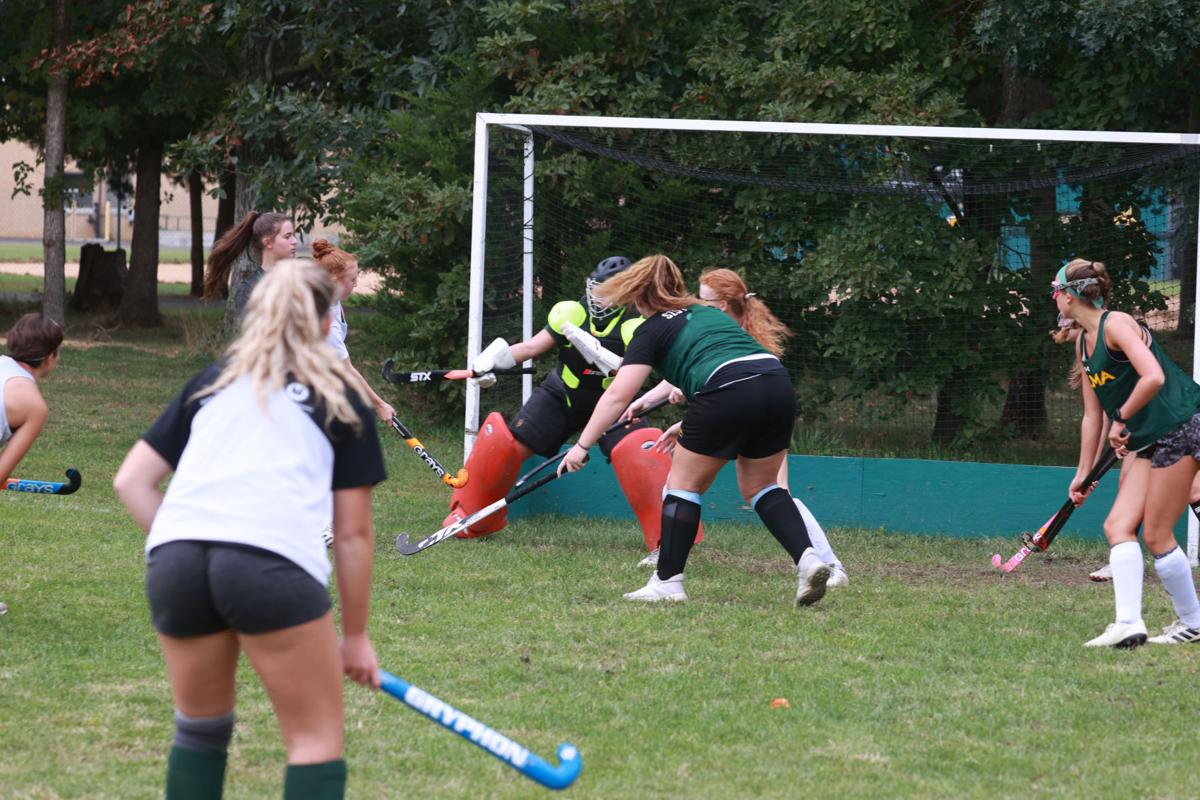 The high school field hockey season begins Thursday throughout the state. Teams will be allowed to play 14 games in a regular season, which has several modifications. The minimum is 10 games.
The Cape-Atlantic League has been temporarily divided into three regions — North, East and West. The teams are grouped together by area, not conference or school size. The move is to prevent long bus rides for safety purposes, due to the COVID-19 pandemic.
The North Region has Absegami, Hammonton (returning to the CAL this year), Cedar Creek, Oakcrest, Egg Harbor Township and St. Joseph Academy. The East Region has Atlantic City, Holy Spirit, Lower Cape May Regional, Middle Township, Mainland Regional and Ocean City. The West Region includes Bridgeton, Buena Regional, Millville, Our Lady of Mercy Academy and Vineland.
The regions will not have championships, but there will be All-Star recognition.
The area's four Shore Conference teams and Cumberland Regional of the Tri-County Conference will play their usual opponents.
High school field hockey throughout the nation will now go to 15-minute quarters instead of 30-minute halves. There will no longer be timeouts.
What to watch: The Braves return a good group of seniors, including forwards Amber Conway (nine goals, five assists in 2019) and Brooke Felix, and defenders Isabella Quarton and Kathleen Walls. Forward Maddy Hough and midfielder Alexsia Ferrogane both seniors, played some varsity last fall.
"Our seniors have a lot of experience, and they came back in shape," Murray said. "We want to make it as far as possible. I think the games in our group will be very competitive, and we're looking forward to the good challenges."
What to watch: The Pirates had to rebuild last year after winning the National Conference title two years ago. But Cedar Creek has nearly 40 in the program and could improve this season. Forward/midfielder Riley DeMarco, forwards Ava Hammond and Rachel Dutton, defenders Cierra Sansone and MaKensie Baggstrom and midfielder Liv Thoms will be key players. Other contributors will include Sydney Dunleavy, Brielle Curtin, Mariah Cook, Gabbie LaBoy, Maddie Hagaman, Taylor D'Atillo and Bella Fox.
"We had a tough season last year, and we want to be better than .500," Briles said. "Our numbers are great, and we're excited to play this fall. Many of our players are also spring athletes, so we'll value the competition. They're excited to get to play. It's important to them."
What to watch: The Eagles have about half of their starters back and should do well in the North. EHT has several varsity players back, including forward/midfielder Cheyenne Avellino (seven goals), midfielders Kylie Elwell and Anna Smith, forward Taylor Wright (seven goals, eight assists), defender-midfielder Emily Gargan and defender Brianne Macchia. Goalie Rebecca Macchia (nine shutouts), Brianne's sister, is in her third varsity year. Forwards Madison Hannan, Julia Hammer and defender Ella Meisenhelter will also be counted on. Jenna Gray is a talented freshman.
"I think we have a pretty good chance to be at the top of the division," Troster said. "My seniors have made it clear what they're capable of. It just depends on the supporting cast around them. We have many sophomores with a lot of potential."
Coach: Lauren Frazier (first year)
What to watch: Frazier, who assisted for seven years, will be the head coach this season with coach Rose Staas on maternity leave. The Blue Devils rejoin the CAL this year and should improve. Hammonton has three key seniors in defenders Gabriella Gherardi and Abigail Smith, and forward Kristen Adirzone. Other important players include forwards Anna Dankel, Maria Berenato and Riley Ruberton, midfielder Olivia Osborne, midfielder/defender Taylor Perna, midfielder/forward Brianna Gazzara, and forward/midfielders Gianna Palmieri and Kaylie Ranere. Goalies are Sofia Grasso and Angelina Catania.
"Honestly, it's one of the most talented groups we've seen," said Frazier, 32, a former Glassboro H.S. and William Paterson University field hockey player. "The leadership of the 10 seniors really set the tone. We have high expectations."
What to watch: The Falcons had one of their best years ever last fall. Graduations took a few good seniors, but Oakcrest looks competitive with six key returnees. Oakcrest looks strong on defense with Paige Aiken, a defender/midfielder, defenders Mariely Horenburger and Jordan Palmeri, and freshman prospect Rachel Carson, a midfielder/defender. Sadie Crispell is a midfielder/forward, and Katie Haye (seven goals, five assists) is a leader at midfield. Paige Mlynarczyk returns in goal.
"We lost a lot, but I think we'll be pretty strong," Toy said. "I feel confident about the season coming up. We did very well last year, but we'd like to improve. We'll be playing some new teams."
Coach: Kassidy Wentzel (first season)
What to watch: Wentzel, 21, is a former St. Joseph and Stockton field hockey standout. This would have been her final season playing for the Ospreys, but the Stockton season was canceled. The Wildcats lost some seniors to graduation but return Makaela Adler and Makayla Veneziale to lead the offense. Brennan Daly is also back, and Charlotte Matro is a talented freshman.
"We have a young school, and we're grateful to be playing," Wentzel said. "We're rebuilding and looking to improve every day."
What to watch: The Vikings have six returning varsity players in forwards Megan Dougherty (eight goals, eight assists) and Hailey Bloom, midfielders Sela Mesham and Grace Dischert, goalie Najay'e Albright and defender Alexandra Siganos.
"We have a lot of promising talent back, and our goalie is returning with more experience," Marsini said. "Our younger sophomores and underclassmen will have to step up to fill the void of the graduating seniors."
Coach: Nicole Moynihan (first year)
What to watch: Moynihan, who coached the Spartans from 2010-13, is back. Returning seniors include midfielder Megan Erdman and defender Julia Bannan. Forwards Maggie Cella and Savannah Keaser, and defenders Sophie Sobocinski and Emma Watson are key juniors. Midfielder/defender Kira Murray and Hanna Watson, a freshman midfielder, will also be counted on.
Holy Spirit will host rival Atlantic City on Oct. 22 in the Spartans for a Cure Game for breast cancer awareness. Moynihan is a former Atlantic City field hockey player. Joanna Persiano, her sister and a former Holy Spirit all-around athlete, is an assistant coach for the Spartans.
"With everything going on and the changes, we're hoping to improve on last year," Moynihan said. "We'll have fun, learn and hopefully win some games. We have a good group of freshmen and sophomores who are learning fast. We're hoping they have an impact early."
What to watch: The Caper Tigers advanced to their first South Jersey final last year, winning two playoff games before losing to West Deptford 5-0. Lower lost 11 seniors from that team but returns six who had at least some varsity experience. Reagan Morrison was the JV goalie last year but saw some varsity time. Midfielders Maggie Boyle and Sabrina Faulkner, defenders Jenna O'Neill and Lexi Bright, and forward Madison Schiffbauer will also be expected to lead.
"Obviously it's a rebuilding year, but we have some talent," Bracken said. "It's all so crazy (due to COVID-19), a challenge logistically. But we'll have fun this year and do our best to compete."
What to watch: The Mustangs look good on the forward line with seniors Casey Murray (23 goals, 13 assists), Brooke Albuquerque (15 goals, six assists) and Ariana Dinofa (seven goals, six assists). Murray was a first-team Press All-Star last year. Midfielder Julianna Medina is a third-year starter, and Sam Rothman is a key defender.
"We have a lot back, and I think we'll be competitive with a good group of girls this season," Hatz said.
What to watch: The Panthers graduated six key players from a team that won the CAL National last year and advanced to the South Jersey Group I final. Middle was 10th in The Press Elite 11 and should stay strong.
Middle returns high-scoring midfielder Kate Herlihy, a first-team Press All-Star last fall who had 38 goals and eight assists. Also back are forwards Briar Lemma (11 goals) and Dakota Ludman (15 goals), and defenders Lexi Frank and Shea Gerhard. Adding to the defense will be Alexa DiPalantino, Camryn Oliver and Alli Johnson. Helping at forward will be Hannah Urbaczewski and freshman Abby Teefy.
"Quite a few are back, and they look good," Perna said. "We have talented seniors, and they're working hard. We'll take it day by day and hope it's fun for the team. It'll be fun to play new opponents."
What to watch: The Red Raiders were CAL American co-champions with Millville in 2019 and advanced to the South Jersey Group III final. O.C. was No. 11 in the final Elite 11.
Ocean City graduated two first-team Press All-Stars but returns another, forward Tara McNally, who had 25 goals and 11 assists. Forward Nya Gilchrist (17 goals, 11 assists), midfielder-defender Sophia Ruh and midfielder Morgan Decosta are also back. Nora Bridgeford (nine shutouts) returns in goal, and she'll be helped by defenders Ally Leeds and Katie Bowman, and midfielder/defender Andi Helphenstine. Olivia Vanesko will help at forward.
"About half are back, but we have strong returnees," Burke said. "We also have some eager new contributors. We're just excited to play."
What to watch: The Bulldogs lost seven senior starters and nearly all of their defense. Bridgeton has three seniors in forward/midfielders Jisell Perez-Manzano and Angela Yacabell, and all-around player Keldashia Underwood. Key forwards include De'Jmera Mosley (five goals) Ny-Ashzaa and Ashley Alfaro. The defense will be led by midfielder/defenders Lumidee Lopez and Katherine Garcia and goalie Rosmidt Martinez.
"We'll use the time to improve on skills," Mehaffey said. "We want to have competitive games and have fun."
What to watch: The Chiefs lost four key seniors to graduation, and Busan expects "kind of a rebuilding year." Buena will look to center/defender Karly Byrd, midfielder Madison Hand and forward Andrielys Lopez. Tanya Shukovsky tore her ACL during basketball season but is hoping to return.
"It's a learning year, but I can see us competing in the eight games (in the region). I'm glad to start and at least have a short season."
What to watch: This will be McCarthy's 50th and final year as Millville's coach. She'll retire as a teacher and coach Dec. 1. The Thunderbolts should have a good year, led by center forward Casey Etter (38 goals, 11 assists), McCarthy's granddaughter, and playmaking defender Jaylene Williams. Both were first-team Press All-Stars in 2019, as Millville tied Ocean City for the American title. The Thunderbolts upped McCarthy's career record to 604-234-120 and were No. 7 in the final Elite 11.
Other key returnees including forward Tamiya Bryant, midfielder/forward Alicia Slimmer (7 goals), defender Angelina Kenelia and midfielder Stella Sheppard. Aliza Langlois, Emma Sockwell and Hannah Runkle will strengthen the midfield. Sophomore Lily Mahabir, a former field player, will start in goal.
"We'll be playing different teams than what we're used to," McCarthy said. "We're used to thinking about Ocean City, Mainland and Egg Harbor Township. It should be different. Casey, Alicia and Tamiya are all very fast, and Jaylene and Angie (Kenelia) do a great job defensively."
OUR LADY OF MERCY ACADEMY
What to watch: The Villagers have most of their key players back, including midfielder Adrianna Dodge (12 goals, 10 assists), Morrell's daughter, defenders Maria Pia DiFranco and Ani Schubert, midfielder Caroline Bernhardt and goalie Alexandra Kazan. Forwards include Anna Eaise, Fiona Lockhart, Maya Lee and Bianca Valecce. Also returning are midfielder Lindsey Serafine and twin Anissa, a defender. OLMA has 12 freshmen, some with experience.
"We're excited just to be able to play, after the spring and summer," Morrell said. "The returning players are experienced, and they're confident and excited. We want to see our freshmen grow and progress."
What to watch: The Fighting Clan graduated their three top scorers. Shania Ortiz leads the defense this season, and Zareiah Jones is back in goal. Cronk expects midfielders Nicole Stanker and Lauren Emeigh to spark the offense.
"We have mostly a very young team," Cronk said. "But we hope to improve, with the teams we're playing around South Jersey this season."
What to watch: The Bengals graduated first-team Press All-Star Shannon Schiverea, a 29-goals scorer, and other key seniors. But Barnegat still looks competitive with forward Haleigh Dengler and midfielder Julianna Cannizzaro (nine goals, nine assists) returning. The Bengals have talented young players, including sophomore midfielder Patience Mares, and freshmen Alyson Sojak and Madison Jackson, a midfielder-forward and forward, respectively. Madison Kubicz, a junior, is the goalie.
"For this season, we are looking to rebuild, since we graduated 11 seniors, seven of them starters," DiStefano said. "We're a very young team, and we're using this season to acclimate some of the younger classmen to varsity athletics. We also just got turf, so we are definitely getting used to playing on that rather than grass. Overall, this season is a year of growth and learning, and it will benefit us in the years to come."
What to watch: The Lions return center midfielder Alyssa Costello and midfielder Caroline Tomko, two of last year's leaders. Defenders Meghan Donohue, Ciera Robertson and Sydney Speck will have key roles. Speedy sophomore midfielder Caitlyn Voskanyan is a good prospect. Lacey has more than 40 in the entire program.
"First and foremost we're happy to have a season," Winkle said. "The girls are excited, and we have returnees across the field. We're hoping to do much better than last year."
What to watch: The Wildcats will again be strong with six returning starters, including forward Jamilyn Hawkins (17 goals, eight assists), midfielders Karianna Eagle (17 goals, six assists) and Layla Frost, defenders Kennedy Heinrichs and Kamryn Borden, and goalie Mickenzie Horay (eight shutouts). Also back are forwards Olivia Gordon and Abby Romanek, midfielders Hayley Dougherty and Brianna Cataffo, goalie Emma Kohler, and defenders Paige Rochesky and Akalyla Palmucci. Two good newcomers are sophomore midfielder Akalya Palmucci and freshman goalie Julia Morrin.
"This season we are looking to improve and maintain our overall record and division record," Law said. "Like many seasons before, we are a small team with a lot of hustle and a lot of heart. Our team motto this year is: 'It's not what you got, it's what you do with what you got.'"
What to watch: The Rams graduated 12 seniors, including Maitland Demand, The Press Field Hockey Player of the Year. Three other key seniors are also gone, including Erika Barbera, a first-team Press All-Star. Southern won its third straight Shore Conference A South title and was No. 5 in The Press Elite 11.
The Rams have some varsity returnees, including Kiera Lyon, Kate O'Boyle and Kacey Kubarewicz, three versatile players. Also back are goalies Lauren Ricci and Maddy Brown and midfielder Bella English.
"Graduating 12 seniors is normal for us," Lombardo said. "We have a lot back who played varsity. We have some sophomores who show potential and a lot of juniors who are ready to step up. I'm just thrilled having a season, especially for our seniors."
What to watch: The Colts return much of last year's team, including midfielders Laura Bowen (10 goals) and Cadence Conti, both now sophomores. Hazel Gilligan will lead the defense and Maddie Ott is back in goal. Regan McQuilken is a fourth-year varsity starter at forward. Camryn Estlow and Emily Ford are sophomore forward-midfielders.
"It's an unprecedented time, but we'll press as hard as last year," Mitchell said. "Hopefully we'll improve. We're very excited for the future. The kids definitely want to play."
Be the first to know
Get local news delivered to your inbox!