Professional lacrosse is making plans to return this summer.
The Premier Lacrosse League announced last week it will have a quarantined and fanless tournament from July 25 to Aug. 9. The location has not been determined.
The tournament would consist of 20 games. There would be a 14-game group play to determine seeding. The final six games would be the quarterfinals, semifinals and championship.
The top seed earns a first-round bye.
"With everything going on in the the world in the last two months, especially in the sports world, I'm pumped being able to throw something on the calendar," said Bryce Young, a 2014 St. Augustine Prep graduate and defender for the Whipsnakes Lacrosse Club.
"It's exciting. Not just for lacrosse, but sports fans in general."
The PLL is a tour-based league that features seven teams, without specific hometowns, that travel for 14 weeks and play at different venues across the country — the Archers, Atlas, Chaos, Chrome, Redwoods, Whipsnakes and the expansion Waterdogs.
The PLL is coming off a successful inaugural season in 2019 in which it attracted big-name sponsors such as Adidas, Gatorade and Capital One.
NBC Sports carries PLL games across its platforms. Last season, the Week 2 game between the Chaos and the Atlas had 412,000 viewers, making it the most-watched outdoor pro lacrosse game in history.
The Whipsnakes are the defending champions.
"I thought the first year, and it probably goes for everyone who played in the league, was a huge success," said Young, 24, of Egg Harbor Township.
Young led the University of Maryland to the NCAA Division I championship in 2017 and played for the Ohio Machine of Major League Lacrosse in 2018.
The second-year PLL is a direct competitor to the MLL.
"I was happy with everything that went on within the league. We were kind of made to be professional athletes for the first time, so it was pretty cool."
Dylan Jinks, a 2015 Southern Regional High School graduate, was selected in the fourth round of the MLL Supplemental Draft by the Denver Outlaws on March 3.
The University of Hartford standout is scheduled to compete in training camp June 22, but that event already has been pushed back three times. Jinks hopes to at least make the practice squad.
Jinks said it would be challenging for the MLL to have a similar tournament.
"I think that it's a creative idea what the PLL is doing," said Jinks, 23, of Cedar Run. "It's definitely an interesting idea. Lacrosse is lacrosse, and whenever you can play it, it's definitely a good time."
When Jinks found out he was drafted, he immediately called his parents, Michael (a science teacher a Southern) and Dani (a CT-scan technician at Southern Ocean Medical Center in Manahawkin).
The list was alphabetical by the six teams, so he had to patiently scroll to the bottom to finally see his name.
"It was definitely a long time coming," said Jinks, who is also a CT-scan and X-ray tech at Community Medical Center in Toms River.
"I've dreamt about this day since I picked up the stick. It was definitely a nice feeling. It kind of caught my breath for a minute."
Health concerns
The PLL regular season was scheduled to start May 29 at Gillette Stadium in Foxborough, Massachusetts. It was postponed indefinitely April 10.
PLL co-founder and Atlas midfielder Paul Rabil, however, formed a coronavirus medical staff to help plan the tournament.
Players and personnel will be tested prior to arrival. Nobody will be allowed to leave until the event is completed. They will be tested again midway through the tournament.
If anyone tests positive, the remainder of the tournament will be postponed.
"To some extent, there is some concern," said Young. "But the health and safety of the players are the first and foremost priority of the staff and the PLL.
"I think they are going to do everything they can to protect us and everyone else involved. I trust them."
Jinks said working in the medical field, along with his mother who works directly with families affected by the coronavirus, gives him a different outlook on the pandemic than just learning about it at home.
Jinks, who works out with his parents to stay in shape, said none of his family members have tested positive.
"It's a very unfortunate circumstance going on in the world," Jinks said. "I feel horrible for all the people affected by this. My thoughts and prayers go out to anyone who is."
Jinks was a three-time Press Boys Lacrosse Player of the Year. He led the Rams to two South Jersey Group IV titles and scored a program-record 274 career goals.
"People are fighting the good fight over in hospitals and are putting in a lot of hard time and sacrificing themselves to help others," Jinks said. "I want to give a shout-out to all those people, especially my mom."
Meanwhile, planning continues for the resumption of pro lacrosse.
The PLL field is 100 yards long, 10 shorter than a traditional field. The move was made to enhance transition opportunities and speed up the pace of play.
There is a two-point shot and a 52-second shot clock. Players also wear cameras in their helmet, just another way the league attempts to be more player- and fan-friendly.
"I think it'll be interesting to see how (the tournament) plays out," Young said. "I know they have some things to figure out. But it's going to be exciting."
PLAYER OF THE YEAR: Billy Kroeger, Ocean City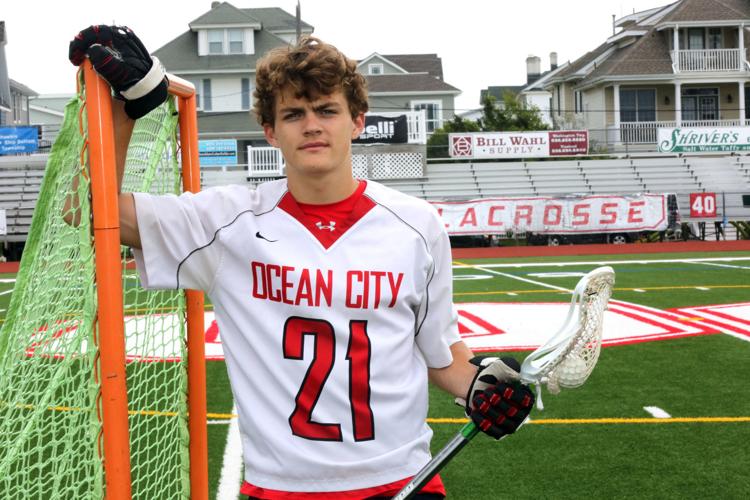 The senior faceoff specialist won a program record and state-leading 301 faceoffs. He won 77 percent of his faceoff attempts and had a team-leading 156 ground balls. He finished his career with a program-record 765 faceoff wins. Kroeger will play lacrosse next season at New Jersey Institute of Technology.
FIRST TEAM
ATTACK: David Burr, St. Augustine Prep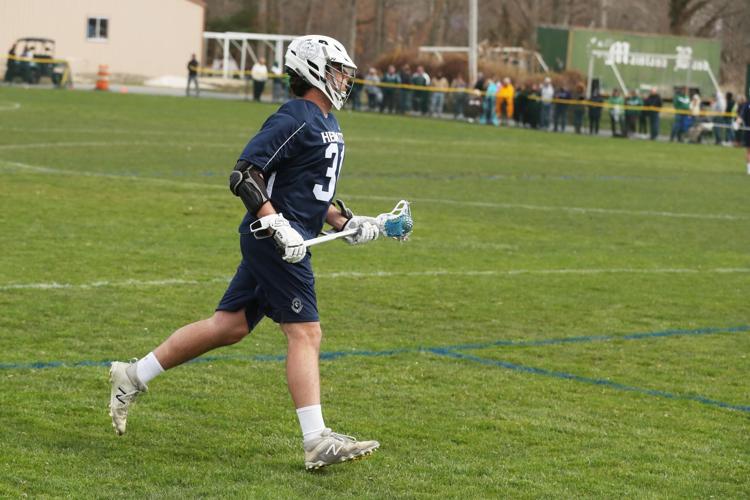 The junior scored a team-leading 44 goals to go with 23 assists. He led the Hermits' offense to reach the state Non-Public A semifinals.
ATTACK: Chuckie Magill, Lower Cape May Regional
The senior led the Caper Tigers offense with 41 goals and 30 assists. He was one of the captains on a team that finished 12-5 and advanced to the South Jersey Group I tournament.
ATTACK: Mikey Vanaman, St. Augustine Prep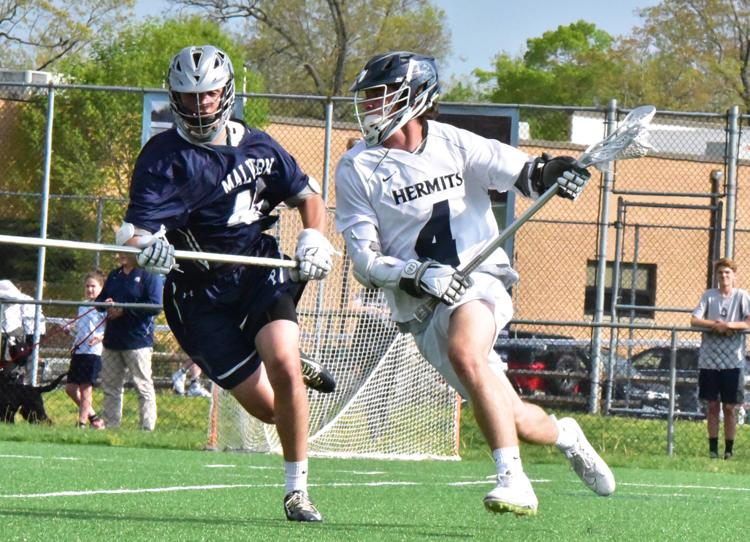 The senior had a team-leading 41 assists and scored 33 goals for the Hermits. He will continue his lacrosse career next season at Wagner University.
ATTACK: Robbie Nawrocki, Cedar Creek
The senior scored 57 goals and 19 assists. Nawrocki, who will play lacrosse next season at Fairleigh Dickinson University, had 70 ground balls.
ATTACK: Dylan Vitale, Lacey Township
The senior led the Lions with 75 goals and added 22 assists. Vitale also had a team-leading 67 ground balls.
MIDFIELD: Marty Cattie, Ocean City
The senior scored 28 goals to go with 24 assists. He will play lacrosse next season at Salisbury University.
MIDFIELD: Colin Cooke, Mainland Regional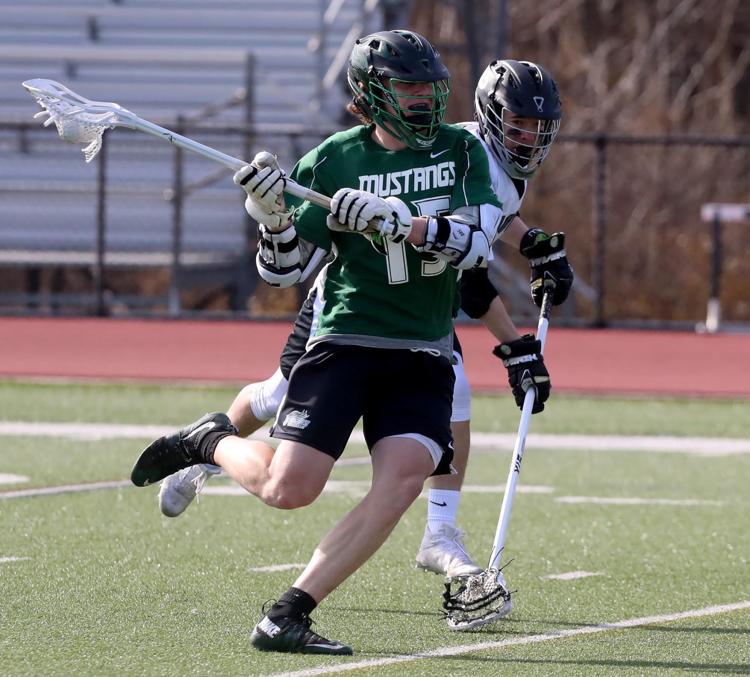 The junior had a team-leading 111 ground balls and led the Mustangs with 63 goals. He added 16 assists.
MIDFIELD: Logan Hone, St. Augustine Prep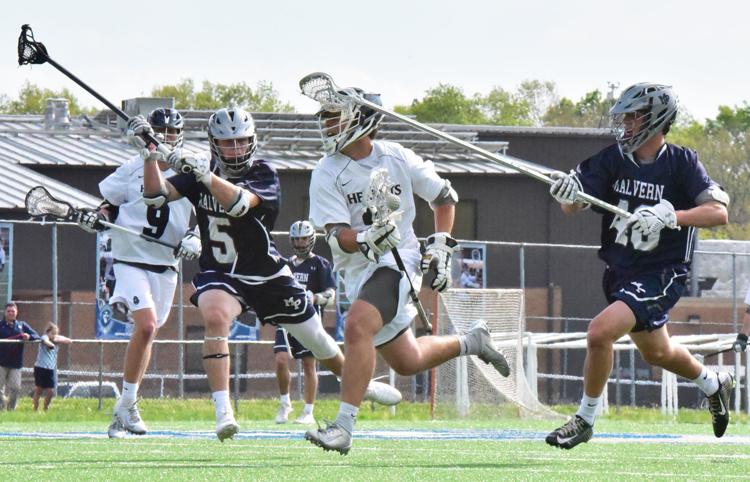 The junior scored 33 goals to go with five assists to lead the Hermits midfield.
MIDFIELD: Noam Levy-Smith, Ocean City
The junior scored 49 goals to go with 10 assists. He earned All-American status this season, which is an honor only seven other boys lacrosse athletes in New Jersey receive.
MIDFIELD: Colin Velri, Oakcrest
The freshman scooped 45 ground balls for the Falcons. He scored 26 goals and had 21 assists.
DEFENSE: Bruce Kern, Absegami
The junior had 40 ground balls and was one of the top defenders leading the Braves this season. He also had 10 assists.
DEFENSE: Matt Gibson, Lower Cape May Regional
The junior had a team-leading 84 ground balls to go with 25 caused turnovers.
DEFENSE: Ethan Lamaina, Mainland Regional
The senior led the Mustangs' defense with 63 ground balls and nine caused turnovers. He will play lacrosse next season at Stockton University.
DEFENSE: Aidan Richardson, Cedar Creek
The senior scooped 43 ground balls. He added six goals to go with three assists.
DEFENSE: Kyle Saul, Ocean City
The senior had 43 ground balls for the Red Raiders. Saul, one of the best defenders in the Cape-Atlantic League, will play lacrosse next season at the University of Alabama.
GOALIE: Joey Serafine, St. Augustine Prep
The junior made 138 saves and posted a .640 save-percentage.
SECOND TEAM
Second Team
Attack
Cade Johnson
Southern Regional
Christian Kuhn
Ocean City
Ryan Liberty
Oakcrest
Paul McColgan
Absegami
Jake Schneider
Ocean City
Dominic Waltonowski
Lacey Township
Jake Zinckgraf
Egg Harbor Township
Midfield
Steve DelleMonache
St. Augustine Prep
Dominic Gagliardi
Mainland Regional
Matt Maggi
Absegami
Branden Smith
Lower Cape May Regional
Defense
Ryan Collins
Lacey Township
Zach Emmell
Cedar Creek
Teddy Grimley
Ocean City
Mitch McEntee
St. Augustine Prep
Kyle Rush
Mainland Regional
Mike Wiel
Lower Cape May Regional
Goalie
Charlie Dahl
Ocean City
HONORABLE MENTION
Absegami
Sebastian Palmer
Sean Warren
Atlantic City
Sean Drew
Jordan Faustino
Jonah Mason
Barnegat
Dillon Balas
Cedar Creek
Jay Fraone
Kevin Dougherty
Egg Harbor Township
Andrew Venuto
A.J. Patroni
Holy Spirit
Andrew Constantino
Justin Curcio
Luke Spotts
Sam Phillips
Lacey Township
Chris Augustine
Ryan Giles
Kian Gonzalez
Mike Kudlacik
Lower Cape May Regional
Brandon Lambert
Trey McGrail
Mainland Regional
Brandon Batz
Devon Ford
Tom Kelly
Middle Township
Jack Butterfield
Ryan Nagle
Kyle Roscoe
Oakcrest
Kevin Albright
Jake Angier
Ethan Nelson
Ocean City
Anthony Inserra
Trent Laveson
Teddy Grimley
Southern Regional
Ben LoParo
Luke Maul
Ryan Sininsky
Ajani Stevenson
St. Augustine Prep
Danny Bennett
Wil Carpenter
Cole Murray
Contact: 609-272-7210
Twitter @ACPressMulranen