Atlantic City ranks near the top for New Jersey places most impacted by climate change.
A warmer Earth, higher water levels and a lack of financial resources by the city and many of its residents all leave the city increasingly vulnerable.
"All of New Jersey is experiencing warming," said Dave Robinson, New Jersey's state climatologist.
But the sea level threat along the coast is particularly alarming in Atlantic City, where levels have increased more than 14 inches over the past century, Robinson said. Flooding events that used to just reach the sidewalk now bring water into the ground floor of an unraised home.
"If an area floods, that really detracts from the value, not to mention the quality of life," said Elizabeth Terenik, senior project manager for the Atlantic City Development Corp. and the city's planning and development director from 2014 to 2017.
Atlantic City has seen about eight times more coastal flooding events per year between 2010 and 2015 than in the period between 1950 and 1969, according to the U.S. Environmental Protection Agency.
That translates from about three coastal flooding events a year to about 24, one of the highest rate increases of any U.S. city, according to the EPA.
Flooding has become so pervasive here that in 2012, the National Weather Service raised the threshold that would prompt a coastal flood advisory, from 6 feet to 6.3 feet, partly due to concerns the warnings were becoming too routine for residents.
If a full moon and rain are in the forecast, you can bet the route many take into and out of…
Climate Central reports that, within 30 years, 33% of homes in Atlantic City could be inundated with water in a given year.
"Given that Atlantic City is surrounded by water, with numerous structures and roadways very close to sea level, it is certainly one of the more vulnerable areas to flooding," Robinson said.
The effects are unlikely to be reversed in the near future.
"The only way to overcome climate change is to adapt. You'll never ever de-carbonize the economy," said Jim Eberwine, former National Weather Service meteorologist and current emergency management coordinator for Absecon.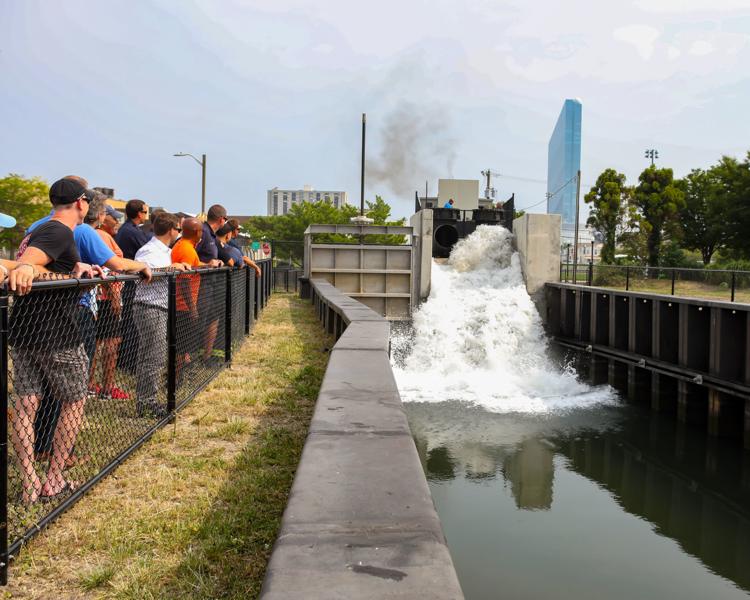 But how does a city without resources adapt?
The Baltic Avenue Canal has been one solution. After 50 years of being damaged, the flood mitigation solution came back to life in 2018. Receiving about $13 million in state and federal grant money, it can store flood water and pump it out after coastal flooding has subsided.
"That covers about 800 acres, which is about two-thirds of the city," Terenik said.
While there were many challenges in the city during her time as planning and development director, Terenik reflected on little moments for little cost that helped residents.
"Coordinating with public works to clean out a drain … things like that are rewarding because you impact the quality of life. At the same time, I realize there's so much more to do," she said.
But fixing some of those issues will be costly and require help from federal and state agencies. The New Jersey Department of Transportation plans to raise portions of the Black Horse Pike to the tune of $27.5 million, most of it federally funded. Part of that will raise the ramp of the coastal evacuation route that turns onto West End Avenue in the city by up to 2.5 feet. The project is three years away from starting.
"You look at the nuisance flooding events. ... Some people want to move but have no money for it. If you're going to talk climate change, you're going to have to be honest about it. Our return so far on what we've spent hasn't been anything," said Eberwine of the city.
Eberwine recalled a trip he took with the National Guard after Superstorm Sandy to Long Beach Island. A trailer park at the south end of the island was "totally destroyed" by the water and wind, only to be replaced by three-story homes, better protected against flooding.