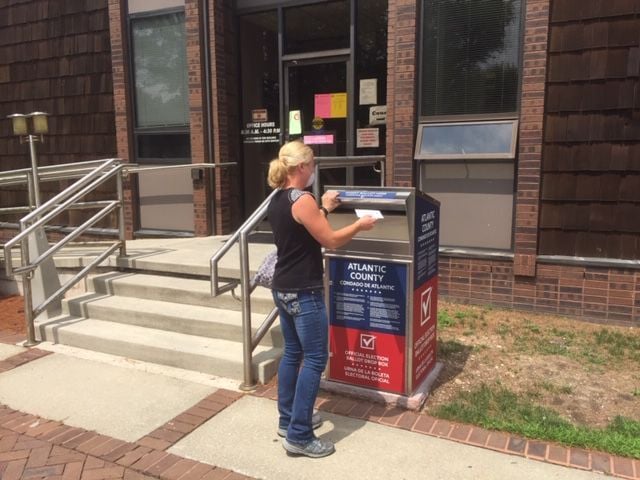 With deadlines hitting in about a month for printing and mailing ballots, Gov. Phil Murphy is expected to announce Friday that the Nov. 3 election will be conducted mostly by mail.
But the decision is coming later than election officials would have wished, giving little time to get paper ballots to more than 6 million New Jersey voters.
"My fellow clerks are telling me we are going to get something on Friday, and that it seems to be more of a mail-in situation," Cape May County Clerk Rita Fulginiti said.
Murphy had said he would decide the issue by mid-August, as the COVID-19 pandemic continues to require social distancing and mask wearing to cut down on its spread.
"The consensus of boards of election and certainly the county clerks was they wanted (the decision) around the beginning of August," said Ben Dworkin, director of the Rowan Institute for Public Policy & Citizenship at Rowan University. "Potentially we are looking at an expanded version of what happened in July, but this time every single voter in the state automatically receives a ballot."
That's more than 6 million ballots that would have to be prepared by Sept. 14 and mailed starting Sept. 19, under state law. With such a high level of interest in the presidential election, participation rates are expected to be historically high.
Republican U.S. Senate primary candidate Hirsh Singh's petition for a recount of the July 7 …
"That's why what you want is time to do this right, and the longer the state delays in making a decision ... at some level it increases the likelihood of the election not going the way everyone would want," Dworkin said.
It took weeks for the July 7 primary election vote-by-mail and provisional votes to be counted in most counties, and the statewide results were certified Sunday, with some amendments still expected to come.
Fulginiti said she has heard a lot from Cape May County residents who say they prefer to vote by machine and don't trust the vote-by-mail process.
"I had a voter come in today to apologize to me for writing his name in as candidate for county clerk on a provisional ballot," Fulginiti said on Wednesday, of the July 7 primary. "He just wanted to make sure his vote counted. He really wasn't serious about running against me, but that is what he did."
As they ramp up their 2nd District congressional campaigns in the midst of a pandemic and a …
Cape May County has a high percentage of older voters and Republican voters than other parts of the state, two constituencies less comfortable with vote-by-mail. President Donald Trump has said a vote-by-mail presidential election would be rife with fraud, while Democrats have said it will make voting easier and more accessible.
For a mostly vote-by-mail general election, Fulginiti's office will have to print and mail 71,000 ballots to active voters within a month.
Just getting the supplies needed to create so many ballots will be a challenge, Fulginiti said, because clerks all over the nation will be competing for the same supply chain.
Dworkin said there are many reasons to restrict machine voting at the polls to those who have handicaps that prevent them from filling out paper ballots, similar to restrictions in the July 7 primary.
"One of the big challenges in running an in-person traditional election at a polling station is that poll workers ... are overwhelmingly senior citizens," Dworkin said. "We're hearing they don't want to do it. "
Some South Jersey municipalities want it known that they oppose having only vote by mail for…
He said a lot of young people would have to be hired and trained, which would further complicate the process.
Atlantic County Board of Elections Chair Lynn Caterson wrote to Murphy and the secretary of state recently, detailing a list of problems that happened during the primary that would need to be fixed to run a fair general election via mostly vote-by-mail.
One of the problems was too short a time frame for mailing out so many vote-by-mail ballots. Under law, the requirement is 45 days ahead of an election, and Caterson said it should be 60.
That would put the deadline for sending out ballots at Sept. 4 rather than Sept. 19.
Fulginiti and seven other clerks — a group of four Democrats and four Republicans — wrote to Murphy some weeks ago to outline their concerns about another mostly vote-by-mail election. They said the Statewide Voter Registration System wasn't ready for such a large undertaking, and was unable to provide accurate information even for the much smaller primary.
MAYS LANDING — A top Republican wants an investigation into a Democratic employee at the Atl…
Candidates were also preparing for a vote-by-mail election.
"It definitely adjusts the timeline," said Amy Kennedy, Democratic candidate for Congress in the 2nd District. "We're already thinking about how we can make sure we're reaching people early. ... We're anticipating there will be a way for people to vote by mail with secure drop boxes. Those are important. We're waiting to hear like everyone."
U.S. Rep. Jeff Van Drew, R-2nd, said he is hearing from a lot of constituents who do not want to vote by mail, and who think the governor should leave it up to individual voters to decide if they feel comfortable voting by machine or not.
Contact: 609-272-7219
Twitter @MichelleBPost