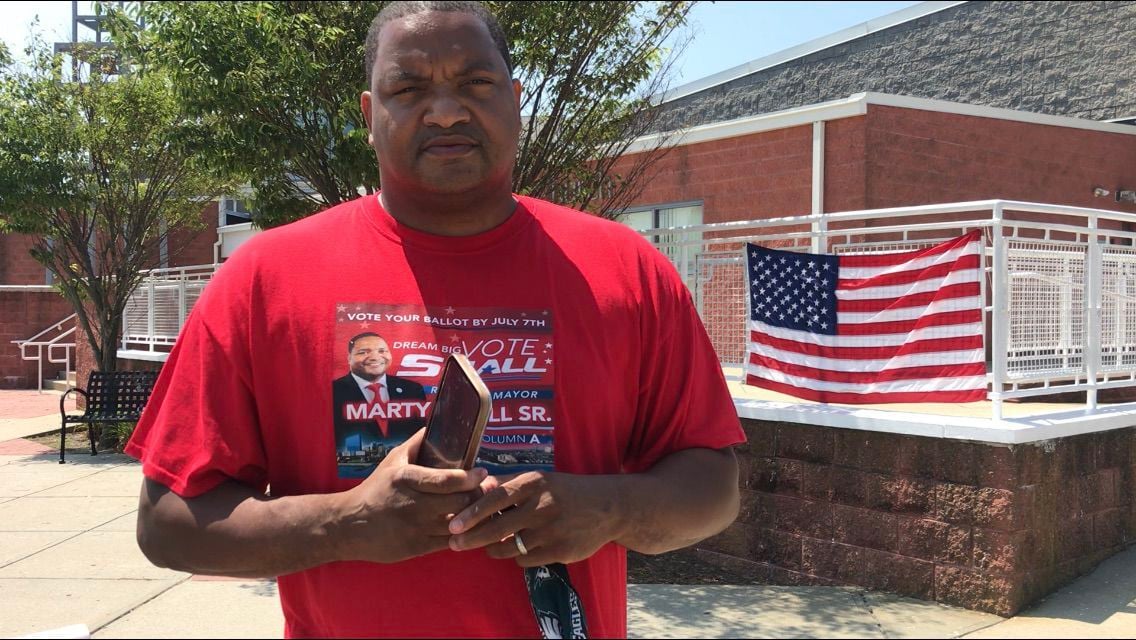 ATLANTIC CITY — With 3,202 Democratic votes counted in Atlantic City shortly before noon Wednesday, Mayor Marty Small Sr. continued to lead with about 61% of the vote, according to the Atlantic County Board of Elections.
Councilwoman LaToya Dunston was also leading in her 2nd Ward City Council race.
Pamela Thomas-Fields had about 34% of the Democratic mayoral primary vote, and Jimmy Whitehead had about 5%.
Small held a news conference Wednesday afternoon at his headquarters at North Carolina and Atlantic avenues to say he's claiming victory and to thank his supporters. He expects to get the overwhelming majority of the outstanding votes, he said.
"The numbers are on our side. We expect the numbers to continue to rise based on our data," Small said. "Those of you who did not vote or support us, hopefully you will find it in your heart in the future. This (election) is for another year — through Dec. 31, 2021."
The mayoral candidates were vying for a one-year unexpired term, the result of former Mayor Frank Gilliam Jr.'s resignation in October after pleading guilty to wire fraud in federal court. A full four-year term will be on the 2021 ballot.
"We believe we will be in a pretty good position for that as well," Small said.
Small said he has not yet heard from either of his opponents.
Thomas-Fields said Wednesday she would comment after getting the numbers for herself.
In the council race, Dunston faced Democratic challenger Delmar Hamilton Sr. for a three-year unexpired term.
As of midday Wednesday, Dunston had 360 (almost 67%) of the counted votes and Hamilton had 172 (almost 32%).
ATLANTIC CITY — Marty Small Sr. will have to wait a little longer to learn whether he will r…
Board of Elections Chair Evelynn Caterson estimated about 75% of the total votes cast from the resort had been counted by midday. There also were 399 Republican votes tallied, for a total of 3,601.
She said the resort votes were counted randomly, not by ward or time received.
More than 4,600 ballots have been received from Atlantic City voters, Caterson said. That total did not include any provisional or machine votes cast at polling places.
The 2020 primary was conducted almost entirely by mail to prevent crowds from gathering at polling locations during the COVID-19 pandemic. Six in-person polling locations were open in Atlantic City for voters to cast provisional ballots.
Democrat Amy Kennedy of Brigantine appears to have won the Democratic nomination for the 2nd…
More than 14,000 ballots were mailed to registered voters in Atlantic City.
Small landed several high-profile endorsements during the campaign, including from Gov. Phil Murphy, U.S. Sens. Cory Booker and Bob Menendez, Assemblymen Vince Mazzeo and John Armato, former Mayor Lorenzo Langford and four members of council. He also secured the county party line.
Thomas-Fields had the support of the local Democratic Committee and three council members.
Republican candidate Thomas Forkin ran unopposed in his party's mayoral primary. Forkin, the former chair of the city Democratic Committee and current vice chair of the Atlantic City Republican Club, will square off against the Democratic nominee in November.
Staff Writer David Danzis contributed to this report.
NJ Primary Results 2020 as of July 13
| County | Race | Candidate | Party | Votes |
| --- | --- | --- | --- | --- |
| Atlantic City | Mayor | Marty Small | D | 3,326 |
| Atlantic City | Mayor | Pamela Thomas-Fields | D | 1,627 |
| Atlantic City | Mayor | James Whitehead | D | 243 |
| Atlantic City | Mayor | Thomas Forkin | R | 403 |
| Atlantic County | Sheriff | Eric Scheffler | D | 15,985 |
| Atlantic County | Sheriff | Joseph O'Donoghue | R | 11,029 |
| Atlantic County | Surrogate | Stephen Dicht | D | 12,991 |
| Atlantic County | Surrogate | Levi Fox | D | 2,877 |
| Atlantic County | Surrogate | James Curcio | R | 11,174 |
| Atlantic County | Freeholder | Caren Fitzpatrick | D | 15,660 |
| Atlantic County | Freeholder | Celeste Fernandez | D | 15,701 |
| Atlantic County | Freeholder | John Risley Jr | R | 11,213 |
| Atlantic County | Freeholder | James Toto | R | 10,876 |
| Atlantic County | Freholder D3 | Andrew Parker | R | 2,187 |
| Atlantic County | Freholder D3 | Thelma Witherspoon | D | 3,184 |
| Barnegat Township | Township Committee | Alfonso Cirulli | R | 1,668 |
| Barnegat Township | Township Committee | Joseph Marte | R | 1,662 |
| Barnegat Township | Township Committee | Charles Cunliffe | D | 1,644 |
| Barnegat Township | Township Committee | Peggy Houle | D | 1,691 |
| Cape May County | Freeholder | Elizabeth Casey | D | 5,504 |
| Cape May County | Freeholder | Brendan Sciarra | D | 5,285 |
| Cape May County | Freeholder | Will Morey | R | 6,624 |
| Cape May County | Freeholder | Jeffrey Pierson | R | 6,535 |
| Lacey Township | Township Committee | Nicholas Juliano | R | 1,980 |
| Lacey Township | Township Committee | Bill Stemmle | D | 1,286 |
| Lakewood | Township Committee | Michael D'Elia | R | 4,805 |
| Lakewood | Township Committee | Hector Fuentes | R | 4,632 |
| Lakewood | Township Committee | Harold Herskowitz | R | 1,391 |
| Lakewood | Township Committee | Ray Coles | D | 2,110 |
| Lakewood | Township Committee | Mordy Gross | D | 1,977 |
| Little Egg Harbor | Township Committee | Ray Gormley | R | 1,632 |
| Little Egg Harbor | Township Committee | John Kehm | R | 1,603 |
| Little Egg Harbor | Township Committee | Gabriel Franco | D | 1,273 |
| Little Egg Harbor | Township Committee | Shaun Moran | D | 1,264 |
| Lower Township | Mayor | Christopher South | D | 1,323 |
| Lower Township | Mayor | Frank Sippel | R | 1,455 |
| Middle Township | Township Committee | Bob Jackson | D | 987 |
| Middle Township | Township Committee | Timothy Donohue | R | 1,091 |
| Ocean County | County Clerk | Scott Colabella | R | 39,146 |
| Ocean County | County Clerk | Kathy Russell | D | 31,413 |
| Ocean County | Freeholder | Joe Vicari | R | 38,731 |
| Ocean County | Freeholder | Helen Dela Cruz | D | 31,398 |
| Ocean Township | Township Committee | Ken Baulderstone | R | 1,019 |
| Ocean Township | Township Committee | Rita Kopacz | D | 567 |
| | | | | |
Contact: 609-272-7219
Twitter @MichelleBPost