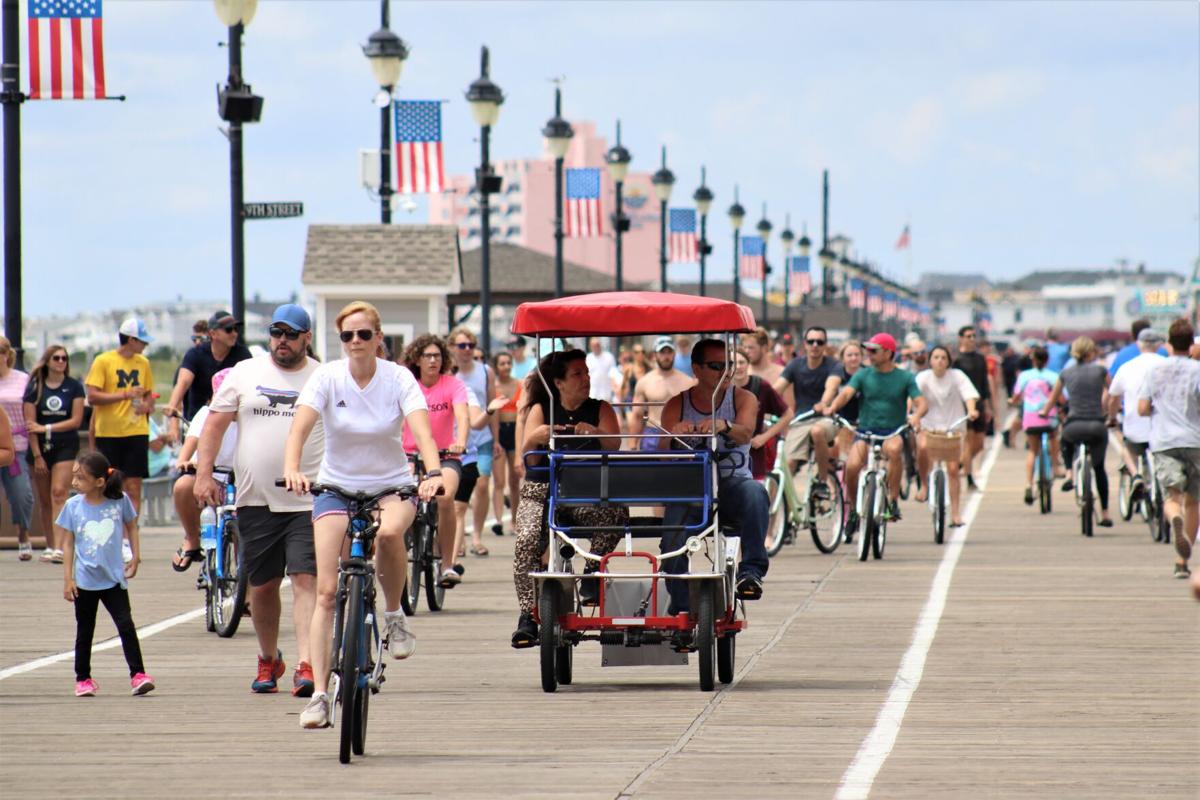 Young people — visitors and residents alike — long have gravitated into large groups on Jersey Shore boardwalks and promenades. It seems to be part of life's mission at that age.
Occasionally, they have disrupted the affairs of adults, sometimes just by their presence blocking normal movement, sometimes by a bit of misbehavior (another ingrained tendency of the young).
People who have seen this for decades and understood it say this year is different … and worse. The youth packs are bigger, the defiance of police unprecedented, the rowdiness more disruptive and destructive. Such reports have come from multiple shore towns and are credible.
Beach Haven Borough Council had a special meeting in response to large crowds of teens who disrupted the Fourth of July weekend. Avalon Mayor Martin Pagliughi said juveniles congregating there led to vandalism and excess litter. Ocean City police broke up a fight among several youths and dispersed about 80.
Some officials have blamed changes in state law and guidance this year that have curbed the ability of police to manage youthful mobs and respond when they break the law.
As part of their push to create a legal and taxable marijuana industry, Gov. Phil Murphy and his supporters in the Legislature made the possession and use of the drug by those under 21 penalty-free. While they were at it, they removed all penalties for underage drinking too.
Then Murphy's attorney general directed law enforcers to avoid charging youths and subjecting them to the justice system unless a serious crime required it. Police instead may issue curbside warnings, or arrange a meeting at the police station with the youth and their parents.
Pagliughi and many business owners blamed Murphy directly for these changes to juvenile justice law and guidance. Sen. Michael Testa, representing districts in Cape May, Cumberland and Atlantic counties, said, "Gov. Murphy has stripped police of their power to enforce the law and protect the public while clear violations are being committed before their eyes. Kids know they're above the law and they're taking advantage of it."
The pandemic is surely another factor in this summer's increased disruptions by young people. Even though COVID-19 is mostly a high-risk disease only for older adults and those with existing health conditions, young people's lives were largely shut down as if they needed special protection, costing them the social experiences and education much needed at their age. Give Gov. Murphy credit for recognizing that among the reasons for the behavior was "coming out of a pandemic when you've been locked down, when you've been going to school remotely."
The pandemic is resolving itself and that will cease to motivate teens to be disruptive (and reduce the sensitivity of adults and businesses to such disruption). Not so with the bungled changes to New Jersey law and enforcement.
William McNight, a criminal justice professor at Stockton University, said he understands why the changes were made. "The intent was good. Keep them out of the criminal justice system. But, wow, with the stuff I'm hearing about, it's disturbing," McNight said, adding the changes should be revisited.
We agree. A good place to start would be restoring civil penalties such as fines for underage use of marijuana and alcohol, which Murphy supported keeping but was overruled by the legislators in his party. Same goes for the many misdemeanors and lesser offences police now have been directed to ignore.
The possibility of a fine, one brought to the attention of parents who probably will have to pay it, encourages youngsters to think twice about misbehaving. But it still leaves them out of jail and the criminal justice system — off the path that too often leads to crime.
Think of these shore disruptions by kids as an early warning. Once marijuana, both legal and criminally supplied, floods New Jersey, the deficiencies of this hobbled enforcement scheme will become more painfully obvious.